Celebration of Life
Date: Thursday July 13, 2023
Time: 6:00 pm - 8:00 pm
Location: Byron Funeral Home [ view map ]

Printer Friendly Version

Share on Facebook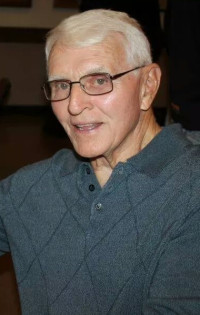 Date of Birth:
Sunday, November 11, 1934
Date of Death:
Friday, June 30, 2023
Age:
88 years old
William L. "Bill" Murray
William L. "Bill" Murray, 88, of Byron was accepted into the Lord's house on Friday June 30, 2023, at Eisenberg Hospital in Rochester surrounded by his loving family.
Bill was born on November 11, 1934, in Mondovi, WI, to Andrew J. and Dora M. (Shorter) Murray. He moved with his family to Claremont, MN where he attended country school for six years and Claremont High School where he graduated with the class of 1952. Bill was active in sports, farming his family homestead and loved to ride his motorcycle. Following his schooling he joined the U.S. Army in 1955 and was honorably discharged in 1961. Bill met his soon to be wife, Sharon K. Murray at a county fair. They became engaged and married March 31, 1962. Bill started working for the ASCS office in Dodge Center, MN. He worked there his entire career, retiring with 34 years of service in 1996. Bill was respected by many because of his high standards in which he lived by and instilled in his family, whom he took great pride in. Bill loved to camp, fish, read, and spend time with his family. Bill's favorite place to be growing up was at his family's cabin in Detroit Lakes, at Lake Sally and later in life at his camper at Bulrush Bay Resort outside of Faribault, MN on Lake Mazaska. He spent every summer there until he became too ill to go.
Left to cherish his memory are his loving wife of 61 years, Sharon K. Murray; children Sharilyn (John) Bjerke of Satsuma, Florida, and Julie (Chris) Andrist of Byron, Minnesota; four grandchildren, Ryan (April) Bjerke, Jacob (Megg) Bjerke, Michelle (Dustin) Cook, and Laura (Kevin) Simon; 10 great grandchildren, Hannah, Kovin, Annabelle, Mila, Abbigail, Caleb, Myles, Nora, Cole, and Alison. He was proceeded in death by his parents, Andrew and Dora, brothers James (Jim) and Richard (Dick).
The Celebration of Life for Bill will be held from 6:00PM – 8:00PM on Thursday, July 13, at the Byron Funeral Home in Byron, MN (1620 Voll Drive NW Byron, MN 55920).
Online condolences are welcome at www.byronfuneralhome.com
Condolences

Printer Friendly Version
The family of William L. "Bill" Murray has received the following condolences.
Dear Julie and Chris,
We're keeping you in our thought's - our prayers are with you during this difficult time.
Love you, Uncle Buck and Aunt Joan
Sharilyn and Julie - I am so very sorry to hear about your dad's passing. I'll be keeping you and your families in my thoughts. I hope you are able to take solace in your memories of all the good times. Hugs and prayers to you both.
Early in the '60s ,Sharon was seriously dating a young man when Bill showed up determined to win back the affection of Sharon "no matter what"
He had fallen for her during a prior meeting and now returned to continue what he started. He loved her! After Sharon began to learn more about this quiet,handsome kind man that loved her so deeply she fell for him as well. Whenever they were together the feeling of love between them was heartwarming.
I envied what they had.
You were a good man,Bill.