Our History
Over 100 Years of Service
How it all started...
Over 100 years ago
Dan Macken founded the Macken funeral business at Rochester, Minnesota on
December 4, 1909
.
Born in Marion Township, (Olmsted County) Minnesota on October 21st 1877 the son of Irish immigrant farmers, Mr. Macken attended rural schools and Our Lady of Lourdes Academy in Rochester. He then enrolled at the College of St. Thomas in St. Paul and later served an embalming apprenticeship at Willwerscheid Mortuary in St. Paul. He worked for three months at Jackson, Minnesota before returning to Rochester to work for the F. J. Paine Funeral & Furniture Co. He was employed at Paine's for nine months before opening his own firm. Dan passed away December 24, 1963.
The "Dan Macken Co" , as it was called, included a furniture store and was located at 325 South Broadway (The Northwest corner of Fourth Street and S. Broadway). Later the business was moved to 220 First Ave. SW, by which time the furniture business had been discontinued. The "China Hall" later occupied the First Ave. building. Michael P. Macken a younger brother of the first Dan Macken entered the business shortly after its formation and at the time of his death in 1954 Mike had been a funeral director and embalmer for forty four years. Mike Macken had high-level technical skills and was recognized in the industry for being one of the most talented and respected embalmers in the upper Midwest.
Cyril B. Macken another brother of Dan's entered the business while it was still located on Broadway. Cyril was a partner in the business for about 24 years when he retired and moved to Sacramento, California.
In August of 1931 the "Dan Macken Company" moved to 223 Fourth Street SW, the former Henry Schuster residence. This home was on the Northeast corner of Fourth Street and Third Ave. SW. The business partners at that time were Dan Macken , Mike Macken & Cyril Macken.
The name was changed some years later to "Macken Funeral Home". By this time Daniel D. Macken (son of the first Dan Macken) had returned from three years of military service, finished his education at the University of Minnesota and entered the business. He and his father (over a period of years) purchased the business shares of Mike and Cyril.
In October of 1962 the business moved to its present location on the "beltline" at 11th Ave. & 12th Street SE. By this time Dan Macken (the first) had retired and Daniel D. Macken (having purchased his father's interest in the family business) was the sole owner of the Macken Funeral Home. Daniel D. Macken started with the firm in 1950 and retired in 1992 and is still active in an emeritus and advisory capacity.
Timothy J. Macken, son of Daniel D. Macken started with the firm in the summer of 1977 after graduating from the University of Minnesota in Mortuary Science. Tim had served his apprenticeship in Duluth.
Daniel K. Macken , Tim's brother joined the firm a few months later having graduated with his brother in the same class, Dan K. had served his apprenticeship in St. Paul. Daniel K. and Timothy J. Macken are the present owners and operators of the Macken Funeral Home.
Two sisters of the Macken brothers are members of the staff at the funeral home: Ann Macken Nigon and Mary Macken Garry are Office Administrators. They took the place of their mother Dolores "Lorry" Macken who was office administrator at the time of her retirement in 1992.
Richard V. "Dick" Macken, Daniel D. Macken's brother, came to work at the Macken Funeral Home on a part-time schedule from 1986 to 1996 shortly after retiring from an industrial career. Dick had worked in manufacturing management in Rochester (General Manager of Waters Conley), and in Michigan and Illinois before retiring. Dick now lives in Wisconsin. A brother John and a brother Paul also worked at the funeral home for a short period of time in earlier years.
Edward G Carey a good and faithful employee who had started working for the firm at the 4th street address worked with Dan D. at the new location until his retirement in 1977.
The late, Robert C. Daly a Rochester police officer and licensed mortician started working at the Macken Funeral Home part-time in the 1950s and continued to do so until the early 2000's.
River Park Chapel, Macken Funeral Home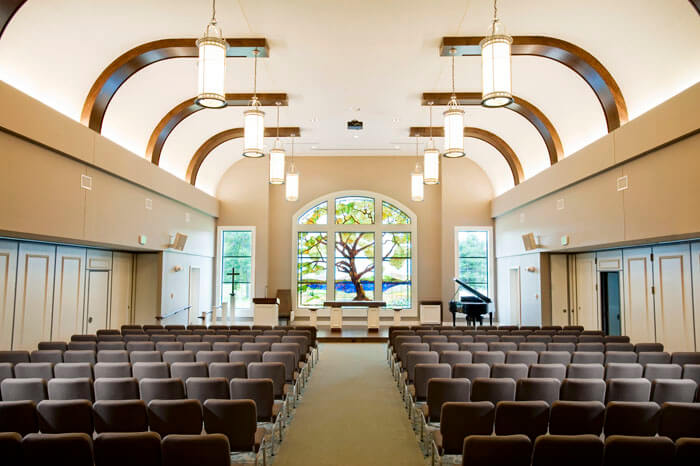 In 2010, Tim and Dan Macken decided it was time to build a larger chapel with a dining facility to fit the growing needs of their customers.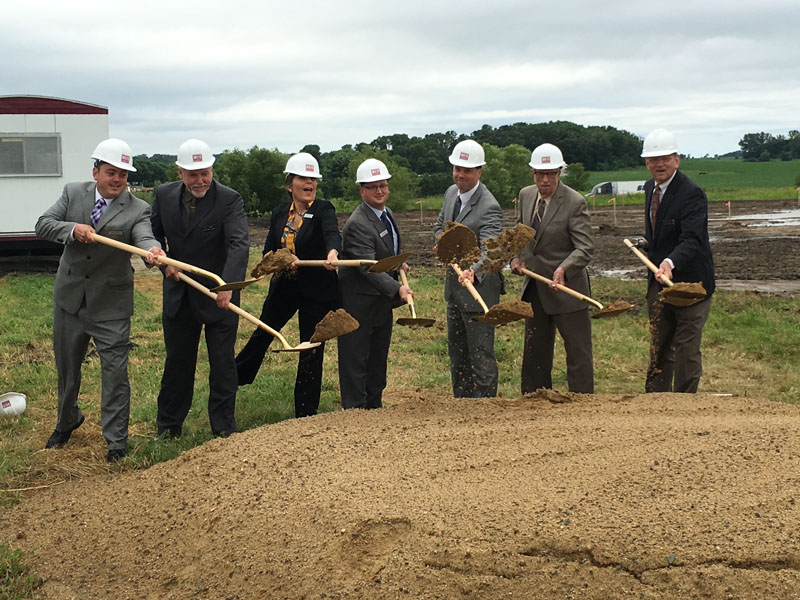 In the spring of 2016 construction begins on the Byron Funeral Home.  The 8,000 square foot building brings to Byron, a state-of-art facility that will include a spacious lobby, visitation/gathering room, family room, merchandise selection room, a preparation room and a crematory.