Printer Friendly Version

Share on Facebook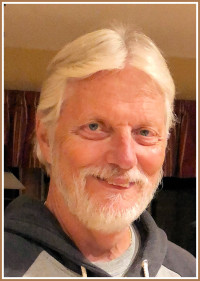 Date of Birth:
Saturday, November 18, 1950
Date of Death:
Monday, April 6, 2020
Age:
69 years old
Warren Lloyd Pepper
Warren Lloyd Pepper 69, of Byron, MN died Monday, April 6 after a courageous battle with cancer at his home with his wife and daughter by his side.
A Memorial Service will be held Thursday, July 30, 2020, at 1:30 PM at Community Celebration Church in Kasson.  Due to current circumstances, the service will also be live-streamed on YouTube.  Please check Byron Funeral Home website https://byronfuneralhome.com/ for the link to the service.
Warren, known as "Pepper," to all his family and friends was born in Fort Dodge, Iowa on November 18,1950 to Melvin and Lorna (Sievert) Pepper.  He graduated from Schaumburg High School in Illinois and attended Northwestern College and later RCTC.
He met the girl of his dreams and after dating 6 weeks he and Donna were engaged.  On June 3, 1972 he married the love of his life, Donna J. Duncan.  They would be celebrating 48 years of marriage in June.  Their love was one for the story books. Most of their married lives they made their home in Kasson and in 1992 built and moved into their dream home in rural Mantorville.
He owned his own business for 20 years, General Warehouse Services and later went to work for Benchmark Electronics as a Production Supervisor where he retired from in 2018.
Pepper was devoted to his family.  He loved and was so proud of his grandchildren and enjoyed watching them play their sports.  He had a very special relationship with his son-in-law, Jim.  They were buds and he loved him like a son.  He was an amazing Dad and had a special relationship with Tessa, a self-proclaimed "Daddy's Girl".  His calm demeanor and great advice made him the one you went to for anything.  He was kind, compassionate, generous, and always willing to lend a helping hand to anyone who needed it.  He always had a smile on his face and spending time with him was always fun.
Pepper was a gear head.  He often talked about all of the cool muscle cars he had as a young man and his favorite was his '69 Super Bee.  He later built a '34 Ford Hemi Coupe which was featured in Rod & Custom Magazine in 1997 as well as a couple custom motorcycles.
He enjoyed motorcycle trips with family and friends and had a couple very memorable trips to Sturgis.  Some of the best times were had on the "river".  He loved spending weekends on his boat and enjoyed time with his "marina family".  Many summer days were spent floating on Lake Pepin.  Some of the best memories were made here with his family.
He is survived by his wife, Donna and daughter, Tessa and son-in-law, Jim Olive and two grandchildren Dylan and Rylie Olive of Byron; sister, Louise (Tom) Bovis of Janesville, WI; in-laws, Don and Bernadine Duncan of Stewartville; sister-in-laws, Sue Duncan of Wabasha, Tracy (Dan) Regenscheid of Lake City, Lisa (Mike) Stock of Chatfield, and brother-in-law, Dwight (Leslie) Duncan of Racine and special nieces and nephews and extended family and friends.  He is preceded in death by his father, mother, and brother.
A special thank you to Seasons Hospice for the wonderful care and support.
He will be missed beyond measure and forever loved.
Condolences

Printer Friendly Version
The family of Warren Lloyd Pepper has received the following condolences.
Dave Grohl started his musical career, when he was a teenager, he wrote songs and played guitar.
He also performed, along popular hardcore punk roaming groups.
He joined a well liked band the actual world 80s,
referred to hardcore band scream and have become
the drummer of the group. In his final days, as a drummer in hardcore band scream,
shortly fater he began to write his own material in the basement studio of his close
friend Barrett Jones. Some of the songs, which Grohl wrote were featured on the hardcore band scream last album.
After hardcore band scream tour in 1990, Dave Grohl decided
stop from the group and joined Nirvana. This forced Grohl
to shift to Seattle, washington.

The album title, Snakes and Arrows, is a reference into the children's bet on the
same name and was inspired by the standard Indian game
Leela. Neil Peart says that lots of the lyrics were inspired by his
many motorcycle rides throughout North U .
s ..

Episode 3: where to play 918kiss shows it plain and simple:
microwaves and toaster ovens can do wonders.
As Fabio put it, have to now no excuse regarding any
family for you to have a particular Thanksgiving dinner anywhere in america.
Ariane's turkey was a hit, you can maintain the same scrumptious
and juicy turkey during your table using her recipe - and a toaster cooker.


A: Initially see Alice in the studio. He was probably golfing.
I went alongside Bob Ezrin, who was one of my influences in aiming
to learn the best way to write for strings. Bob and George Martin are two for this biggest individuals who influenced me the
most in understanding how to write for post. They were producing the records I am listening -.
When I heard "Eleanor Rigby," Believed it was Paul McCartney doing that,
and when i figured out it was George Martin. I actually gave Bob
a copy of Ghosts. I mean, come on, he's Bob Ezrin. He produced The
Wall, for Christ life. But I don't know what songs I've been on (on Welcome 2 My Nightmare).

I sang on two or three, and guidelines and meal plans so
great.

As a comparison, let's fast forward to the refrain. Go to about a second and thirty-five seconds in the song
and take another listen to when he sings consist of exact lyrical phrase,
"One of the days," the particular chorus. Go check
one another.

Q: For the fans who know you strictly from Winger and aren't as familiar in your
solo material, what an individual say these
people about looking forward to this show?

We found the photographer Hunter Freeman who characteristics whole
regarding an astronaut doing regular mundane things, so we chose a single out of every bunch.
We asked him if we could use it, he said yes,
and we had that first you have to came up with the album title Killing Time.



OK End up. As band member Tim Nordwind told me, the band's most
recent album 'Of the Blue Colour of this Sky,' was partialy inspired by Prince's '1999.' Of
course, the band is acknowledged for its dance routines for
songs like 'Here it Goes Again' and 'A Million Ways,' them to often use during live shows.
Be structured!
Donna & Family,
My childhood friend, cousin, and Brother is on to Glory. He spoke of how close Donna and he had become in the middle of the storm!!!
You know some people do more living in a day than others do in a life time.
Great blessings be yours as you go forward, knowing Warren just followed the path his Good Shepherd set and joy is coming for us all.
LOVE,
Ron Way
Donna and Tessa, I am sorry for your loss. Thinking of you,
Tage
So sorry to read that Warren passed away,
Gordy always enjoyed seeing him and talking cars.
Please know that I am thinking of you. Take care of yourself. Love Mary Q.
Donna, Tessa and family,
I am so sorry for the loss of your dear husband and Father Pepper. My deepest sympathies go out to you and your family at this difficult time. I never imagined that you would tell me that Pepper was not doing well when I ran into you and Tessa over a month ago. I worked with Pepper so long ago at Apache Mall in the music store. He was a good man and fun to work with. I can't imagine what you are going through but may the happy memories help you get through the hard times. Thoughts and prayers go out to you all.
My Deepest Condolences,
Joyce Geilow
Donna, we were so sad to hear of Peppers passing, he was such a kind, gentle man who adored you and Tessa and family. I think the last times we saw you guys was on the river! We are so sorry for your loss, honey, but as we have learned, your memories give you strength and you'll always have those
Sincerely,
Steve and Mary Kay
Donna and family,
We are thinking of you, and sending prayers to all of you. We both have always thought he was such a comfortable, happy person to be around. He was always so kind, and seemed to have a great sense of humor. We always refer to our best Sturgis Trip was when us, you, Warren, Tessa and Jim all camped at SturgisView. You two together created a happy world around you.
Scott & Hollee Brooks
My condolences to the Pepper family. I worked with Warren for several years at GWC. He was always very understanding and a positive mentor to me. All my sympathy to his family.
Regards
Karen
Warren started out as my supervisor and ended up being my friend, i will miss him deeply. Our conversations about music (Rock) i will cherish forever, rest in peace my friend.
I am personally sad that Warren left us so early, and offer my prayers for friends and family. It was just after his retirement that we had great hope for his recovery.
I worked with Warren at Pemstar and Benchmark as one of his supporting engineers. I would frequently get calls from him in the evenings to "fix" something over the phone. He was always thankful for anything we could do to support him and his team, which made working for him a great privilege. I also treasured his wisdom and friendship.
We will miss him, and be thankful we knew this great man.
Jim Weirick
Donna,
We are so sorry for your loss. Warren was an amazing man. Tony and I met and worked with him at Benchamrk. He was greatly missed when he decided to retire. Our deepest condolences to you and your family.
LoAnah and Tony Ramer
Donna and family ,
I am so sorry to hear of Pepper's passing, I can not begin to imagine your loss. I know he was not only a husband and father but your best friend. I was always so impressed by how much love you shared after so many years. Please know you are in my prayers.
My deepest condolences
Sally and Russ Wildeman
My deepest condolences to Donna, Tessa, Jim, and the children. Warren and Donna made marriage look fun and full of love. I admired that. I have much respect for the both of you. Warren was always very nice and full of fun. May his laugh and the happy memories get you through the hard times. Prayers and hugs to you all.
Donna, Tessa and family
Jean and I are so sorry for your loss. I have so many good memories playing softball with Warren, and the party's after softball. Great memories. You have our deepest sympathy.
Steve & Jean Weitzel
Donna & Tessa and families,
We were stunned to hear of Warren's death, not knowing of his illness.
Our hearts and prayers goes out to all of you during this difficult time. We are truly sorry for your loss.
Take care of yourselves and May God Bless you,
Allen & Sandy Iverson
Donna and Tessa, We were stunned to hear of Peppers' passing, being neighbors we always enjoyed chatting and watching him working on something in the garage. He always had a smile for everyone. He will be greatly missed. Sorry for your loss You are in our prayers.
Toodie and Bub
Although no words can really help to ease the loss you bear, just know that you are very close in every thought and prayer.
Pepper will be greatly missed but his warmth, kindness, and gentle spirit will be remembered forever.