Printer Friendly Version

Share on Facebook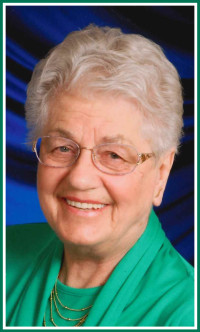 Date of Birth:
Thursday, March 24, 1932
Date of Death:
Saturday, March 3, 2018
Age:
85 years old
W. Jeane Whiting
Jeane Whiting, died Saturday, March 3, 2018 due to complications of metastatic bladder cancer at Madonna Summit in Byron, MN surrounded by her loving family.
Her service, officiated by Pastor Dan Yeazel, will be on Saturday, March 10, 2018, at Kasson Presbyterian Church, 101 6th Ave NW, Kasson, Minnesota 55944.  Visitation will begin at 1:00 pm with service starting at 3:00 pm.  Burial will be at Fulton Township Cemetery in Fulton, Illinois at a later date.
Jeane, 85, was born March 24, 1932 near Morrison, IL to Herman and Alice Rus.  She grew up on the family farm.  She attended rural school until eighth grade, and then moved into Fulton, IL and attended Fulton High school.  She married Llewellyn "Gene" Sikkema in 1950 and had five daughters.  She later married George Whiting from McHenry, IL.  They traveled extensively during their 31 years of marriage with their favorite trips being to the NW United States and Alaska.  Jeane also loved attending draft horse shows throughout the midwest and Calgary, Canada.  She was a talented seamstress, quilter and needleworker whom made many wonderful gifts for her beloved family.  She enjoyed spending time with family and her many friends.
She is survived by daughters Debi (Larry) Ervin of Eldridge, IA, Barb Sneller of Michigan, Delinda McConnell of Holmen, WI, Lori (Dave) McConnell of Lake City, MN and Nicole (Jeff) Zahnle of Hayfield, MN., and her step-children Sarah (Jim) Cauley and George (Tracy) Whiting of Allison Park, PA.  She was proud of and loved her 21 grandchildren and 19 great-grandchildren.
She was preceded in death by her husband and parents, siblings, Ray, Besse, Maggie, Pherne and Clara, a grandson, Eric and great – granddaughter, Charlotte.
Much appreciation to the staff of Madonna Summit in Byron, Mayo Clinic, and Mayo Hospice staff for their exceptional care, dignity, and granting her wish to stay in her home during her end of life.
Memorials can be designated to Kasson Presbyterian Church - Presbyterian Women group.
Condolences

Printer Friendly Version
The family of W. Jeane Whiting has received the following condolences.
Lori Lou.
Barb shared with me about the passing of your Mother; I am sorry. Thinking and praying for you.
Lavonne
Nicole and family we are so sorry for your loss and pain that it brings. Take comfort in being with your friends and family during this time and the many thoughts and prayers on your behalf.
Cerren and Anita Perkins
So sorry for your loss. May gods peace be with you and your family!
Aunt Jean was a special lady in my life. She always had a smile whenever we got together. As kids we always wanted to go to their house and play. Even though we would run through the house and may have been a little loud she always kept her smile and laughed. Thank you to the family for letting us be with her in her last days.
Sincere condolences to you all! Always remember her as a very nice and friendly woman and I have enjoyed knowing you girls all these years! Blessings on you all as you remember and miss your mom!
Julie & Randy
I wish I could take away your pain. Just know that I am thinking about you and praying for comfort for you and your family.
I'm so sorry for your family's loss. Big hugs and prayers going out to all of you
Jeane was truly a blessing. I have wonderful memories of staying at her place and talking to Jeane and George about puppies, football, and her proud Dutch heritage. God bless you Jeane!!!