Printer Friendly Version

Share on Facebook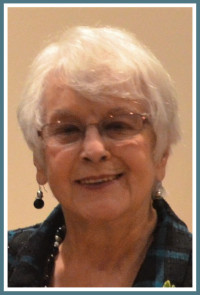 Date of Birth:
Friday, December 25, 1942
Date of Death:
Sunday, June 13, 2021
Age:
78 years old
Virginia Ellen Stalsberg
Virginia Ellen Stalsberg passed away peacefully on June 13th 2021 at Green Prairie Rehabilitation Center, in Plainview MN.
Virginia was born December 25th 1942 to Albert and Vera Spaulding. She was united in marriage to Paul D. Stalsberg on August 30th 1958 & together they had two daughters. Virginia worked for Montgomery Wards for 19 years where she held many positions. Virginia went back to school and was then employed by Creative Expressions.
After Virginia and Paul retired the two enjoyed traveling, camping, fishing, and being with their family.  Virginia also kept busy by volunteering with the Food Giveaway and The Jesus store at The Kasson Church of Christ where she was also a devout member for many years. Virginia did a lot of the coordinating for Swinging Seniors Group.
Virginia is survived by her two daughters: Sue (Troy) Larson of Plainview MN and Donna Henke of Eyota MN.  Four grandchildren: Jon Hufstedler, Lisa Hufstedler, Paul (Jake) Henke, and Sarah Henke.  Three great grandchildren:  Jade Hufstedler, Aubriella Hofschulte, and Connor Henke.  One Great great Grandchild:  Ace Hufstedler
Virginia is preceded in death by her parents, her beloved husband Paul of 60 years, her father and Mother-in-law, Orlando and Mabel Stalsberg, Sister Patricia (Tom) Fisko, Sister-in-law, Rebecca Stalsberg, Brother-in-law, Richard (Diana) Stalsberg, and Grandson, Skyler Hufstedler.
A memorial service for Virginia will be held at Kasson Church of Christ, 901 8th Ave. NW, Kasson MN, 55944 on Saturday June 26th 2021 at 11:00a.m. with visitation from 10:00a.m. – 11:00a.m. Lunch will be served immediately after the memorial service, followed by burial in Byron MN, at the Byron Cemetery.
Flowers may be sent to the Kasson Church Of Christ the morning of the service.
Condolences

Printer Friendly Version
The family of Virginia Ellen Stalsberg has received the following condolences.
Ginger was my mother in law for 22 years. We shared 22 years of Holidays and Birthdays. She was so very proud of her children and grandchildren. She and Paul were married young and their marriage certainly stood the test of time. My most sincere condolences to her daughters, and their families.
Stalsberg Family: We have so many wonderful memories of your Mom Ginger! Lots of card nights and just talking smart. Lol! I know how much you all will miss her. Please know we are thinking of your family. Prayers for peace and comfort. Hugs
Shirley and Mike Claffy