Visitation
Date: Thursday June 09, 2022
Time: 4:00 pm - 8:00 pm
Location: Byron Funeral Home [ view map ]
Memorial Service
There will be a private, family only, memorial service held earlier that day.

Printer Friendly Version

Share on Facebook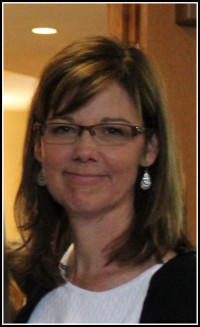 Date of Birth:
Sunday, April 28, 1968
Date of Death:
Monday, May 30, 2022
Age:
54 years old
Terrie L. Connelly
Terrie Lynn Connelly, 54, died on Monday, May 30, 2022, at St. Marys Hospital with her family by her side after a courageous battle with cancer. Terrie was born on April 28, 1968, to Kenneth Wesley Durst and Ila Jo (Atkinson) Durst in Zumbrota, MN. She was raised on the family dairy farm in rural Mantorville and graduated from Kasson-Mantorville High School in 1987. After high school, Terrie attended Rochester Community College and embarked on her 33-year career at the Mayo Clinic. On January 20, 1996, she married Brian Connelly at Christ the King Catholic Church in Byron, MN. They lived in Rochester and then moved to Brian's family farm near Douglas in 2005.
Terrie was a loving mother, sister, daughter, and wife. She has three children, Allison (Nick) Banfield, Courtney Connelly, and Tyler Connelly. Even though Terrie was a K-M KoMet growing up, one of her greatest pleasures in life was supporting her children at Byron Bear sporting events. Terrie was a member of the Byron Booster Club and was active in the Byron sports community. Terrie also enjoyed gardening, with numerous gardens throughout her yard at home.
Terrie is survived by her husband Brian Connelly, daughters Allison (Nick) Banfield and Courtney Connelly, and son, Tyler Connelly. She is also survived by her father Kenneth (Janice Borgstrom) Durst; mother-in-law, Karen Connelly; brother Darren (Rachel) Durst; sisters, Anne Nichols, Stacie (Gerald) Dallmann; sister-in-law, Louise Durst; stepsister, Renata (Mike) Ducharme, and stepbrother Coy (Amy) Borgstrom.
Terrie was preceded in death by her mother Ila Jo Stevenson, brother Kraig Durst, father-in-law Joseph Connelly, stepbrother Scott Borgstrom, and grandparents.
Terrie was taken from us much too soon, but her strength and toughness are something all those around her will never forget. Terrie's legacy will live on through her three children.
The visitation will be held at 4:00 p.m. until 8:00 p.m. Thursday, June 9, 2022, in the Byron Funeral Home.
Memorials are preferred to the Connelly family of Douglas, MN.
Condolences

Printer Friendly Version
The family of Terrie L. Connelly has received the following condolences.
Dear family and friends,
I am so sorry for your loss and hope you celebrate her beautiful life. I worked with Terrie at Mayo Clinic and she was always smiling and upbeat no matter what was going on! She will be missed! I am sending thoughts and prayers to you and yours.
Stacie and Family,
I am so sorry to hear of Terrie's passing. I never had the pleasure of meeting her, but she certainly sounds like a kind person, just like her sister. I will keep her and your family in my thoughts and prayers. God bless, Nancy
Our community and our families were blessed with her joy and love for life. Her family was her number one priority. Her phone full of pictures of the kids. The skills remembering peoples names, never forgetting a face, and having great empathy connecting to the patients that she talk to, she used that skill with great grace. She had an insatiable curiosity. She loved any social get together's ; she loved life.
She called me her rock. Yet it was because of her that God gave me the grace to love her as a dear dear friend and not crumble.
To Terrie's family my love and support.
Terrie keep those angels on their toes because I know you've learned all their names already.

You give Heaven heck. Shine down and smile at all of us. My dearest friend I'll miss you but I have wonderful memories to warm my heart. Love Rhonda Weis.
Brian and family
So sorry for your loss! We met Terrie only once at our rummage sale last fall in Douglas, but through our conversation were impressed with her friendliness and kindness. May God bless your memories and give you comfort until you meet again.
Terrie had a God-given talent no words could describe. When she would come to the barn to visit, if only to shoot the breeze, her presence made your day.Her smile, the joy in her laughter, and the love in her heart for others, will forever be missed I can't wait to see her again someday. Carl Weis
We are both saddened that Terrie is no longer with us. I met Terrie on my first day at the Transplant Center in 2001 and will always remember her smile and no request was too big for her to handle. She did everything with grace and determination, and was beautiful in every way. We are so fortunate to have known her.
i WILL MISS HER SHE WAS A SWEET PERSONWE ALWUS QORKED WELL TOETHER SJE SAW THE GOOD IN EVERYINE SKE EVEN HELPED ME PICK OUT A KITTY SHE WOULD STOP BY AND CHECK ON ME WHEN I WAS ILL SHE LOVED JER FAMILT AND RALKED ABOUT THEM IFTEN MAY SHE TREST IN PEACE AND GOD BLESS HER FAMILY
We were saddened to hear about Terrie's passing. From the first moment you met her, she made you feel like you have been friends forever. Praying for peace and comfort for all of you during this very difficult time.
Shawn, Monica, Jake and AJ Bishop
To Brian, Allison, Courtney and Tyler,
I was a colleague of Terrie's at Mayo in the transplant center, and was trained in by her and loved working with her. She exuded joy, happiness and love for you all. We talked about sports and family and she was so proud of her kiddos and all of their accomplishments. I think we always had a connection, and I grew closer to her when the connection of farming was formed. We got and understood each other. I remember the last time I got to see her on site and I remember her hug the most. I always knew to go to Terrie for advice. She was the best person to go to if you needed anything. I will miss my talks with her.
I am thankful for our kittens we got last summer from your farm, and hoping for kittens from the cat we got from her soon. She was so happy we could take kittens from her crew, and always checked in on them. She was so happy the day we came to get them and loved getting to meet my kiddos. They loved coming and talk about Terrie often and wondered when we could get more kittens. It is those moments I will treasure. Even though I didn't get to work with her long in thw transplant center, she was a huge impact on my life and on our team. We have not been the same with out her.
Thank you for sharing your sweet mother and wife with all of us. I am so sorry for this incredible loss. She was so brave and fought so hard til the end. She will be so missed by all. Prayers for peace and comfort during this time. Blessed be her memory.
Sarah Erler
Terrie you were always the sweetest and kindest person I have ever know. Always supportive and caring about everyone and especially the Byron sports teams! I so enjoyed becoming friends through our daughters and sports you leave a huge hole in our hearts and will be missed by all. You definitely have taught us all so many lessons. I know you will be watching over your family in a different way now but you have raised some amazing kids that will carry you with them. Rest In Peace and love. Until we meet again. Thoughts, prayers, and love to your family. Karen and Paige Adams and family.
The world just got a little sadder. Terrie was a very warm, caring, and delightful woman. I had the pleasure of collaborating with her at Mayo. Warm prayers to the family.
Terrie was a beautiful woman whose smile could light up a room! Hugs and prayers of comfort to all!!!
Terrie was an amazing woman! I can still hear her voice and laughter. She left an impression on everyone she met and will be missed greatly. Prayers to all that loved her during this difficult time.
Prayers to all of the family!
I'm so sorry to hear this news. Terrie was so sweet. Durst family you are in my prayers.