Robert "Bob" Edgar Tweite
Burial
Location: Byron Cemetery [ view map ]
Public Livestream of Funeral Service
Funeral services for Robert Tweite will be private.  A Public Livestream will be available at 1:00pm Saturday, December 4, 2021 and can be viewed at https://youtu.be/CW-5bvizxjA

Printer Friendly Version

Share on Facebook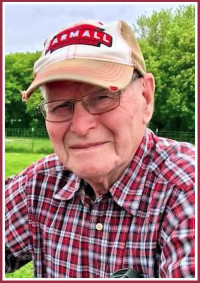 Date of Birth:
Wednesday, March 18, 1925
Date of Death:
Wednesday, December 1, 2021
Age:
96 years old
Robert "Bob" Edgar Tweite
Robert "Bob" Tweite, 96 of Byron, peacefully passed away on December 1, 2021, with his loving family by his side.
Robert was born March 18, 1925, in Byron, Minnesota at the family farm to Marvin Sr. and Marjorie (Houston) Tweite.  On October 7, 1926, he was baptized at St. Johns Lutheran Church in Kasson, Minnesota.  On June 8, 1954, he married Jeannette Law.  Together, they raised their sons, Thomas and Daniel on the family farm in Byron.
Robert was a Charter Member of Christ Lutheran Church in Byron.  He also volunteered for Meals on Wheels as well as visiting residents at nursing homes.  He served on the Rock Dell Creamery and Byron Cemetery boards.
Robert loved farming and milking cows.  He loved taking his hunting dog "Joe" out pheasant hunting and trapping.  In his later years he enjoyed deer hunting with friends and neighbors.  He had many horses over the years; Jake and Charlie were his favorites as he would hitch them in the evenings to cultivate corn and also many sleigh and wagon rides.  He was a faithful servant to the Lord and His Church.
Robert loved playing cards with anyone that would.  He loved spending time with his family.
He was preceded in death by his wife, Jeannette who passed away on November 6, 2020; his parents Marvin Sr. and Marjorie; a brother, Marvin Jr. and two sisters, Mabel and Bonnie; 2 great-grandchildren, Karina and Ethan.
Robert is survived by sons Thomas (Colleen) Tweite and Daniel (Kelly) Tweite; a brother David (Jeanne) Tweite as well as 11 grand-children and 23 great-grandchildren and 2 great-great-grandchildren.
A private family Funeral Service will be held on Saturday, December 4, 2021, at Christ Lutheran Church in Byron with Pastor Steve Rheingans officiating.  Masks will be mandatory. Burial will be at Byron Cemetery.
The Funeral Service will be live-streamed beginning at 1:00pm on Saturday, December 4, 2021, and can be viewed at the following link: https://youtu.be/CW-5bvizxjA
Condolences

Printer Friendly Version
The family of Robert "Bob" Edgar Tweite has received the following condolences.
My sincere condolences to The family. I enjoyed sitting and visiting with him during coffee after church. He was very caring and a joy to around.
Such a nice man. We're never ready to lose those we love. God bless.
Tom and Dan and and families, and Dave. Our deepest heartfelt condolences to you all. Bob was a great friend and I always enjoyed talking with him! He had a way of putting things in a plain and direct way. We will miss him! Dale and Carolyn Reinecke
Tom, Dan, and all of your families. My deepest sympathy on the loss of your Dad. Bob was a special neighbor. I still look back fondly on time spent baling hay at your place. He taught me some simple but valuable things. I always enjoyed a chance to visit with him. He will be missed. Marlin
Our thoughts and prayers are with the families on the loss of Bob. We will miss him as a friend and neighbor. Dave & Rose Gottschalk
Tom, Colleen and family, our deepest sympathies to you during this sad time. May God hold you all gently in his loving arms and give you peace in knowing that he has eternal life with his creator in heaven. Hugs and prayers.
My condolences to your sons and grandchildren on this sad occasion. May Bob rest in peace.