Memorial Service
Date: Friday March 16, 2018
Time: 11:00 am
Location: Christ Lutheran Church [ view map ]

Printer Friendly Version

Share on Facebook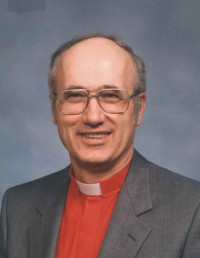 Date of Birth:
Monday, April 10, 1933
Date of Death:
Wednesday, March 7, 2018
Age:
84 years old
Rev. James L. Peterson
James Peterson, 84, of Byron, passed away on Wednesday, March 7, 2018 at Mayo Clinic Hospital – Rochester, Saint Marys Campus surrounded by his loving family.
James Lowell Peterson was born April 10, 1933, on the Mandsager farm in rural Thor, Iowa.  On this same day his Dad's sow gave birth to a litter of 24 piglets.  His brother assured him that the birth of the piglets was the most important happening that day!
James Lowell was baptized by Rev. T. Thorson at Trinity Lutheran in rural Humboldt, Iowa.  In the year 1941, he moved with his family to Minnesota.  He was confirmed in the faith at So. Zumbro Lutheran Church in the year 1947 by the Rev. L.O. Sundee.
As a young man of 16, Jim felt the tug of God's hand to serve in foreign missions.  The call never left him through High School days, military service and college.
Jim graduated from the rural, one room grade school, Union Springs, and from Byron High School in 1951.  Jim was a Sports reporter for the "Bear Facts".  He lettered on the football and baseball teams.  He was blessed with good teachers and classmates (17 graduates).  After HS, he helped his father on the farm and attended the Winter Course at Minneapolis Lutheran Bible Institute.
In 1954, he entered the US Army and served stateside at Ft. Belvoir, VA.  In 1957, Jim was married to Mary Jo Sumler of Newington, VA.  He later received a degree in Philosophy and History from the University of Minnesota and graduated from Luther Seminary, St. Paul, in 1965 with a Master of Divinity degree in Theology.  During Seminary training, he spent two summers as a student pastor in Plentywood, Montana.
In 1965, Jim presented himself to the ELCA as a candidate for mission work in Brazil, SA.  He was accepted and he and Mary Jo, along with their family, served there for the next 10 years returning to the US in 1975.  Jim served congregations in the SE MN Synod of the ELCA as well as in the Rocky Mt. Synod until 1998 when he retired to Byron.
In retirement, Jim was active in his church, Christ Lutheran, and with the Next Chapter Ministry in Rochester.  He was happy leading Bible Studies at the Olmsted County Detention Center.  He also volunteered for the Interfaith Hospitality Network (Family Promise) of Rochester.
Jim loved the times he could be together with his grandchildren.  His hobbies included gardening, fishing, hunting and playing table games with family and friends.
Jim is survived by his wife of 60 years, Mary Jo; his children: Lowell (Kate) Peterson, Farmington, MN, Judi (Jerry) Stensgard, Lewiston, MN, Leif Peterson, Robbinsdale, MN and Jerilyn (Chris) Nellermoe, Moorhead, MN; ten grandchildren: Kari (Jeff) Campbell, Jay Stensgard, Lindsay (Mike) Collins, Britta (Evan) Lynde, Katrina Peterson, Sam Peterson and Mikkel Peterson, Jessica, Taryn and Kai Nellermoe; three great-grandchildren: Elijah and Lilly Campbell and Finn Collins; sisters: Lillian Aarsvold, Zumbrota, MN and Mary Jo Estes, Cary, NC; sisters-in-laws: Vivian Peterson, Northwood, IA, Nancy (Jack) Davis, Ft. Myers, FL, Virginia Sumler, Fredericksburg, VA, Claudia Sumler, Baltimore, MD, and many beloved nieces and nephews.  He was preceded in death by this parents, one sister, three brothers and one granddaughter.
A Memorial Service for Jim will be at 11:00am on Friday March 16, 2018 at Christ Lutheran Church in Byron with the Rev. Steve Rheingans officiating.  Jim's body was donated to Mayo Clinic for education and research, therefore burial will be at a later date at Hauge Cemetery in Kenyon Township.
Memorials are suggested to the Next Chapter Ministry of Rochester, Family Promise (IHN) of Rochester or Christ Lutheran Church of Byron
Condolences

Printer Friendly Version
The family of Rev. James L. Peterson has received the following condolences.
Mary Jo and Family, So sorry to hear of Pastor Jim's passing. Just found out tonight. We had been in Florida. Will try to stop by on our trips to Rochester. God Bless and comfort you in this time. Our love, Connie & Bud.
Pastor Jim has been a big part of our family. He has helped us through good times and bad. He baptized our oldest son and officiated my grandfathers funeral. I always enjoyed when he would stop by at work to say hi. We will miss him.
What a Wonderful Neighbor!
It has been our privilege to know Jim and Mary Jo. It has been tremendously reassuring to know that Jim and Mary Jo have been next door neighbors to my mother, Betty. As a retired pastor myself, it has been special to be able to visit a little from time to time with this ministry team of Jim and Mary Jo. I will remember Jim's quiet example he set before my eyes, that being getting out and walking regularly. Mary Jo, thank you so much for being great neighbors, showing the love of Christ, and for your years of service to Christ and His Church!
- Rev. Murray and Mary Hanson, Rockford, Illlnois
Mary Jo, our hearts are heavy with the news of Jim's passing. Spending time with both of you at church and seeing you in the neighborhood was always wonderful. His kindness, calming presence and reassurance helped both of us. We hold both of you in a special place in our hearts. We lift you and your family in our prayers, and look forward to the joy of our reunion in heaven. Take Care Mary Jo.
Keith and Teresa Hendrickson
Pastor Jim has a big place in our hearts, and he was the best pastor we ever had in the church I grew up in. Working with him there was a joy, and he was very faithful to God's word. That says a lot. He will be missed.
Gary Froiland
Jim and his whole family have always been a blessing to us!
May he rest in heavenly peace.
Rich and Kay Mitchell
It has been a blessing meeting and working with Pastor Peterson and his family, our fellowship together has been a blessing to my family. May your soul rest in perfect peace until we meet again.
Jill and I are praying for your family Mary Jo. We will really miss Jim with all his support, his sense of humor and his passion to share the gospel. He was a big encourager.