Visitation
Date: Monday August 13, 2018
Time: 5:00 pm - 7:00 pm
Prayer Service: 5:30 pm
Location: Byron Funeral Home [ view map ]
Second Visitation
Date: Tuesday August 14, 2018
Time: 9:00 am
Location: Christ The King Catholic Church [ view map ]
Memorial Mass
Date: Tuesday August 14, 2018
Time: 10:00 am
Location: Christ The King Catholic Church [ view map ]

Printer Friendly Version

Share on Facebook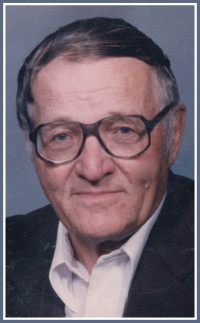 Date of Birth:
Thursday, December 29, 1927
Date of Death:
Wednesday, August 8, 2018
Age:
90 years old
Ralph James Russell
The Memorial Mass for Ralph Russell will be at 10:00a.m., Tuesday, August 14, 2018 at Christ the King Catholic Church in Byron with the Rev. John Lasuba officiating.  Visitation will be 5:00p.m. – 7:00p.m., Monday, August 13, 2018 at Byron Funeral Home with the praying of the Rosary beginning at 5:30p.m. Visitation will also be held one hour prior to the Mass on Tuesday.  Burial will occur at a later date at Sacred Heart Cemetery in Owatonna.
Ralph James Russell, 90, of Byron, was born into eternal life on August 8, 2018.  He was born in Livermore, Iowa on December 29, 1927.  The family moved to Fried, North Dakota; Staples, Minnesota; West Concord, Minnesota and Claremont, Minnesota.  Ralph attended several one-room school houses.  He graduated high school from Claremont in 1946.  He and a brother followed the harvest from Kansas on up.  He picked potatoes in North Dakota, worked on the railroad and made nails in Illinois; and also worked for a dairy in Riverton, Wyoming.  He attended Mankato State in 1955.
When IBM came to Minnesota, he applied and worked there almost 34 years; first on the line, then in quality control.  He retired in 1990.
He was a jack-of-all trades, as he could do some carpentry, electrical and car maintenance (maintained his own car and pickup.)  He had a hobby farm in Claremont, which he worked until 2007.  Then it became part of the Al-Corn Ethanal Plant.
Ralph married Lillian Przybylski on December 3, 1966 in Minneapolis and honey-mooned in Mexico.  He made several more trips to that country.  The couple resided in Douglas and Byron.
His hobbies included travel, card playing, fishing, hunting, reading and gardening.  He especially enjoyed family get-togethers.  He spent may summers in Wyoming where he had lived for eight years between high school and Mankato State.
Ralph is survived by his loving wife Lillian; four sisters, Barbara (John) Barker of Phoenix, AZ, Dorothy (Valentine) DeSanta of Phoenix, AZ, Carol (Lloyd) Petersohn of Raleigh, North Carolina and Rose (Douglas) Stephens of Los Alamos, New Mexico; two brothers, Paul (Diane) Russell of Eustice, Florida and Kenneth (Jeanne) Russell of Cottage Grove, Minnesota; and many nieces and nephews.  He was preceded in death by parents, two brothers, Eugene and Glen; a sister, Patricia; a sister-in-law, Jennie Russell and nephews, Daniel Russell and Mathew Petersohn.
Memorials are suggested to the Byron Library Fund.
Online condolences are welcome at www.byronfuneralhome.com.
Condolences

Printer Friendly Version
The family of Ralph James Russell has received the following condolences.
My condolences to the Russell family and friends. It is a painful thing to lose a precious love one in death. Even Jesus wept when Lazarus died (John 11:35) and it pains our Creator, too. Our loving Heavenly Father did not purpose his human family to grow old and die but purpose us to live and enjoy life. It is still his purpose (Psalms 37:11, 29). He calls death an enemy that will be removed forever__ (1 Corinthians 15:26 "The last enemy, death, is to be brought to nothing"; Isaiah 25:8). He promised to awaken our love ones in the memorial tombs from asleep in death__ John 5:28.29 "Do not be amazed at this, for the hour is coming in which all those in the memorial tombs will hear his voice 29 and come out" then he will reverse the aging process__ Job 33:24,25 "Let his flesh become fresher than in youth; Let him return to the days of his youthful vigor." What a delight it will be to see them again to enjoy life as our Creator purposed! Allow these words to keep comforting all of you.
My sincere condolences to all of you.
May God wrap you all in his Loving arms.
Thank you for sharing Ralph with us at Madonna Living Community/Madonna Towers.
Sandy Molenda; Madonna Living Community Foundation