Visitation
Date: Friday November 26, 2021
Time: 4:00 pm - 7:00 pm
Location: Byron Funeral Home [ view map ]
Second Visitation
Date: Saturday November 27, 2021
Time: 9:30 am - 10:30 am
Location: Co-Cathedral of St. John The Evangelist [ view map ]
Funeral Mass
Date: Saturday November 27, 2021
Time: 10:30 am
Location: Co-Cathedral of St. John The Evangelist [ view map ]
Burial
Location: St. Margaret Cemetery [ view map ]
Please Note:
Face coverings will be required to attend these events.

Printer Friendly Version

Share on Facebook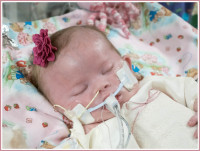 Date of Birth:
Tuesday, October 19, 2021
Date of Death:
Friday, November 19, 2021

Piper G. Stockard
Piper Grace Stockard, 31 days, passed peacefully in the arms of her mother on November 19th, 2021 after battling respiratory complications due to Down syndrome. Piper Grace was born on Tuesday October 19th, 2021, at 4:54 p.m. to parents Aaron and Jenna (Edgar) Stockard at Methodist Hospital in Rochester, MN. She weighed 6 pound 4.5 ounces and was 19.25 inches long. During her 31 short days, she filled our hearts with a lifetime of love, enjoyed being read to and stole the hearts of all who met her. 
Piper Grace is deeply loved by her parents, her sister Olive and brother Cash of Kasson, MN, her paternal grandparents Chris and Kathy Stockard of Kansas City, MO, and maternal grandparents Robert and Marlene Edgar of Mantorville, MN. Piper will always remain her parents' precious baby and Olive and Cash's little sister, and they will hold her again in heaven one day.
In lieu of flowers we would be honored to have you support Jack's Basket at https://www.jacksbasket.org/give which is a nonprofit organization with a mission to celebrate babies with Down syndrome. They strive to ensure that every new and expectant parent is provided with resources and avenues of support within the community.
Condolences

Printer Friendly Version
The family of Piper G. Stockard has received the following condolences.
Little Angel Piper Grace…I know you are with Jesus but I'm sorry I didn't get to meet you. You are loved by so many people. I'm sending prayers for mommy, daddy, Olive and Cash. I love you Piper and you will be forever in my heart.