Visitation
Date: Wednesday September 02, 2020
Time: 4:00 pm - 7:00 pm
Location: Byron Funeral Home [ view map ]
Second Visitation
Date: Thursday September 03, 2020
Time: 1:00 pm
Location: Christ Lutheran Church [ view map ]
Funeral Service
Date: Thursday September 03, 2020
Time: 2:00 pm
Location: Christ Lutheran Church [ view map ]
Burial
Location: Byron Cemetery [ view map ]

Printer Friendly Version

Share on Facebook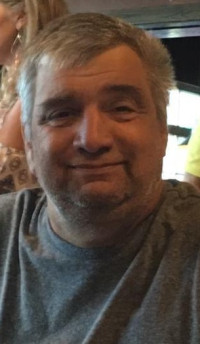 Date of Birth:
Sunday, October 23, 1960
Date of Death:
Saturday, August 29, 2020
Age:
59 years old
Phillip "Phil" Fuchs
Phillip Edward Fuchs, 59 of Byron passed away peacefully due to multiple health complications at Mayo Clinic Hospital, St. Marys Campus on Saturday, August 29, 2020.
Phil was born on October 23, 1960, and was adopted at 3 months old by Audrey and Leo Fuchs. He grew up in Byron and graduated from Byron High School in 1979. Phil was a three-sport athlete at Byron High School. He participated in football, basketball, and baseball and was captain of all three, his senior year. He was proud to hold the current-standing record for 1.83 strike-outs per inning in 1979. Following high school he attended RCTC for two years and graduated from Mankato State University with a Bachelor's degree in education. On June 18, 1983 he married his high school sweetheart, Robyn Sorenson at East St. Olaf Lutheran Church. Together, they raised two sons. He owned and operated the Hiawatha Valley Farm Store, located at Salem Corners, for over 20 years. He loved starting his mornings picking up Otto's Bakery items for his customers at the store, and spending the rest of his work-day with his dog, Carmel. He enjoyed playing cards, Bingo at the Byron Legion, and was a MN sports fan.  Phil continued cheering on the Bears long after his playing-days were over for Byron. He enjoyed watching his boys play sports throughout their childhood. He was active on the Byron School Board and the Byron City Council. He made his opinions well known to all.
He is survived by his wife Robyn of Byron, his sons Neil of Byron, Ross (Paige) of Rochester, his sister-in-laws Rose (Gene) Prell of Chippewa Falls, WI, Bonnie Prigge of Byron, Sharon (Mike) Axtman of Byron, Nancy Stucky of Eyota, brother-in-laws Steve (Sherry) Sorenson of Mantorville, Randy (Gay) Sorenson of Hagar City, WI, and numerous nieces and nephews.
He is preceded in death by his parents, his sister Peggy, and brother-in-laws Steve Stucky and Wayne Prigge.
The Funeral Service for Phil will be held on Thursday, September 3, 2020 at 2:00pm at Christ Lutheran Church of Byron with pastor Steve Rheingans officiating. Visitation will be held on Wednesday evening, September 2, 2020 from 4:00pm until 7:00pm at the Byron Funeral Home, and one hour prior to the service at church. Burial will be in the Byron Cemetery. A special thank-you is extended to the many doctors, nurses, family and friends who supported and loved Phil.
Online condolences are welcome at www.byronfuneralhome.com
Condolences

Printer Friendly Version
The family of Phillip "Phil" Fuchs has received the following condolences.
Dear Robyn and Family,
We were saddened to hear of Phil's passing. I will always remember Phil as the fun loving, talented, smart, smiling guy smooching with his sweetheart Robyn between classes at BHS. (my locker was next door)! So much love, friendship, and commitment goes into those many years spent together Robyn. We wish you all peace and comfort in your memories of your husband and dad.
Sincerely,
Brian & Carol (Zoller) Lenn
So very sorry to hear Phil has passed. I hadnt seen Phil for a few years. I blinked, time passed and I lost one hell of a friend. God Bless Phil and his family!
Tim & Darcy Biwer
Robyn, Neil, Ross and Paige,
Thinking of all of you at this difficult time! Sending prayers for peace.
Scott & Brenda Berberich
May God give you all comfort and peace during this sad time in your life.
Phil was a great man who I enjoyed visiting with when our paths crossed. I remember watching him play all three sports in high school...He was part of a great group of athletes! I also remember playing legion baseball for him as an 8th grader. He was a fantastic coach and our friendship built from there. My condolences go out to his family during this difficult time. He will be missed!
Ross, Robyn and family, We are so sorry for your loss. Our thoughts and prayers are with you. Dan, Karen, Jake, Justin and Josh Wohlers
Robyn and family, We are sorry for your loss. Our thought and prayers are with the entire family. With deepest SYMPATHY, Launie and Ralph Smith
So sorry to hear about Phil. Enjoyed seeing him at the ballgames.
-Jeff R.
So sorry for your loss. We'll miss his opinions. Prayers to all of you. Charlie and Debbie Rhoten
My thoughts are with Phil's entire family, I am so sorry for your loss. I will miss chatting and visiting with Phil whenever I would bump into him. He always reached his hand out welcomed me and he always brought a smile to my face. Phil had a such a special way of always asking how others were doing and what was going on in their lives. He will be missed by so many. God bless.
Mike
Robyn- my prayers and condolences to you and your family.
Robyn and Family
Sending many special prayers and hugs to all of you during this difficult time.
Duane & Sarah Johnson
Was so sorry to hear of Phil passing away, my prayers go out to all of your family
I saw Phil as a no nonsense person that had his opinion, whether you agreed or not. We spent many Tuesday evenings playing bingo & socializing. We will miss him. Russ Osterhus
Robyn, think of you & your family so often. So sorry to hear about Phil. You are in our thoughts and prayers. Our deepest sympathy. Carolyn & Harold
So sorry for your loss. God Bless!
Robyn - my thoughts and prayers are with you during these difficult times.
So sorry for your loss--thoughts and prayers for you and the family.
Robyn, family and friends
Ronnie and I have known Phil for a long time. He was a very special guy whom we both are proud to say was a friend. Phil gave me a tour of the new senior high a few years ago. It was a project accomplished while he was on the school board and he felt so honored to be part of. I will always have fond memories of Phil. Good possibility my husband, Ronnie, welcomed him into heaven and they are recalling good times spent in Byron.
Robyn, Our sympathy and condolences are with you and the family in this time of sadness. Dave & Rose Gottschalk
Robyn and family, my heart felt condolences. It is was too soon to lose Phil. So many fun memories of Phil in high school. He was always a good guy.
My deepest sympathies to Phil's family. I grew up next to Phil and his family. So sorry to hear of his passing.
I have many memories of my high school years and reunions with Phil. Very sorry for your loss and my sincere condolences to the family.
Our deepest sympathies and prayers go out to the family.