Printer Friendly Version

Share on Facebook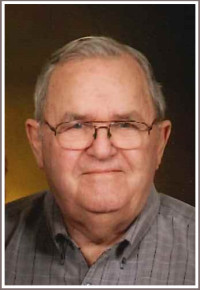 Date of Birth:
Monday, June 15, 1931
Date of Death:
Wednesday, February 14, 2018
Age:
86 years old
Milo "Mike" Gatzke
The Funeral Service for Mike Gatzke will be at 11:00AM, Monday, February 19, 2018 at Christ Lutheran Church in Byron with Pastor Nirmala Reinschmidt officiating.  Visitation will be one hour prior to the service at the church.  Burial will be at the Byron Cemetery.
Milo John Gatzke, 86 of Byron, passed away on Wednesday, February 14, 2018 at Mayo Clinic Hospital, St. Marys Campus.
Mike was born on June 15, 1931 to John and Winnie (Bigalk) Gatzke in Preston, Minnesota.  He grew up on the family farm and graduated from Preston High School.  He married Mary Langan April 30, 1955 in Austin, Minnesota.
Mike was employed by Rochester Dairy for four years then worked at IBM for 30 years retiring in 1990.  He then drove bus for Byron School System and Glenn's Motorcoach.
He enjoyed fishing in Canada and Northern Minnesota with buddies, traveling, spending time in his workshop as well as being with family and friends.
He is survived by his wife Mary, of 63 years; son, Steven (Janet) of Byron; three daughters, Karen (Bruce) Mills of Spring Valley, Diane (Tom) Bussell of Stewartville and Kristin Decker of Kasson; one sister, Wanda (Dick) Schmidt of Colorado; 10 grandchildren and three great-grandchildren.  He was preceded in death by his parents, four siblings and a son, Timothy.
Condolences

Printer Friendly Version
The family of Milo "Mike" Gatzke has received the following condolences.
I want to offer my condolences to the Gatzke family and friends. It is a painful thing to lose a love one in death. Even Jesus gave way to tears when his friend Lazarus died (John 11:35). Our heavenly Father of tender mercies knows your pain. He never purposed his human family to have health issues, grow old, and die, but to live in perfect health and life forever. It is still his purpose (Psalms 37:11, 29). He calls death an enemy and promised to remove sickness, old age, and death__ 1 Corinthians 15:26 "The last enemy, death, is to be brought to nothing"; Isaiah 33:24 And no resident will say: "I am sick"; Isaiah 35:5,6; Job 33:24,25 "Let his flesh become fresher than in youth; Let him return to the days of his youthful vigor." Finally, He promised to undo the effect of death by bringing our love ones in the memorial tombs back to life__ Isaiah 26:19 "Your dead will rise...Awake and shout joyfully you residents in the dust! ...the earth will let those powerless in death come to life." I hope these words give you all comfort.
Even though the weather is keeping us from attending the funeral service, know that we are sending our thoughts and prayers for all of you. May you find some comfort in your memories. So sorry for your loss
I was very sorry to see of the passing of Mike. I worked with him at IBM many many years ago, and always was pleased to work with a very good guy.
My condolences to the entire family. I ma sure he is missed.
May love and light surround you all... Mike is now a bright star watching over his family and loved ones. Prayers for your continued strength.
So sorry Mary to hear of Mike's passing. Such a difficult time for you and your family. Please
know that our thoughts and prayers are with you all...... Dick & Marlys
To the Milo Gatzke family. We offer our sincere sympathy in the passing of my cousin Milo. May our thoughts and sympathy help you through this difficult time. May his memory live in your thoughts. God bless you all.
Diane - I am so sorry to hear about your father. Please know that my entire family sends our heartfelt sympathies. Barb
Your family is in our thoughts and prayers.
We're so very sorry for your loss. Always enjoyed running into your Dad around town. He was always so nice and friendly. God speed Mike, may the angels welcome you home.
Phil & Kim McPhee