Memorial Gathering
Date: Tuesday June 26, 2018
Time: 4:00 pm - 7:00 pm
Location: Byron Funeral Home [ view map ]
Burial:
Grandview Memorial Gardens - Rochester, MN - At a later date.

Printer Friendly Version

Share on Facebook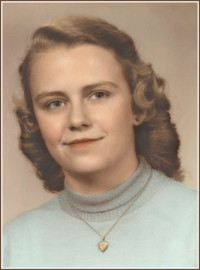 Date of Birth:
Thursday, November 21, 1935
Date of Death:
Friday, June 22, 2018
Age:
82 years old
Marlyce Mae O'Brien
A Memorial Gathering for Marlyce O'Brien will be held from 4:00 p.m. – 7:00 p.m. on Tuesday, June 26, 2018 at Byron Funeral Home.  Burial will be at Grandview Memorial Gardens in Rochester at a later date.
Marlyce Mae O'Brien, 82, of Byron, passed away on Friday, June 22, 2018 at Mayo Clinic, St. Marys Campus, surrounded by her loving family.
Marlyce was born on November 21, 1935, in Byron, MN, to Ernest and Esther (Bush) Hagen.  She graduated from Byron High School in 1953 and later that same year she married Bernie O'Brien in Kasson.  She was employed for a time at Waters Conley in Rochester, eventually completing her nursing degree in 1969.  Marlyce worked for Mayo Clinic, retiring in 1993.
She enjoyed fishing, watching the Minnesota Twins, reading and spending time with family, friends and Bella her beloved chihuahua.
Marlyce is survived her husband Bernie; a son, Scott (Peggy) O'Brien of Mantorville; a daughter, Lorrie O'Brien of Mechanicsville, VA; seven grandchildren, Marcie, Jenny, Sally, Alex, Kandice, Brooke and Adam and 10 great-grandchildren. She was preceded in death by her parents; a son, Randall Thomas O'Brien; and a brother, Thomas Hagen.
Condolences

Printer Friendly Version
The family of Marlyce Mae O'Brien has received the following condolences.
My sympathies and condolences to the family from me and my family.
I was sorry to hear about your wife and that I am unable to attend. My Sympathies.
Im so sorry to hear this Bernie. Please know that friends and family are there to help. You have my deepest sympathy. I'm glad I was able to meet your family and to become a friend.
"Webby"
Bernie and family- You all are in our thoughts and prayers as you deal with the sudden death of Marlyce. If there is anything we can do, please call as we'd like to help in anyway you need us!! We pray for your strength to get through this difficult time! -Frank & Karen
MARLYCE RIP I GUESS YOUR READING IN HEAVEN NOW