Printer Friendly Version

Share on Facebook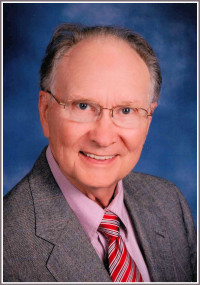 Date of Birth:
Tuesday, February 12, 1935
Date of Death:
Tuesday, February 22, 2022
Age:
87 years old
Lyle Sophus Kuhlmann
A memorial service for Lyle Sophus Kuhlmann will be held at Byron United Methodist Church on Friday, March 4, 2022, at 11 AM with lunch to follow.  Reverend Rachael Hanson will officiate.  Visitation will be one hour before the service at the church.  Burial will be in the Byron Cemetery in the spring.
Mr. Kuhlmann, 87, passed away Tuesday, February 22, 2022, at Seasons Hospice in Rochester of a tumor in the duodenum.  He had been ill for 3 weeks.
Lyle was born on February 12, 1935 in the home of his parents Sophus and Jennie Kuhlmann in Byron.  Lyle was the youngest of four brothers.  He was preceded in death by his wife Nancy in 2017 and by his son Mike in 2008.  His brothers Duane, Hugh and Kenneth (Red) preceded him in death.  Lyle graduated from Byron High School in 1953 and attended the University of Minnesota.  Lyle and Nancy met through mutual friends while in college, married and moved to Byron in 1955.  He joined Byron Elevator Company to work with his father and grew the business until he retired in 1998.  Lyle and Nancy moved to Anna Maria Island, FL in retirement and returned to enjoy life at Charter House in Rochester in 2015 where they had many friends.
Lyle was an Eagle Scout.  He was active in the National Grain and Feed Association, Byron City Council and church council in Byron and Anna Maria.  He served on the original Al-Corn Clean Fuel board in Claremont, MN and the First Bank board in Rochester.
Lyle and Nancy enjoyed traveling around the country and internationally.
Lyle and Nancy were blessed with and enjoyed their growing family at many family events and cabin time.
Lyle is survived by his son, Lou (Jeanne) Kuhlmann of Byron, daughters Kay Petersen of Lake City, and Nora (Joe) Kuhlmann-Lasky of New Orleans.  Son Mike (Shelly) Kuhlmann preceded him in death.  He is also survived by 12 grandchildren Tyler (Jen), Alex (Kiley), Lance (Melissa) Kuhlmann and Marie (Joe) Magro, Nick and Pete (Alicia) Kuhlmann, Matt (Andrea) Petersen, Nina (Brad) Kreofsky, Maddie and Lee Petersen, Max and Sasha Lasky along with 17 great grandchildren, Kinley, Colette, Dane, Levi, Rowan, Landon, Mya, Jaydon, Elliot, Diego, Daniela, Sidney, Josh, Allie, Olivia, Jack and Kaylan.
Memorials are preferred to Byron United Methodist Church.
Condolences

Printer Friendly Version
The family of Lyle Sophus Kuhlmann has received the following condolences.
Sorry to hear about the passing of your father. I have such great memories of your family and the Valley View community.
Blessings to you,
Teri Sanneman
My sympathies to you Lou and your family. Wishing you moments of peace and comfort as you remember your dad.
On behalf of the Christ UMC community, we extend our condolences to your family. We are praying for you as you remember and celebrate Lyle's life and are grateful for his connection with the Christ church family.
Lou and the rest of Lyle's family I send my sympathy and prayers your way. Lyle was a good and generous man. May he rest in peace.
Sending my deepest sympathies to you all. What a sweet dear man Lyle was. I had the honor of meeting Lyle at the charter house and cleaning for him every week, he was a joy to see every week and I'm gonna miss him. He told me a lot of great stories, The one thing I do know for sure is that he's happy in heaven with his beloved wife now. My condolences to his family. Love Lindsay Barnes.
Greetings to the family,,,,
I had the positive experience of meeting Lyle at ati meetings as both Mike and Lou were very involved with and did me a lot of good on my farm.
Sorry for your loss
Regards, Craig and Sara Nord
Lou - Our thoughts go out to you and your family during this difficult time.
Steve and Caroline Houzenga


Celebrating the life of a wonderful man and mourning his passing with you. My parents and our whole family treasured his friendship. He will be greatly missed.