Visitation
Date: Thursday October 19, 2023
Time: 6:00 pm - 8:00 pm
Location: South Zumbro Lutheran Church [ view map ]
Second Visitation
Date: Friday October 20, 2023
Time: 10:00 am - 11:00 am
Location: South Zumbro Lutheran Church [ view map ]
Funeral Service
Date: Friday October 20, 2023
Time: 11:00 am
Location: South Zumbro Lutheran Church [ view map ]
Burial
Location: South Zumbro Cemetery

Printer Friendly Version

Share on Facebook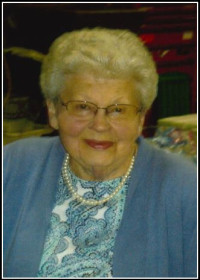 Date of Birth:
Wednesday, March 19, 1930
Date of Death:
Tuesday, October 10, 2023
Age:
93 years old
Lorraine Evelyn Ness
Lorraine Evelyn Ness, age 93, of Kasson, went home to be with her Lord and Savior on October 10, 2023, at Field Crest Care Center in Hayfield, Minnesota.
Lorraine was born on March 19, 1930, to Harvey and Berdina (Ohm) Boysen in Mower County. She attended country schools in both Mower and Dodge Counties and Hayfield High School in Hayfield, Minnesota.
April 14, 1948, she was united in marriage to Manford Ness at Trinity Lutheran Parsonage in Hayfield, Minnesota. They farmed in rural Kasson, raising four children. Lorraine was truly a home person and farmer's wife. She did gardening, canning, butchering, milking cows, and all sorts of farm chores. Feeding the baby calves was her favorite. She got pretty handy with pitchforks and other barn shovels. She was pretty handy with a sewing machine and was a fantastic cook and baker. She was forever trying out new recipes. She always had cookies on hand whenever the grandkids would visit, and her pies were to die for. When living on the farm she worked on the side, cleaning houses for people. After Manford's death in 1983, she moved to Kasson and worked as a custodian for 10 years at the Kasson Elementary School. After that she worked at the Kasson Variety Store as a retail clerk. During this time, she started quilting. She machine stitched and hand sewed all 11 grandchildren quilts for their graduation from high school. These quilts went with them to college and got some good use. When those 11 grandchildren were married, she made them all another quilt for their wedding gift. She also made each of her own children a Christmas quilt, which they all have on their beds during the Christmas season. After this, the dear little grandbabies started to arrive. She sewed each of them a flannel blanket with Satin ribbon binding. They loved those blankies and wore the satin corners out, which she then patched. She must have made 50 + blankies for other Ness nieces and nephews.
Lorraine was a member of South Zumbro Lutheran Church since 1948. She loved her church family. She was involved in church circles, helping with all different church activities. She loved to read her bible, especially the book of Isaiah. Reading Bible history and about its people was also a favorite of hers.
Lorraine is survived by her 4 children, Lois (Antone) Elias of Mantorville, Daniel (Pamela) Ness of Mabel, Randy (Teresa) Ness of Kasson, and Julie (Greg) House of Stewartville, 11 grandchildren, 37 great grandchildren, 3 great great grandchildren, 3 brothers and 5 sisters-in-law, Gary (Deb) Boysen of Hayfield, Roger (Darla) Boysen of Chatfield, Michael (Rita) Boysen of Savage, Bonnie (David) Boysen of LaPorte, Betty (Leonard) Boysen of Leitchfield, and Diane (Harvey) Boysen of Byron.
Lorraine was preceded in death by her loving husband Manford, her parents, Harvey and Berdina Boysen; son-in-law, Antone Elias; 3 brothers, David, Leonard and Harvey Boysen Jr.; sister-in-law, Darla Boysen, and great granddaughter, Katherine Gillis.
The funeral service will be held at 11:00 a.m. Friday, October 20, 2023 in South Zumbro Lutheran Church in rural Kasson. Visitation will be held from 6:00 p.m. to 8:00 p.m. on Thursday, October 19, 2023, in South Zumbro Lutheran Church and one hour prior to the service on Friday. Burial will be in South Zumbro Lutheran Church Cemetery.
What a remarkable daughter, sister, mother, and grandmother she was. What a remarkable life. Bless her memory.