Important Information:
Due to the current pandemic, the memorial service for Leo will be for family members only.  All family members will be required to wear a face mask while attending.  The service will be held at Christ The King Catholic Church on Friday, February 26th, 2021.

Printer Friendly Version

Share on Facebook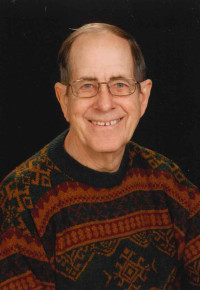 Date of Birth:
Friday, March 26, 1943
Date of Death:
Friday, February 19, 2021
Age:
77 years old
Leo J. Loosbrock
Leo J. Loosbrock, 77, of Byron, Minnesota passed away peacefully at home with his family on February 19, 2021, after a five month neurological illness and complications.
He was born in Adrian, MN on March 26th, 1943 to Arthur and Emma Loosbrock – the youngest of eight children.  He was raised on a farm near St. Killian, MN where he learned his love of the land and gardening.  He attended Worthington Junior College and Mankato State to earn his Elementary Education Degree.  He later attended Western State College of Colorado and received his Masters in Guidance Counseling.
He taught in St. James, MN and for the Department of Defense in Germany.  In 1970 he moved to Rochester and taught in the Rochester Public School District for 30 years.  Following his retirement in 2000, he was an elementary substitute teacher for 15 more years.
He met Mary Schmitz in Rochester and they were married for 42 years, raising three daughters, enjoying Kiva and the "touring" group.  In their retirement, Leo and Mary enjoyed traveling escapades to Alaska, Hawaii, Europe, Panama, and the Caribbean.
Leo's love of learning and educating impacted many students and colleagues in the Rochester and Byron communities.  He was an avid Byron Bear sports fan through his daughters' high school careers and thereafter.  Leo's family, neighbors and friends would describe him as charismatic, kind, open, and an overly caring dad, papa, husband, and friend.
Survived by his wife, daughters – Jane (Nolan) Cornell, West St Paul, MN, Andrea (Ryan) Gosch, St. Charles, MN, Ashley (William) Held, Stevens Point, WI, and nine wonderful grandchildren whom he adored – Jackson and Leo Cornell, Jordyn, Hayden, Lawton, and Sawyer Gosch, Hunter, Reece, and Taylor Held. Also survived by a brother Marcel (Mary Kay) Loosbrock, and sister – Sr. Davida Loosbrock and 21 nieces and nephews.  He was preceded in death by his parents, sisters – Ora Mae and Verona, and brothers – David, Wendell, and John.
A private funeral will be held for the family, Friday, February 26, 2021 at Christ the King Catholic Church in Byron.  A celebration to commemorate Leo's life will take place in spring/summer 2021.  Memorials are preferred to Friends of Oxbow, Channel One, Seasons Hospice, and the Poverello Foundation.  Online condolences are welcome at www.byronfuneralhome.com.
Condolences

Printer Friendly Version
The family of Leo J. Loosbrock has received the following condolences.
Dear Mary, Jane, Andrea and Ashley,
We send our condolences to you and just wanted you to know that we are thinking of you!
We remember Leo fondly for all the great support he always showed through the many years of athletic events in Byron.
We wish you all well!
Cindy & Dave Martens
To the family of Mr. Loosbrock,
Mr. Loosbrock was a regular substitute teacher of mine during my time at Harriet Bishop Elementary. (2000-2005).
I am deeply saddened to learn of his passing. I remember him very fondly.
My sincere condolences,
Logan Matzke
Dear Mary and Family,
I had the pleasure of working alongside Leo at Harriet Bishop. His kindness and willingness to jump in and help students and staff never ceased to amaze me. He put his heart and soul into his classroom of kids. He also put Otto's Apple Fritters in our staff room every so often. Thank you for sharing this wonderful man with our school family.
Very Sincerely,
Jane Williams
We were so sad to hear of Leo's passing but know he is now at peace. We will always cherish all our wonderful memories of the times we got to spend with Leo. He gave so much in everything he did and Leo's smile and good humor were an inspiration to everyone whose lives he touched. Sending love, hugs and prayers for comfort to your family!
Mary and Family-
I'm so sorry for your loss. You have been in my prayers and thoughts during this difficult time. Leo was such a great person. I loved it when Leo and Mary would walk by our yard and if I was working in my garden he would stop to visit about what both of us had planted and compare on how things were doing in each of our gardens or just talk about things that were going on during that crazy time of the beginning of COVID. It was always so great to visit with him and before we knew it we talked for over a half hour. (Good thing that they were usually on their way home from their walk). I will truly miss visiting with him about our gardens, yards and things in general. He was a special person.
Kathy Rathbun
Like Leo, I taught in the Rochester Public Schools. I was a secondary teacher but came to know him through the Rochester Education Association's Human Relations Committee. One summer near Brainerd, my family happened to be vacationing the very same week as Leo and Mary. Like me, Leo was a novice golfer; nonetheless, we decided one day to play. I thankfully have forgotten both our scores that day, but it was still memorable: Leo scored not just his very first par but also his very first birdie! I said to him, "See how easy this game can be when you're playing with the right person???" Afterwards for years, we never failed to recall that unusually exciting day. My final connection with Leo happened in the Senior Softball League at the McQuillan fields. Again, neither he nor I were outstanding players, but we shared the joy of the game and the camaraderie of our teammates. Whether at school meetings or on the golf course or softball field, Leo was always friendly and positive. He was very proud of his family and of being a teacher (I wonder how many teachers after their retirement agree to substitute --- much less for 15 years!). My very sincerest sympathy to his family and friends. Rest in Peace, Leo.
Mary and Family, I just heard of Leo's death today and can only imagine the depth of your loss. I know these past several months have been most challenging for all of you. You have had my continued prayers and love consistently and I know you are surrounded by loving friends and family. You are blessed with many cherished memories, I'm sure, that will be forever present, and that will provide comfort and warmth. My prayers and support continue and I will be in touch in the near future. God bless all of you and may His presence be so evident in the days and months ahead. Sue
We were very saddened to here of Leo's passing. He and I became acquainted about 1973. We were both teaching 3rd grade at Gage Elementary school when I got married and my husband and I bought a house 4 blocks from Gage. I was looking forward to being able to walk to school. I received word one section of 3rd grade was being eliminated and I was to be moved to a different school. I mentioned to Leo my disappointment at having to move when I hadn't even had a chance to walk to school from our new house. Leo, being the thoughtful person he was immediately said "you shouldn't have to go, I will." That was the beginning of a ongoing friendship that was renewed off and on over the next 30 years. Even though we didn't see each other often, each time we did his warm personality made it feel like we had just talked to each other the day before. You, the members of his family are in our prayers.
Mary, Jane, Andrea and Ashley, our hearts are with you ladies.
We've lost a wonderful son of God. But we know Leo, he's going to continue to provide for you all through his heavenly work. Cherish the "Leo winks" coming your way!
How we loved watching your family grow through the years as Tim and I started our own family. The kids really looked up to Jane, Andrea and Ashley....so fun to follow them in their sports, school and life. And Mary and Leo, you were always right there at every church function, truly devoted to God's mission.
So while the loss for us is great on earth, heaven just gained another saint.
We love you guys and wish you all of the best moving forward.
God Bless, love, Tim, Jan, Jessie, Anna, Max and Heidi Zamzow
Andrea,
My deepest sympathy to you and your family during this difficult time. Remember the good times. Prayers to all.
Ann
Hi Mary, my thoughts and prayers go out to you in the loss of your Leo. It is so hard to lose a spouse, especially after you have celebrated 42 years together! I know the funeral is private. If there is an announcement of the memorial service in the summer, perhaps I will be able to see you then. Just know that you are in my thoughts at this time. Barb Virnig - 507-285-1136
I'm so sorry to hear that Leo has died. I was lucky to have an opportunity to learn in his classroom when I was going to school to become an elementary teacher. His classroom was the first one that I had that "real" teaching experience before student teaching. That was over 30 years ago and I'm still teaching today! I remember he was such a kind, patient, and gentle man. My sincerest condolences to your family. Sheila Perry
I taught with Leo in Rochester. Leo always had a kind word and beautiful smile. His energy was so uplifting and positive. You have my heartfelt sympathy. Kathy Gronemeyer
Scott and I were sorry to hear about Leo's passing. He was such a kind man and one of Cassie's favorite teachers! We hope that your family find peace and healing from your loss. Sincerely, Jolene Litin
Leo was a joy to be around and I always looked for him to come and play Senior Softball---I know he enjoyed it and it was a joy to play with him on our team. Leo will be missed by a lot of us. This is sad news.
Leo can get things started so we can play when we get together again. Go in PEACE LEO---God is watching over you. Blessing to his wife family and friends.... God Bless Leo Loosbrock.
Leo Loosbrock was a breath of fresh air! I was heartbroken to learn that he has left this world and gone on to a better place. I had the privilege of getting to know Leo while
teaching and substitute teaching at Sunset Terrace Elementary in Rochester, MN. We often worked in the same 1st grade pod together and he always made me smile because of
his enthusiasm for teaching. I could always talk to him, whether about teaching or about life. I have fond memories of Leo dressing up like Woody from Toy Story for Halloween;
he was such a good sport. The world has lost a gem, that's for sure. Please know that I will be keeping all of you in my thoughts and prayers. Fly High Leo! I will miss you!
Karen (Ladin) Messmer
To the family of Leo,
I am sorry to hear of the loss of wonderful Leo. I am the reading specialist at Bishop and also worked at Sunset for years. Leo was a wonderful sub for me as well as a volunteer after subbing. He knew I always welcomed him. Leo would just come to my room to read with my students. He will be sadly missed! He even knew our three sons who attended Sunset, either from subbing in the classroom or seeing his smiling face in the hall. He was a joyful dedicated educator and such a kind generous man. Please know you all will be in my thoughts and prayers.
Warmly,
Dawn Schuster
Leo will be greatly missed! He was a volunteer at Sunset and read with many students. He made a difference for so many kids. I always enjoyed seeing him in the building and chatting with him. I am thinking of his friends and family during this time.
Mary, Jane, Andrea and Ashley, we are so sorry for your loss. Leo will surely be missed at every birthday party and holiday gathering. It was such a privilege to have gotten to know and love him. Our love and prayers to you all.
Pat and Dave
Sending my deepest condolences to Mary and the entire family. My dad, Tony, was friends with Leo for a long time and I am sure I met Leo at one of the famous Friday breakfasts. I've always admired and been appreciative of that special group of men that have been gathering together for so many years. My own twin daughters met Leo through "breakfast with the guys" and my husband played golf with Leo. We're so sad to hear of his passing and send all our love to you.
Lynn and I send our condolences to Mary his wonderful wife and to his children. Rest In Peace Leo..
Frank & Lynn Loosbrock
Mary, Jane, Andrea, Ashley and family I'm so sorry to hear of Leo's passing. I want to let you know how much I enjoyed talking to Leo during many church activities. Christina always enjoyed having Leo as a substitute teacher. I want all of you to know how much he will be missed and how you all are in my thoughts and prayers. Take care of each other and love to you all.
Dear Mary and family,
I was so very sorry to hear about Leo. It was a pleasure to know him and I always enjoyed running into him and the conversations that followed. Please know you are in our thoughts and prayers. We were lucky to have known Leo. Blesses be his memory.
I have so many fond memories of Leo from a large part of my younger years while hanging out at the Loosbrock household and at our sporting events. I will cherish those memories and the time spent with your family forever, as he nourished a forever friendship between Jane and I. Blessed be the memory of Leo and the impact that he has had on so many. Sending love, warm hugs and prayers to you all during this difficult time.
Dear Mary, Jane, Andrea, Ashley, and Family, Leo was such a sweet, gentle, caring, compassionate person and very dear friend for so many years! How he loved his girls❤️!! Leo, you will be missed by many! I will miss seeing you at the fish frys. You were always there serving and greeting everyone! Our hearts go out to The Loosbrock Family.
Love and Blessings, Sue and Bob Boyles
Leo:
I didn't know you directly, but I have the wonderful gift of working directly with your daughter, Jane. I can tell that your smile, love of learning, and commitment to educating youth have been carried on by your daughter in her teaching career. What you modeled to your daughter Jane has been paid forward and modeled to me. I hold you in high esteem and celebrate the legacy that you created in your 77 richly lived years.
I had the pleasure of being an educational assistant in his Harriet Bishop classroom for several years. He was always so caring and supportive of each and every person. I have many happy memories of working with him. I know that he will be a blessing to many even in his passing. Prayers for comfort and happy memories for his family and friends.
God has taken our dear friend home and oh, how we are going to miss him. So many fond memories of almost 50 years. He liked to check out our garden when he visited at a Kiva event and compare gardening tips. Love, Hugs & Prayer for Mary, girls, and family from us.
My condolences to you Mary and family. Remembering you at SMH from so long ago. Glenda Kidd