Printer Friendly Version

Share on Facebook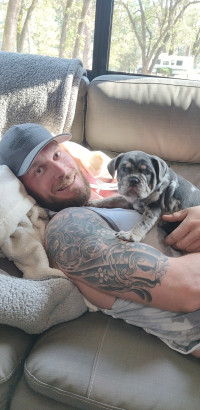 Date of Birth:
Thursday, January 7, 1988
Date of Death:
Saturday, December 28, 2019
Age:
31 years old
Lee Michael Marier
     Lee Michael Marier, 31, passed away unexpectedly on Saturday, December 28. He is survived by his parents, John and Louise Marier, his sister Sarah (Karl) Nelson, nephew Jack, his perfect match Dominiq, and two sometimes well-behaved dogs.
     Lee was born January 7, 1988 in Rochester, MN. He grew up in Byron, MN where he graduated from Byron High School. After completing the Electrical  Lineman program at Dakota Technical College Lee made the unexpected move to Houston.  He was a proud member of IBEW Local 66.  Lee lived and worked in Houston for a number of years, putting up with the sweltering summers while enjoying the mild winters.  Looking for a new adventure, Lee and Dominiq hauled his camper and Harley to northern California last summer where Lee continued doing linework.  He was really having fun exploring California, and finding out how compatible Dominiq and he were, even in limited living space.
     Lee was a born charmer, with a big, warm personality.  He could always make you laugh and he had a way of making people feel good when they were with him. He loved riding his Harley, side-by-side, and driving his Texas diesel truck. He was constantly exploring and "checking things out".  He is so missed by his family, friends and co-workers.
     Lee's memorial service will be at 2:00pm on Saturday January 4, 2020 at the Byron Funeral Home with Pastor Kurt Ploeger officiating.  The visitation will begin at 1:00pm.
Condolences

Printer Friendly Version
The family of Lee Michael Marier has received the following condolences.
My heart breaks for your loss, prayers for you and your family.
Jerry & Lynn Jonsgaard
I am very sorry for your loss. Prayers for hope, peace, and grace during this difficult time.
We were so saddened to hear this news. We were Lee's neighbors in Brookshire, TX. He was a great neighbor and we loved always seeing his new toys- 4 wheelers, motorcycles, 5th wheels! Adventurous guy! He will be missed! Prayers to your family.


A good heart has stopped beating, a good soul ascended to heaven. We part with our beloved Lee in pain.


May our Lord bless and comfort you and your family during this time of grief. Please accept my sincere condolences.


--With love and sympathy,


Michelle


So sorry for your loss . Prayers to your family and friends
What a great loss, Lee will be missed by so many. Prayers and strength for his family and friends. RIP brother!
Oh, Lou and John, my heart is heavy and my prayers and thoughts are with you......he sounded like an amazing son (Linda)
Dear Louise, John & family,
I am so sorry to hear about Lee's passing. He sounds like he was a very nice person.
I am keeping all of you in my thoughts and prayers.


With Love & Sympathy,
Dianne Nordgaard Dunn
Dear Louise & family.
I'm so sorry to hear about your loved one Lee. My thoughts and prayers are with you all.
~Lori Snell Barber