Information
A private family memorial service will be held for Lanis Karel at the Byron Funeral Home.

Please feel free to view the obituary and sign the online condolence page.

Printer Friendly Version

Share on Facebook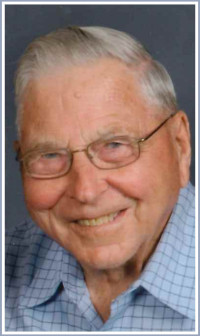 Date of Birth:
Thursday, May 31, 1923
Date of Death:
Wednesday, May 6, 2020
Age:
96 years old
Lanis Karel
Lanis Karel passed away May 2, 2020 at Madonna Towers, Rochester.  He was born May 31, 1923 in Leroy, North Dakota, to parents Frank and Stella (Gorman) Karel.   He attended country school through the eighth grade and helped his father and brothers on the family farm.
Lanis married Annabelle Jane Smith on May 18, 1943.  They stayed on the family farm near Leroy during the early years of their marriage and then in 1948 moved to Oklee, MN, where they purchased their own farm. They farmed there for the next 46 years where Lanis served on several boards including Red Lake Electric Co-op, Federal Land Bank, and Soil Conservation board.  In 1994 they retired and moved to Detroit Lakes, MN.  In May, 2017, they moved to Madonna Summit in Byron.
Lanis and Annabelle were dedicated snowbirds who spent almost 40 winters in Apache Junction and Mesa, AZ, enjoying a wide circle of friends.  Lanis was known for making wooden bowls on his lathe and loved to give them away to family and friends.  He and Annabelle also became known as the makers of  thousands of Aggravation game boards, shipping them around the world.
Lanis is survived by his wife of nearly 77 years Annabelle and four children: Karen (Morley) Peterson of West Concord, Louise (Delphus) Hanson of Cushing, Susan Lommen of Rochester, Kevin Karel of Pelican Rapids, plus grandchildren and great-grandchlldren.  He was preceded in death by his twin brother Nick, brothers Lloyd and Willmar, and sister Della.
Condolences

Printer Friendly Version
The family of Lanis Karel has received the following condolences.
My Sympathies and Prayers to the Karel family, always liked Lanis and marveled at how your place was "as neat as a pin" John
Hi Karels. My sympathy to you all, especially you Annabelle. This morning when I talked to Mom in Oklee, she told me Lanis had died and we shared some good memories. I would say Lanis and Annabelle were kind, wonderful people from my youth. Who didn't look at the lit clock on the quonset on their farm when driving by?!!! Please know I said a prayer for Lanis and you today. Take care, Cathy Cyr
Annabelle and family,
We were saddened to hear of the death of Lanis. You both gave us many, many years of entertainment with our aggravation boards that we purchased for us and our family and friends. And your beautiful paint work on the boards was priceless. We will always treasure the boards, but more important we will treasure your friendship. I , Joan, looked forward to picking up boards, because it gave me a chance to visit and get to know you better. Our thoughts, prayers, sympathy and love are with you all as you face these days ahead. May God grant you strength and peace.
Jack and Joan Fogt
Siveridge friends