Visitation
Date: Thursday December 14, 2017
Time: 4:00 pm - 7:00 pm
Location: Christ The King Catholic Church [ view map ]
Second Visitation
Date: Friday December 15, 2017
Time: 10:00 am - 11:00 am
Location: Christ The King Catholic Church [ view map ]
Funeral Mass
Date: Friday December 15, 2017
Time: 11:00 am
Location: Christ The King Catholic Church [ view map ]
Burial
Location: Minnesota State Veterans Cemetery Preston [ view map ]

Printer Friendly Version

Share on Facebook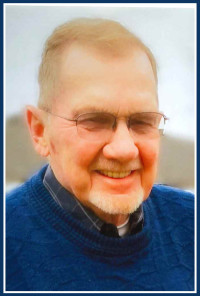 Date of Birth:
Sunday, January 5, 1941
Date of Death:
Sunday, December 10, 2017
Age:
76 years old
Kenneth Nicholas Bauer
The Funeral Mass for Kenneth Bauer will be at 11:00AM, Friday, December 15, 2017 at Christ the King Catholic Church in Byron with the Rev. John Lasuba officiating.  Military Honors will be provided by the Byron American Legion.  Visitation will be from 4:00PM – 7:00PM Thursday, December 14, 2017 at Christ the King Catholic Church and one hour prior to the Mass on Friday.  Burial will be at Minnesota State Veterans Cemetery – Preston at a later date.
Kenneth Nicholas Bauer, 76, of Byron, died Sunday at his home.
Ken was born on January 5, 1941 in Lansing Michigan to Ernest and Marguerite Bauer.   Ken served his country in the Army with stops in New York, Oklahoma, and Germany. In 1964, Ken met Patricia McLaughlin in Lansing Michigan.  They were married on July 30, 1966 in Austin Minnesota.  They spent time living in Lansing Michigan and St. Paul before moving to Lyle in 1972.  During their time in Lyle, Ken worked as a truck driver, a bartender, but spent most of his years working for the Lyle public school district.  Ken was also part of the group that first started the Lyle cancer telethon, which is still going on today.  In 1987, Ken took a job with the Byron school district, and moved his family to Byron Minnesota.  Ken worked at the Byron High School for 16 years, and retired in 2003.
Ken was a volunteer fire fighter for over 25 years.  He loved the guys at the fire hall and helping in any way that he could.  He was also huge supporter of the American Legion, and a PUFL member.  In the summers, Ken loved to spend time with his family at the lake in Wisconsin and playing with all of his grandkids.
Ken is survived by his loving wife of 51 years, Pat, sons, Todd of Byron, Brent (Julie) of Carver, MN Bryce Minneapolis, MN and daughter Tanya Ceballos (Joe) of Circle Pines, MN.  Proud Grandfather of Jordyn, Taylor, Abby, Cody, Brady, Brielle and Chloe.  Sisters Janiece and Joan and brother Gary.  Proceeded in death by his parents Earnest and Marguerite.
Condolences

Printer Friendly Version
The family of Kenneth Nicholas Bauer has received the following condolences.
I'm so sorry to hear about your loss and would like to extend my condolences .
2 Corinthians 1;3:4. 3.Praised be the God and father of our Lord Jesus Christ, the father of tender mercies and the God of all comfort,4. Who comforts us in all our trials, so that we may be able to comfort others, in any sort of trial with the comfort we receive from God.
My sincere condolences to the Bauer family. may the God of all comfort give you the comfort you need to endure this very difficult time and the days ahead (2 Corinthians 1:3,4)
Pat- 51 years is awesome; we are so very sorry that journey has ended. May the Lord comfort you during this time and gift you with the joys of your family. Ken no doubtably was greated by the best- Peace to the entire family.
Love, Ryan and Sarah Gilgenbach
My thoughts and prayers are with your family. Ken's goofy personality will be so greatly missed
My Deepest Sympathy to the Bauer Family.
Pat & Family,
Over the past 3 years our family has gotten to know yours and it has been a true blessing, not only are you guys some of the best neighbors we have had the pleasure to live next to but people in general, your house is always a good time night in a night out! Ken has truly made a mark on our family and our lives we will remember him forever, he always had great advice and was just a funny goofy guy, I will always remember him and you as "the crazies" as our girls call you and Ken, and he is truly gonna be missed more than I can explain, I cannot imagine the tough and difficult few days its been but I know its been tough on Brittany and I also, your family as well as Ken mean more to us than I think you know and we will always be there if you need anything. RIP my friend, our "crazy ken"!
Pat, I was sorry to hear the news about Ken. What a great man he was, always happy and smiling. I have many great memories of time spent with the two of you. He will be missed by many people including you and his family. My thoughts and prayers to you all.
Dear Pat,
Our deepest sympathies to you and your family. May the many good memories you & Ken shared together bring you comfort in the days and years ahead. God"s blessings to you & your family.
With love, Dave & Betty
Ken was a great man and always made me laugh even when he was trying to be serious. His smile and laugh was contagious. I think my favorite memory of him is how his face lit up when he spoke of his wife, his children, and especially his grandchildren. Sitting on the porch watching the grandkids play in the yard and he would smile from ear to ear. I will always hold a special spot for him in my heart as with all the family.
My payers and love are with you all during this time.
Rest in peace Ken
Love, Brooke
Our deepest sympathies to you, Pat, and your family. We have many great memories spending time with Ken. He was a kind and loving man who enjoyed family and life. May the memories you shared together bring you comfort in the months ahead. God bless you all.
Sincerely,
Patrick & Patty Bradley
Pat and Family,
I am so very sorry to hear about Ken's passing, but also so happy to have had some good conversation with him at Aiden's Service and Meal.
Ken was always bright and social and happy and I trust he will carry that all into heaven where he can be free of pain and able to watch over
you, his loved ones. My prayers are with you, Mary Clough