Visitation
Date: Monday March 12, 2018
Time: 4:00 pm - 7:00 pm
Location: Byron Funeral Home [ view map ]
Second Visitation
Date: Tuesday March 13, 2018
Time: 10:00 am - 11:00 am
Location: Byron United Methodist Church [ view map ]
Funeral Service
Date: Tuesday March 13, 2018
Time: 11:00 am
Location: Byron United Methodist Church [ view map ]
Burial
Location: Byron Cemetery

Printer Friendly Version

Share on Facebook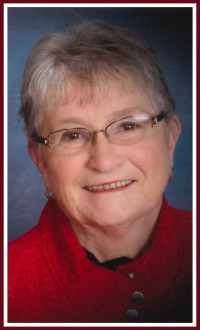 Date of Birth:
Thursday, October 16, 1941
Date of Death:
Wednesday, March 7, 2018
Age:
76 years old
Karen C. DeGroodt
Karen Charlene DeGroodt, 76, passed away Wednesday, March 7, 2018.
Karen Charlene Sparks was born on October 16, 1941 to Della (Heydt) and James Sparks in Sargeant, Minnesota.  She graduated from Rose Creek High School in 1959 and on December 9th 1961, she married Kenneth DeGroodt in Brownsdale, Minnesota at the United Methodist Church.
Karen and Ken have resided in Byron for 52 years.  Karen worked at the United Methodist Church in Byron as a secretary and then the Personnel Department at St. Marys Hospital, and finally the Human Resource Department at Mayo Clinic where she retired in 2004.
She is survived by her husband Kenneth; her daughter, Kristine of Stewartville and her son, Jason of Rochester; many nieces, nephews and cousins; brother, Roger (Susan) Sparks of Chandler, Arizona; sisters-in-law, Sharon Sparks of Owatonna, and Karen Ricabaugh of Zumbrota.  She was preceded in death by her parents, Della and James Sparks; brothers, Gary and Donald, and in-laws, Lawrence and Esther DeGroodt.
Karen enjoyed gardening, camping, reading, bird watching and playing solitaire and mahjong on her computer.  She was a very caring, loving and wonderful mother, wife and friend.
A Funeral Service for Karen will be held at 11:00AM, Tuesday, March 13, 2018 at Byron United Methodist Church officiated by Rev. Beth Perez.  Visitation will be Monday, March 12, 2018 from 4:00PM – 7:00PM at the Byron Funeral Home and one hour prior to the funeral at the church on Tuesday.  Burial will be at Byron Cemetery.
Condolences

Printer Friendly Version
The family of Karen C. DeGroodt has received the following condolences.
Ken and Family,
So sorry to learn of your loss of Karen. She was a wonderful person. Friendship of Ken and Karen was always very special. Our deepest sympathy for your loss.
Dear Ken and Family,
Sorry to hear of your loss. It has been many years since we enjoyed your friendship. We remember meeting you at Taft and Jane's and going on some adventures after that. May god bless you, Larry and Ruby
I worked with Karen in HR at Mayo. I am so saddened by her passing. She was always kind and considerate and always, always helpful to others. She always had a smile and brightened your day. My heart aches for all of you as I know how much she will be missed by those she touched with her kindness. My thoughts and prayers are with you. May the love of your family and friends encircle you and help you through this difficult time.
Gloria
Dearest Ken & Family: We are saddened to learn of the passing of Karen...a devoted person who loved Family & Living Life!! We will hold you close in thoughts & prayers as you prepare To Celebrate Her Earthly Life. With Our Sympathies & Love From Marc & JoAnn Pream
Ken, Kris and Jason,
We are heartbroken to hear about Karen. Life on 2nd Street will never be the same. We all loved Karen and will miss her dearly.
Kevin, Ann, Maren & Michael
Ken,
We are so sorry to hear about Karen. We are sure going to miss her. Our camping family will never be the same. Much love to you all. Jeff & Renee Skifter, Brittney and Jennifer