Printer Friendly Version

Share on Facebook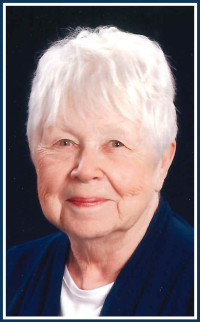 Date of Birth:
Thursday, September 30, 1937
Date of Death:
Monday, August 13, 2018
Age:
80 years old
Judith A. Kingsbury
Judith Ann (Hoban) Kingsbury, 80, of Byron, passed away peacefully at her home surrounded by her family on August 13, 2018.
She was born on September 30, 1937 in Faribault, MN and later moved to Rochester, MN where she graduated from Lourdes High School in 1955.
She married Max Kingsbury on May 10, 1958.  They moved to Byron in 1962 and became founding members of Christ the King Catholic Church, where she worked as a Religious educator and coordinator for over 25 years combined.  She later worked side-by-side with her husband in their photography studio in Byron.
She is survived by her husband Max of Byron; her three children; Brian Kingsbury of Rochester, Randi (Tom) Swanson of Byron and Bonny (Mathew) Churchill of Kasson; three grandchildren, Erik (Jess) Swanson of Kasson, Andy (Karen) Swanson of Hackensack and Jackson Churchill of Kasson; four great-grandchildren; Cody and Connor Swanson of Kasson, Colson Churchill of Dodge Center; a great-granddaughter, Swanson of Hackensack who is expected in December 2018; one brother, Dan (Cindy) Hoban of Rochester;  Three nieces Becky (Brett) Greseth of Rochester, Chris (Darrin) Herrera of Rochester, Debby (Gregg) Houdek of Pine Island.
She was preceded in death by her parents, Mary and Donald Hoban, a daughter, Kristin Kingsbury and a brother, Gerald Hoban.
In lieu of flowers, the family suggests memorials to Seasons Hospice.
A Celebration of Life Service will be held at 11:00AM Thursday, August 16, 2018 Christ the King Catholic Church in Byron with the Rev. John Lasuba officiating.  A visitation will be held from 9:30am ~ 11:00am at the church on Thursday.  Burial will be at the Byron Cemetery, at a later date.
Condolences

Printer Friendly Version
The family of Judith A. Kingsbury has received the following condolences.
We are so sorry to hear of Judy's passing. We were so happy to see her at the last class reunion. Please know that we loved her very much.
Morrie and Mary
My condolences to the Kingsbury family and friends. It is a painful thing to lose a precious love one in death, regardless of how long they have lived. Even Jesus wept when Lazarus died (John 11:35) and it pains our loving Heavenly Father, too. He did not purpose his human family to grow old and die but purpose us to live and enjoy life. It is still his purpose (Psalms 37:11, 29). He calls death an enemy that will be removed forever (1 Corinthians 15:26; Isaiah 25:8). He promised to awaken our love ones in the memorial tombs from asleep in death__ Isaiah 26:19 "Your dead will rise ...Awake and shout joyfully you residents in the dust! ...the earth will let those powerless in death come to life." He will then reverse the aging process__ What a delight it will be to see them again to enjoy life as our Creator purposed (Psalms 145:16)! Allow these words to keep comforting all of you.
Max, so sorry to hear about the passing of your wife--I will remember her in my prayers.
Randi and Tom: so very to hear about your mom's death, she is in a better place and at peace.
Chris & I were sad to hear of Judy's passing. We will miss her. She was a great role model to us younger cousins. We will be thinking of the family tomorrow and in the weeks to come. You are in our thoughts & prayers. I will be in Minnesota mid-Sept. so I hope to see some of you then. Love to all, Chris & Carol
So sorry for your loss. Your mom was a fun lady I have a lot of fun memories of her and Max while we were growing up in Olivia and Willmar. May my cousin Judy Rest In Peace she will now join the rest of the Weir family for a great reunion.