Visitation
Date: Thursday September 26, 2019
Time: 4:00 pm - 7:00 pm
Location: Byron Funeral Home [ view map ]
Second Visitation
Date: Friday September 27, 2019
Time: 10:00 am - 11:00 am
Location: Christ The King Catholic Church [ view map ]
Funeral Mass
Date: Friday September 27, 2019
Time: 11:00 am
Location: Christ The King Catholic Church [ view map ]
Burial
Location: St. Margaret Cemetery [ view map ]

Printer Friendly Version

Share on Facebook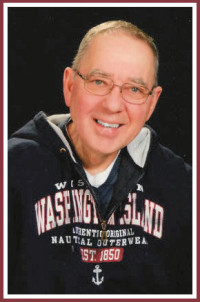 Date of Birth:
Thursday, June 2, 1955
Date of Death:
Monday, September 23, 2019
Age:
64 years old
John Scott Lutzi
John Scott Lutzi, age 64 of Byron, MN, passed away on Monday, September 23, 2019, at home surrounded by his family knowing he was also showered with love and support from so many other friends and family not there.  John succumbed and joined his eternal family waiting for him along with his Heavenly Father after his lengthy and courageous battle with cancer.
We welcome our family, friends, and those touched by John's gentle spirit to join us for his visitation on Thursday, September 26th, at Byron Funeral Home from 4pm to 7pm. Visitation will continue one hour prior to his celebration of life mass at Christ The King Catholic Church in Byron, MN, on Friday, September 27th, at 11:00 a.m.  Interment will follow mass at St. Margaret's Cemetery in Mantorville.
John, the son of John Kenneth "Jack" and Rosemary (Strain) Lutzi, was born on June 2, 1955 in Rochester, MN. He graduated from Dover-Eyota High School in 1974 and then attended Vocational School in Winona to pursue his love of agriculture.  He first married the mother of his children, Bonnie (Welch) Lutzi and they later divorced.  On November 10, 1990, he married his wife and best friend Karla (Gillen) Lutzi at St. Pius X Catholic Church in Rochester.  Together they shared nearly 29 amazing years together!
The most important thing in life to John was his family, friends and his work family.  He was a loyal and loving husband, a caring, loving and compassionate Dad, Grandpa and friend.  John loved working.  Whether on the farm, at Faribault Foods, putzing around the house or helping out friends, neighbors or family with anything they needed a hand with, that is what he loved best.  He was prideful to a fault of a job well done.  He was kind and generous to all whose lives he touched.  John first farmed with his Dad and then moved onto cheesemaking at AMPI, soldering at IBM and Celestica before he found his niche at Faribault Foods where he spent 15 years loving what he did every day.  To his extended family there, we will forever be grateful for adapting over these last years to help John stay with you for as long as he did.
He is survived by his wife, Karla; two sons, Scott (Angela) Lutzi of Rochester, Jade (Lacy) Lutzi of Rochester; two grandchildren, Wynter & Paislee, his mother, Rosemary Lutzi of Rochester, one brother, Rick (Charlene) Lutzi of Rochester, two sisters Dennise (Mark) Gunderson of Genoa and Barb (Bob) Page of Louisa, VA, countless aunts, uncles, cousins, nieces, nephews, great nieces and great nephews who will all miss their affectionately referred to "Big John".
He was preceded in death by his father, Jack Lutzi, his sister Diane Lutzi Roadway, and both his paternal and maternal grandparents, Ralph & Alice Lutzi & Allen & Leona Strain.
We want to extend a sincere thank you to the Oncology Team at Mayo Clinic who always treated us like family.  The team at Mayo Clinic Hospice were also caring and compassionate and a blessing to our family during these last days.  John thought of all of his caregivers as Gods Angels here on earth.  We will forever be grateful to you all!
Those we love don't go away.
They walk beside us every day.
Unseen…Unheard
But always near.
Still loved
Still missed & very dear.
Condolences

Printer Friendly Version
The family of John Scott Lutzi has received the following condolences.
I had the wonderful privilege of meeting John and his lovely wife Karla at Target Field in August. John had come to a Twins game and I had the special opportunity to show he and Karla around the Delta Club to see some of our most treasured Twins memorabilia. We had a great time reminiscing over some of his favorite Twins memories. He was an absolute joy and delight to visit with and I count it among the highlights of our season to spend that time with him. May Karla and his family have my most sincere condolences.
Dear Karla,
i am so amazed by your strength and so saddened by your loss. I didn't know John but feel as though I did from reading your posts on CaringBridge.
My condolences to your family.
With love,
Kathy
So sorry to hear about John's passing and send my deepest sympathy to Karla and all his family. Wish it had been possible for me to attend his visitation and memorial service. My love to all the family. Rest in peace John. I love you! Aunt Tricia
Karla, so sorry for your loss. John was a wonderful guy. Have been thinking of you so much this week as I didn't know John had been sick. Did not make it to his funeral but wanted to extend our sympathy for your loss. All our love. Wayne & Diane
Dear Karla and Family,
We are sorry to hear of John's passing but he fought a long and brave battle and is now at peace. Our thoughts and prayers are with all of you. Although gone, I know he'll be in your hearts forever.
Sending hugs!
Terry & Gail Storing
Karla, I am so sorry for your loss. Although I never met John, I remember the sparkle in your eyes and the joy in your laughter when you talked about the adventures you two shared. I also remember the love in your voice whenever you talked about John and the boys.
I am thinking of you. Since I didn't personally know John, I don't feel like I should take a seat away from one of his friends. So I won't see you today or tomorrow, but know that I am here whenever you need to talk.
Love, Marie Hlava
SORRY to hear of John's passing...The pain is gone.....Our thoughts and prayers......
My Dear Friend Karla,
I love this photo of John, this is how I will remember him...with a huge smile and a sparkle in his eyes. If you were fortunate enough to know John, you had a friend for life. He was the sweetest, kindest man who put others before himself. He loved you so much and even in his final days, was taking care of you. And he will forever be by your side.
Lots of love and BIG hugs!
Peg
Hello Carla (Chuckie),
We were sad to hear about John. A friendlier and kinder man is very rare and he will be missed.
We support you in anything you may need help with.
See you soon and we'll have a beer together .Be sure to bring your wonderful smile and awesome laugh.🤗
Sincerely,
Mark (Mades) and Karen (Cheeks) Mader
Dearest Karla and family and friends of all who so loved John,
Holding you all so close in my heart and prayers as you mourn your loss and celebrate his life.
Sending you strength and love during this very difficult time.
God's peace and blessings,
Diane (Devo)
Karla & family, so sorry to hear about John. Our thoughts and prayers are with you in this difficult time. Our deepest sympathy. Thinking of all of you.
John was such a sweet person. He was easy to talk to and always had a ready answer when you asked a question. The thing I really liked was that dad look he would give you if you weren't quite doing whatever to his liking. I got that look a couple of times when I was gardening. John you will be greatly missed as a neighbor and friend. Peg
I am so sorry for you loss. Your family memories are so great to me. My prayers and thoughts go out to you all!
Love Julie (Laplante) Amy
Karla, You're in my thoughts. John was a great guy and someone that will be missed by all. He was lucky to share the time he had with you. Stay strong in your faith, grieve actively and embrace support from friends and and family. Love always -- Jer
I know John was a wonderful man with a kind and gentle soul. I gathered that after spending very little time with him. I feel privileged to have met him. My thoughts and prayers are with you Karla and your entire family.
Our thoughts and prayers during this difficult time.
Dale, Kris, Ryan, and Blake.