Celebration of Life
Date: Saturday April 01, 2023
Time: 1:00 pm - 4:00 pm
Location: Byron Funeral Home [ view map ]

Printer Friendly Version

Share on Facebook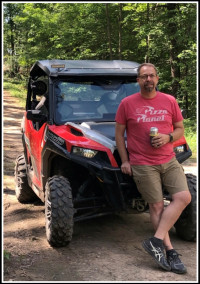 Date of Birth:
Sunday, December 1, 1974
Date of Death:
Sunday, March 26, 2023
Age:
48 years old
Jeremy Jay Harmon
Jeremy Jay Harmon (48) of Byron, MN passed away on Sunday, March 26, 2023.
He was born December 1, 1974, in Waconia, MN to Gary and Linda (Miller) Harmon. He graduated from St. Charles High School in 1993.  During his high school years, he worked for Tom Conway Fire & Apparatus building fire trucks.
In January 1994, he became a welder at McNeilus Truck & Manufacturing in Dodge Center, MN. Over his 28-year career with McNeilus, he worked up to the position of Sr. Regional Sales Manager selling garbage trucks in the Upper Midwest, predominantly in the Chicago area.  In May 2022, Jeremy became a District Sales Manager for Mack Truck of North America covering 5 states in the midwest.
On August 22, 1998, Jeremy married his high school sweetheart and love of his life Staci (Thesing). They have two daughters, Tessa (21) and Tiffani (19).  Jeremy's girls were his pride and joy.  He loved helping with school projects, going to all their activities, and making sure they always had a safe set of wheels to drive.
Jeremy is survived by his wife Staci and daughters: Tessa and Tiffani, his mother Linda Herr, brother Joel (Angela) Harmon, Aunt Jean Thomas, Uncles: Craig Harmon, Leroy (Polly) Harmon, Jon (Cheryl) Miller, Tom (Karen) Miller, and Sandy (Judy) Miller. Along with in-laws: Roger and Betty Thesing, Roger Jr. (Mary) Thesing, Brian (Kay) Thesing, Brenda (Perrin) Rondeau, and many cousins, nieces and nephews.
Jeremy was a born salesman.  He loved meeting new people, could have a conversation with anybody, and truly cared for his customers.
He took great pleasure in many activities including ATV riding, family vacations, and woodworking.  Evenings were often spent in Jeremy's sanctuary (The 3rd Stall) wrenching on his toys and sometimes enjoying beverages with his friends and family.
Jeremy was preceded in death by his father Gary Harmon, Grandparents: Herb and Arline Harmon and Donald and Cleo Miller, Uncles: Randy Miller and Jerry Thomas, Aunt Pam Sass Harmon, and Cousin Bradley Thomas.
Condolences

Printer Friendly Version
The family of Jeremy Jay Harmon has received the following condolences.
We are devastated to hear about this tragic news. Our hearts are with you all. Sending love and strength.
Jill, Lance and Josilyn Cordes
I'm so very sorry for this most precious loss. I went to school with Jeremy and he was always laughing and smiling. A friend to all. He will be missed.
Rest in piece my friend. I enjoyed working with you on the trade show team we always got the work done and had a lot of fun.
I will see you soon.!!!
Hoot !!
Harmon Family
I was deeply saddened to hear about your loss. I graduated with Jeremy and always remember how funny and outgoing he was. He always made people smile and laugh.. I am so sorry. Your family are in my thoughts and prayers.
Catherine (Siebenaler) Jansen
Deepest condolences to the entire family.
I was shocked to hear this tragic and sad news as I just caught up with him 2 weeks ago in Las Vegas and shared some great laughs as we rehashed great stories of the years we worked together. Jeremy was always wearing a smile, making others laugh and feel good and was the best to be around. He will be missed.
Jeremy was the absolute best. No matter when you ran into to him either at Waste Expo, an Independent Haulers meeting, our office, or at the factory at Dodge Center, he always had a smile and made you feel like you were his best customer, best friend and part of his family. You will be missed my friend. Thoughts and prayers with your entire family.
Staci and family:
I am very sorry for your loss. My thoughts and prayers to you during this difficult time.
Jeremy was a great friend who always had a smile on his face. He was able to help you whenever you needed his assistance and always made you feel valued. He brought my wife and I up to Dodge Center for a tour and made us always feel so very special. Sending my thoughts and prayers to the Harmon family.
We lost a brother, one of true good guys. Please accept my heart felt condolences for this loss…… to early in life.
Tiffani and Family, I am so deeply sorry to hear about the passing of your father/husband. Losing a parent is never easy, and I can only imagine the pain and heartache you must be feeling right now.
Tiffani, please know that you are not alone in this difficult time. Your friends and Western Family are here to support you and help you through this trying time. Remember to take care of yourself, and don't hesitate to reach out if you need anything at all.
Mike
Dear Staci and family,
I was absolutely devastated to her the news. Please accept my most sincere condolences. I am absolutely heartbroken. I will have you in my prayers.
Take care of yourselves
Svetomir
I've known Jeremy for a long time . He's a good friend and I will miss him . When I was still in the industry I would travel to Dodge Center every year for 10 years to look over a truck order and Jeremy and I had some memorable times! I kept him out too late one night and had to go with him home the next morning. He made me come in to meet his wife and I still laugh about that to this day . I'll miss you brother .
Harmon Family
It was a great pleasure to meet and work with Jeremy. He was a true professional in work and fun person to be around after work. Really the perfect Mack Team-Mate!
I cannot express my sorrow with his passing, but I really thank everyone for the opportunity and the time I got with Jeremy , My prayers and thoughts are with the Harmon Family.
Respectfully
Jeff Roberts/Mack Trucks
I wish to express my sincere condolences to the family and friends of Jeremy. I have some great memories of him and his friends from St. Charles when he was a kid growing up, such a great guy who will be missed by all who knew him. My thoughts and prayers are with you all in this time of sorrow.
Kraig Glover
How very sad to hear the news, my deepest condolences.
Staci, Tessa and Tiffani -
Words cannot describe the sorrow we all share. I'm so sorry we've lost him but so deeply sorry for the void this has put on you. He spoke of all of you so often and was a very proud dad/husband. No doubt he will be with us all as he was remarkable, someone I will never forget.
Staci, my thoughts and prayers are with you and your family in this most difficult time.
My deepest sympathy to Staci, Tiffani, and Tessa and to all of Jeremy's family and frends. Thinking of all of you and wishing you comfort in the coming days. ❤️
Knowing and associating with Jeremy over the years has been a real privilege. He will always be remembered and missed as a great man who was always there to help and have a smile or two with. My prayers are with his family during these very difficult times.
We lost a brother, one of true good guys. Please accept my heart felt condolences for this loss…… to early in life.
Jeremy - my brother,
I was devastated to hear the news. I immediately went back to all of the memories we shared together. You were the first person who befriended me at McNeilus back in 1994. I knew then we would be close friends. Your work ethic, your personality - and your "get er' done" philosophy made you a natural for the trade show team. If you were on it, I always knew it would get done. I remember St. Louis, when you and I went in early on a Sunday to work on trucks before the big show opening. You climbed under a truck to work on something - and before long, you were snoring - which reverberated throughout the hall. I was laughing so hard as it seemed like the truck was alive. A few hours later, you climbed out from under the vehicle with a smile on your face and said you had fixed the truck. We both cried laughing. My heart is breaking as I know it must be for your wife and daughters. Terry, Don, Tracy and I will always remember you as an indispensable member of our "family." You will never be forgotten and your legacy will live on through the hundreds of stories you were a part of. As the tears stream down my face this day, know that you and I are not done yet - and we'll meet again. To Staci and the girls, know resolutely - that your dad was cherished by so many that were blessed to have called him friend.
Jeremy was a friend as I have worked with him for many years on mutual customers and was always a joy to work with. Lots of stories and memories, he will truly be missed by many in this industry. Our prayers are with his family his family at this difficult time.
Jeremy was the best friend anyone could wish for. He was a Family man and loved to have fun, we will always remember and cherish the nights playing cards and clowning around, hanging out in the garage, working on projects, making Christmas gifts for the kids, fishing excursions and so many other fun things we did together at work and in our daily lives. Miss you and will always love you brother.
I'm very sorry for your loss. Jeremy and I worked at McNeilus for many years. He was always fun to be with and was always ready to help when needed. He will be missed.
God Bless his family.