Please Note:
The funeral and burial for Jeannette will be kept private. Only family members are to attend.  All family members in attendance will be required to wear a mask at the church.

The church will stream Jeannette's funeral live, from their YouTube channel.  You will be able to view the service anytime after 11:00am on Saturday, November 14th.  You may CLICK HERE to be directed to their YouTube channel.

The family plans to hold a Celebration of Life service for Jeannette that will be available for the public to attend, in the future.

Printer Friendly Version

Share on Facebook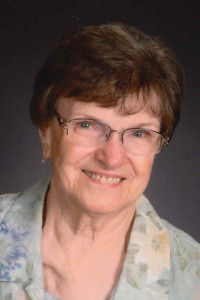 Date of Birth:
Friday, December 8, 1933
Date of Death:
Friday, November 6, 2020
Age:
86 years old
Jeannette M. Tweite
On Friday, November 6, 2020, Jeannette Marie Tweite, 86, of Byron, peacefully passed away on a sunny Fall day with her loving family by her side.
Jeannette was born on December 8, 1933, in Staples, MN, to Fred and Julia Law.  On June 17, 1934, she was baptized at the United Methodist Church in West Bend IA.  She grew up in many of the neighboring communities, eventually graduating high school in Plainview, MN. On June 8, 1954 she married Robert Tweite.  Together they raised their sons Thomas and Daniel on the family farm in Byron.
Jeannette was a Charter Member of Christ Lutheran Church in Byron.  She spent many years volunteering for Meals on Wheels and Mayo Clinic, as well as visiting residents at nursing homes.  She also taught Sunday School and taught Confirmation classes for many years. She sang in the choir and rang tone bells at church as well as being a church coordinator.  She participated in the Mayo Blood Bank Donor program.
Jeannette loved to cook and bake for her family.  She also loved gardening and sewing.  She enjoyed sending letters and cards to family and friends as well as reading her Bible and keeping her faith in the Lord.  Jeannette loved spending time with her 11 grandchildren, 24 great-grandchildren and two great-great-grandchildren.
She is preceded in death by her parents, Fred and Julia; a brother Kenneth and a great-granddaughter, Karina.
Jeannette is survived by her husband Robert; sons, Thomas (Colleen) Tweite and Daniel (Kelly) Tweite; twin sister, Jeanne (David) Tweite; brother, Robert (Lois) Law; sister, Eileen Edge and sister-in-law, Mary Tweite as well as many grandchildren, great-grandchildren and great-great grandchildren.
A private family service will be held on November 14, 2020, at Christ Lutheran Church in Byron.  Burial will be at Byron Cemetery.  A celebration of Jeannette's life will be planned for a later date.  Memorials are suggested to Christ Lutheran Church in Byron.
Condolences

Printer Friendly Version
The family of Jeannette M. Tweite has received the following condolences.
Bob and family, thinking of you and your loss. Also fondly remembering Jeanette during high school days and planning our last reunion. Also enjoyed reading about your family farm tours!
God be with you.
Norma
So sorry to hear -- my sympathies to the family.
Stay strong~
So sorry to hear about Jeannette's passing. Sending you all my love and prayers.
Our thoughts & prayers are for your family, as you gather to remember Jeanette. Peace be with you.
Beautiful soul. My condolences from the whole Diehl Family to the Tweites.
What a privilege to have known Jeanette! Such a dear lady. Blessings to all who loved her. Mike and Sharie
I have many good memories of Jeannette as a fellow charter member of Christ Lutheran Church in Byron. She will be missed dearly. Remember all the good times. That helps with the loss of your mother/wife/grandma. God's Blessings to all of the family.
My prayers are with you all.
Sandy Erickson
You will be missed, your joy and love for life. Thank you for joking us for the many Law potlucks
To my darling Tweite Family,
I am so disheartened to hear of this loss. Jeannette had such a kind and big heart and love for her family was endless.
May you all find peace and comfort in the memories you share with her.
Ashley Jeannette