Printer Friendly Version

Share on Facebook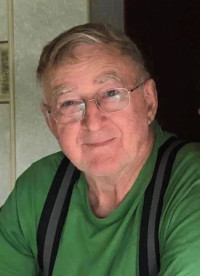 Date of Birth:
Friday, January 5, 1940
Date of Death:
Wednesday, January 20, 2021
Age:
81 years old
Jay Lester Cheney
Jay Lester Cheney, 81 of Byron passed away on January 20, 2021 at Mayo Clinic Campus, St. Marys Hospital.
Jay was born on January 5, 1940 in Ball Club (near Deer River) Minnesota to Harry and Stella (Riley) Cheney. He grew up in Ball Club and graduated from Deer River High School. He then moved to Rochester and met Karen Ray Clark and married in 1961. Shortly after getting married, he attended carpentry school and became a carpenter by trade. He then changed careers and became a farmer, truck driver and handyman. Jay and Karen had 2 children, Roberta and Jeffrey, together and Karen passed away in 2001. Jay then met Barb Clark and has been married since 2003. He loved to spend his time outdoors fishing, camping and tinkering in his woodshop. His family was his closest treasure and loved sharing his knowledge with his kids and grandchildren.
He is survived by his sisters Bonnie (Gordy) Snyder, Jan (Leroy) Riendeau, Marlon (Ron) Gibeau, Beulah (Jim) McMahon, wife Barb Cheney, kids Robbie (Gene) Zeiman, Jeff (Amy) Cheney, step sons Brad (Naomi) Clark, Les (Jean) Clark, grandchildren Amanda (Danny) Oelkers, Tiffany (Ryan) Grzanek, Kayla (Derek) Farley, Shawn Cheney, Kelli (Abe) Cheney, step grandchildren Zach (Vanessa) Jacobson, Shelby Jacobson, Melanie Gardner, Natalie Gardner, Arya Clark, Kinsley Clark, and 13 great grandchildren with 2 more on the way.
He is preceded in death by his parents, 9 siblings, and wife.
A visitation will be held Saturday, January 30, 2021 from 12:00 pm – 2:00 pm at Byron Funeral Home. A private family memorial service will be held following the visitation. Interment will be at a later date at Grandview Memorial Gardens in Rochester, MN.
Condolences

Printer Friendly Version
The family of Jay Lester Cheney has received the following condolences.
Barb,
My deepest sympathy to you and your family. I am not able to attend the gathering because of COVID but wanted to let you know I care. I will keep you in my prayers in the days ahead as you go through this great sorrow. May God comfort you.
Carol
Barb, you have my deepest sympathy. I had never met Jay, but could see how happy he made you. Your Facebook pictures told it all how much fun Jay and you had with the family camping enjoying life. I know what you are going through and it's not easy. Take one day at a time. Tears are good, remember the memories and share with your family!! God bless you Barb! Hugs and prayers 🙏❤
Cindy Sanford
Dear Barb, Robbie, Jeff and family;
Being with Jay was something that I didn't have the opportunity to do very many times.
But, the times that I did, he made an impression on me. He treated me like he'd known me all my life, he was welcoming and warm hearted. His kind spirit was evident. We are all so much richer for having men like Jay in our lives. Men like him, and his brothers before him, appear as giants in our eyes, they leave us with great memories and lessons to pass along to our own children and grandchildren. We'll always be thankful for having a man such as Jay in our lives.

With love and sympathy for all,
Bill & Ann Cheney
Brownsburg, IN
"Though you have not seen him, you love him; and even though you do not see him now, you believe in him and are filled with an inexpressible and glorious joy,"
‭‭1 Peter‬ ‭1:8‬ ‭NIV‬‬
I will never forget you uncle Jay, Thank you for always taking the time to talk and listen. We love you! Matt, Kris, Zac, Ben, Maddie & Jaxson.
Uncle Jay always smiled when he greeted you and was the easiest person to talk with and listen to. I cherish the times myself and my family were able to spend with him and although too few and far too brief I'll remember those moments forever. His fascination with how much walnut exists in Indiana , his joy and pride in his family , his love of fishing and playing cards . Time takes from us all but whenever we were fortunate enough to spend time with Uncle Jay and the family he gave us his undivided attention and shared his happiness in seeing us .
I will never forget and always love you Uncle Jay . Thank you for making me feel like one of "The Cheney Boys " God Bless you and grant you fairwinds, calm water and a tight line .
Your Nephew Everett M Cheney , Dawn , Mackenzie (Cheney) Medlock & Greg Medlock & Rocket and Cooper .