Visitation
Date: Wednesday October 18, 2017
Time: 4:00 pm - 7:00 pm
Location: Christ The King Catholic Church [ view map ]
Second Visitation
Date: Thursday October 19, 2017
Time: 10:30 am - 11:00 am
Location: Christ The King Catholic Church [ view map ]
Funeral Mass
Date: Thursday October 19, 2017
Time: 11:00 am
Location: Christ The King Catholic Church [ view map ]
Burial
Location: Byron Cemetery

Printer Friendly Version

Share on Facebook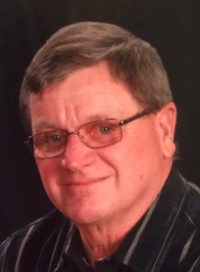 Date of Birth:
Friday, November 5, 1948
Date of Death:
Friday, October 13, 2017
Age:
68 years old
James Jeffrey Pries
James (Jim) Jeffrey Pries, 68, died suddenly on Friday, October 13, 2017. His funeral Mass will be at 11:00 am on Thursday, October 19 at The Church of Christ the King in Byron, MN, with Father John Lasuba celebrating.  Visitation will be on Wednesday, October 18, at the Church of Christ the King from 4:00 to 7:00 pm and 1/2 hour prior to the Mass.
Jim was born on his mother's birthday, November 5, 1948, to Wilber and Lorraine (Nigon) Pries, in Rochester, MN. He spent his early years in Eyota, MN and moved with his family to Byron when Jim was in the 7th grade. His dad managed the turkey farm just outside Byron for many years, which kept Jim and his brothers out of trouble most of the time. He then went to work for Kleist Construction of Rochester. Jim received his draft notice in 1968 and went into the Army, spending a year in Vietnam. After his service, Jim started working for Zieman and Pries Construction, owned by Al Zieman and Jim's oldest brother, Frank. They could build or remodel almost anything.  Jim's brother, Jerry, joined the firm after Al moved away, and Frank then moved to Wisconsin to farm.  Soon, Jerry's son, Brian, joined the partnership.  Jerry, Jim and Brian have continued to build new homes, remodel existing homes, build decks, and do other smaller jobs to this day under the name of Pries Brothers Homebuilders.
Jim was active in the Byron Volunteer Fire Department from 1971-1996, serving as chief for nine years.  He was also very involved in the Byron American Legion Post 119, becoming a member after he was discharged from the Army in 1971. He was commander for several terms, and was awarded a Life Membership by the post in recognition of his many hours of service to the veterans and their families. Jim was especially proud of the Color and Honor Guard and made sure they were present when needed – veterans' funerals, home football games, the Good Neighbor Day parade, Field of Flags and several school events when requested. He put the flags on veterans' graves in the Byron Cemetery for Memorial Day with help from his sons and then his grandchildren. It would be hard to find a better patriot or one with more loyalty to God and country.
Jim married Suzanne (Sue) Hain on April 8, 1972 and they celebrated 45 years together this year.  Sue called him "her prince" because he took such good care of her.
Jim is survived by three sons; Bob (Carrie), Matt (Dusty) and Steve (Melissa), four brothers; Jerry (Sharon), Joe (Shari), Tom (Jeanette), and Dan (Becky) and one sister; Mary (Bruce) Clement.  He also has seven grandchildren; Kaci (Troy) Durrow, Katrina (Korey), Haley, Hunter, Isaac, Tyler and Charlie, one great-granddaughter, Nora Durrow, and many cousins, nieces and nephews. He was eagerly awaiting his first great-grandson who is expected by Christmas.  Jim has lost his parents and his oldest brother, Frank (Sue) Pries.
Memorials are suggested to the Byron American Legion Post 119, The Church of Christ the King of Byron, or the Byron Volunteer Fire Department Relief Association, as these are all places that were supported by Jim as a volunteer for most any occasion.
A private burial will be held at the Byron Cemetery at a later date.
Condolences

Printer Friendly Version
The family of James Jeffrey Pries has received the following condolences.
Bonnie and I are so sorry to hear about Jim. Judy sent us a text while we were on vacation in Virgina. Our prayers go out to you and your family.
My thought's and prayers go out to the entire family. He helped build Mom & Dad's home in Byron back in 1978. I got to know them all and through Christ the King Catholic Church. Prayers are being sent from San Diego, CA
Our thoughts and prayers are with Sue and the rest of the family. Jim was a good friend, a "do-everything" Legionnaire, and a real gentleman. I will miss him and think of him every day.
I am so sorry to hear this news. I remember back when I used to babysit for all the Pries families. Prayers to the family.
Our condolences to the Pries family. We are sorry and shocked to hear of Jim's passing. Jim was a great friend to us and we had a lot of great times. Our thoughts and prayers are the entire Pries family.
Dear Sue and Family,
Our condolences to the Pries family. We are so sorry to hear of Jim's passing. What a shock.
We will remember Jim as a warm and giving friend. Always ready to help anyone at anytime.
What great times we all had at lake Lac Courte Oreilles, in WI, where we spent many Labor Day weekends enjoying everyone's company.
Please know that we are thinking of you all and keeping you in our prayers. Bruce and Sue
Our prayers will be with all of you. Jim will be missed.
To the family of Jim Pries, I am so saddened in the loss of Jim to this world. My prayers and thoughts go out to Sue, Bob, Matt, Steve and their families, as well Jim's extended family. Jim is a man that always carried himself at the highest level. From the first time I ever met Jim, he treated me as if he knew me his entire life. We are better for having known Jim Pries.
Sue,
We are very sorry for your loss. Your family is in our prayers.
Mark & Jackie Federmeyer
My condolences to the family of James Pries.
So sorry to hear of Jim's passing he will be missed as well his talents in everything he did.
Mike and Rose Decklever.
Dear Sue, Bob, Matt, and Steve and Families,
Our prayers and love go out to you with the loss of Jim. Jim's sense of humor and kind manner will be remembered by all of us.
Hugs to you all
Your friends,
Teresa, Paul, Kayla and Emily