Visitation
Date: Thursday July 09, 2020
Time: 4:00 pm - 7:00 pm
Location: Byron Funeral Home [ view map ]
Burial
Location: Byron Cemetery [ view map ]
Important Information:
Due to the COVID-19 pandemic guidelines, the funeral service will be kept private to family members only.

The visitation however, will be open to the public.  The funeral home will rotate people in and out of the funeral home when and if we reach our maximum capacity.

Printer Friendly Version

Share on Facebook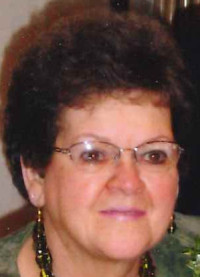 Date of Birth:
Wednesday, June 9, 1937
Date of Death:
Sunday, July 5, 2020
Age:
83 years old
Jacqueline I. Sanneman
Stephen Machalek and Elizabeth Kolar immigrated from Slovakia in 1901, and were married at St. John's Church in Allentown, PA in 1909.  The last of their twelve children, Jacqueline Irene (Machalek) Sanneman, was born on June 9th, 1937 at Wilson Memorial Hospital, Johnson City, NY.  At the age of 14, Jackie lost her mother.  She graduated from Binghamton Central High School (Binghamton, NY) in 1955, and lost her father just one year later.  Shortly thereafter, Jackie would meet the love of her life and future husband, Larry Raymond Sanneman of Mazeppa, MN.  Larry, the son of Henry and Rose Sanneman, was on a work assignment with IBM when they met.  They were joined in marriage on December 14th, 1957 at SS Cyril Church in Binghamton, NY.  That same year they returned to Minnesota and started their family.
Jackie was kind, friendly, social and above all, loved her family.  She had a varied work history but spent most of her time tending her family and raising her three children, and later helping raise her grandchildren.
She enjoyed baking and cooking, and all who came to visit rarely left without a meal and dessert.  She had a strong faith in God which sustained her through her final days.  The most special time of year for Jackie was the birth of Jesus and the celebration of Christmas with her family.  She also loved sewing, knitting, quilting and crafts.  Larry and Jackie spent many years enjoying the beauty of campgrounds and State Parks throughout Minnesota.  She was born with a competitive spirit, enjoyed playing games and cards with friends and family, and became an avid fan of the Byron Bears, and Minnesota Twins and Vikings!
Survivors include three children, Theresa Ann (Shelli) of Rochester, MN, David Michael (Jennifer) of Byron, MN, and Thomas Christopher (Traci) of Woodbury, MN, as well as twelve grandchildren, and nine great-grandchildren.
She is proceeded in death by Larry and her eleven brothers and sisters.
A visitation for the public will be held from 4:00pm – 7:00pm, Thursday, July 9, 2020 at the Byron Funeral Home (1620 Voll Drive NW, Byron, MN).  A private funeral Mass for Jackie's family will be held at Christ the King Catholic Church in Byron on Friday with the Rev. John Lasuba officiating.  Burial will be at Byron Cemetery.
Memorials are suggested to Christ the King Catholic Church (202 4th Street NW, Byron MN, 55920).
Condolences

Printer Friendly Version
The family of Jacqueline I. Sanneman has received the following condolences.
David, Jennifer and family; you are all in my thoughts and prayers. I remember her cheering the grandkids at their sporting events.
Marilyn Bush
Condolences and prayers from our family to yours for the loss of your Mother, Grandmother and Best Friend.
Aunt Jackie was like a breath of fresh air and joy whenever she and Uncle Larry visited family in Binghamton. We will forever hold fond memories of them both.
May memories that you made of be pressed between the pages of your hearts as they are our entire family.
All of my love...
Frances daughter of Carolyn Machalek Skiba
I wanted to copy this poem for the children and grandchildren written by Mary Elizabeth Frye 💕
"Do not stand at my grave and weep
I am not there. I do not sleep.
I am a thousand winds that blow.
I am the diamond glints on snow.
I am the sunlight on ripened grain.
I am the gentle autumn rain.
When you awaken in the morning's hush
I am the swift uplifting rush
Of quiet birds in circled flight.
I am the soft stars that shine at night.
Do not stand at my grave and cry;
I am not there. I did not die."
My sympathy. She was a fun person who always had a smile.
God Bless.
Tom and family, I am so sorry for your loss. There has never been a greater fan of the Byron Bears! One of the most loving, caring and genuine people I have ever met. I will always remember Jackie handing us handfuls of Teddy Grams as we left her house before the big game!
Terri, my deepest sympathy to you and your family at the loss of your Mom. I was just thinking about her this past week. Always enjoyed our visits during her POC appointments. Hugs to you. Debbie Marsden0
Dear Teri and Shelli. So sorry about your loss. A parent's death leaves a hole in ones heart which is always felt. Jim and Rachel
My deepest condolences to all. I know how everyone in your large, extended family loved her so and know she will be greatly missed by all.
Tom, my condolences to you and your family.
We are so sorry on the loss of your Mother . Hard to say goodbye . Fortunately , you all have so many wonderful memories .
We were saddened to hear about the passing of Paul's Aunt Jackie. Please be assured of
our prayers.
When I first met Aunt Jackie at Paul's parent's house, (Tom & Theresa Machalek) I was impressed with her fun-loving nature, warmth, and kindness. Naturally, we discussed our shared Slovak heritage and ancestors who had settled in the Binghamton-Johnson City-Endicott area, most of whom worked together at Endicott-Johnson, and had been life-long friends. And so, we maintained that special bond.
We especially have wonderful memories of the entire family, Aunt Jackie, Uncle Larry, Terry, Tommy & David making the long journey from Minnesota to Endicott NY to attend our wedding.
May the caring and love of your family and friends provide comfort and peace at this time, and in the days ahead. Our family sends our most sincere condolences, love, and affection to each of you.
Rosemary and Paul Machalek
I am very sorry to hear of Aunt Jackie's passing. I always enjoyed seeing her and Uncle Larry when they came East in the summer. I remember all the laughter when they visited at my parents (Vic and Phyllis) house. Much love to David, Terry, and Tomas (Tommy when you came to my wedding) and all your families. May you find strength and peace in your memories.
Love, your cousins, Barbara, Lauren, and Liana
I'm so sorry for your loss. My thoughts and prayers are with you and the family.
I am so sorry for your loss!! Jackie was so caring and giving. She will me missed by many!!