Visitation
Date: Thursday December 28, 2017
Time: 10:00 am - 11:00 am
Funeral Service
Date: Thursday December 28, 2017
Time: 11:00 am
Location: Christ Lutheran Church [ view map ]
Burial
Location: East St. Olaf Lutheran Cemetery

Printer Friendly Version

Share on Facebook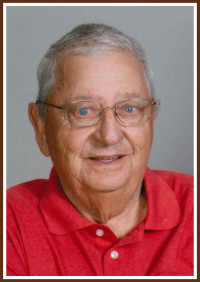 Date of Birth:
Sunday, November 4, 1934
Date of Death:
Thursday, December 21, 2017
Age:
83 years old
Ivan Clifford Moen
Ivan Clifford Moen, age 83 of Byron passed away on Thursday, December 21, 2017 at Saint Marys Hospital in Rochester.
Ivan was born on November 4, 1934 in rural Rock Dell, MN to Ole and Bertina Moen. He attended country school and went to work on the family farm. On September 6, 1953 he married Dorothy Johnson at South Zumbro Lutheran Church near Rock Dell and they were blessed with 64 years of marriage. Together, they raised four children. Along with farming on Dorothy's family farm near Salem Corners for over 50 years, Ivan worked for Rochester Block and retired from Mayo Clinic after 20 years in 1994. In 2007, the couple made Byron their home. Ivan and Dorothy enjoyed camping and were members of the Rochester Roamers Club, the Byron Snow Bears and the Rochester Eagles Club. During retirement, Ivan and Dorothy took their RV and wintered in Arizona. Later, the couple bought a permanent residence in Apache Junction, AZ. Ivan was a kind person who lent a hand whenever possible. He was especially good with Norwegian humor, and loved Lutefisk.
He is survived by his wife Dorothy of Byron, his children, Rick (Tammy) Moen of Rochester, Dennis Moen of Byron, Lecia (Tim) Mulholland of Byron and Beth (Roger) O'Brien of Byron, his sister Irene Sandvik of Hayfield, MN, eleven grandchildren, and twenty-two great-grandchildren with one on the way.
He is preceded in death by his parents, seven brothers, two sisters, and a great-grandchild.
The funeral service for Ivan will be on Thursday, December 28, 2017 at 11:00AM at Christ Lutheran Church in Byron with Pastor Nirmala Reinschmidt officiating. Visitation will be held one hour prior to the service at church. Burial will be in East St. Olaf Cemetery in Rock Dell, MN.
Condolences

Printer Friendly Version
The family of Ivan Clifford Moen has received the following condolences.
I'm so sorry to hear about your loss and would like to extend my condolences .
2 Corinthians 1;3:4. 3.Praised be the God and father of our Lord Jesus Christ, the father of tender mercies and the God of all comfort,4. Who comforts us in all our trials, so that we may be able to comfort others, in any sort of trial with the comfort we receive from God.