Visitation
Date: Saturday July 31, 2021
Time: 1:00 pm - 2:00 pm
Location: Byron United Methodist Church [ view map ]
Memorial Service
Date: Saturday July 31, 2021
Time: 2:00 pm
Location: Byron United Methodist Church [ view map ]
Please Note:
It is recommended that all attendees wear a mask while inside the church.

Printer Friendly Version

Share on Facebook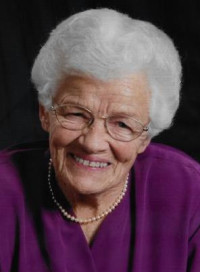 Date of Birth:
Wednesday, November 23, 1927
Date of Death:
Saturday, June 12, 2021
Age:
93 years old
Helen Ruth Meyers
Helen Ruth Meyers, of Byron, died at age 93 in her home on Saturday, June 12, attended by family and friends. A memorial service is set for 2 p.m. Saturday, July 31, at the Byron United Methodist Church. Visitation will be one hour prior to the service at the church. Pastor Butch Lewellin will be presiding, at the invitation of Pastor Beth Perez.  In lieu of flowers, please donate to the Byron United Methodist Church.
Helen was born on November 23, 1927, the first child of Sara Agnes and John Norman McHolme, and grew up with her brother and two sisters in Elizabeth, Pennsylvania. After high school, she studied at Allegheny General Hospital School for Nursing then began her career in Pittsburgh in 1948 as a registered nurse. She and Glenn Meyers were married on Christmas Day, 1948, and after raising six children they divorced in 1987. The family moved to Byron in 1969, and she worked at Rochester Methodist Hospital until her retirement in 1992, first specializing in kidney transplants and then in obstetrics.
Helen served for six years on the Byron School Board and was active in the Byron Garden Club for decades. She was instrumental in planting flowers in public spaces, adding to her "green thumb" reputation with the beauty of her own gardens. She earned the title of Master Gardener from the U of M Extension Office and sought to "pull weeds" anytime, anywhere, including the UMC, Mayowood, and the Minnesota Landscape Arboretum.
She was enthralled by the rugged beauty of the BWCA; every call of a loon was as thrilling as the first. Always curious to see what was around the next bend, in her retirement she traveled adventurously with her sister Bon, visiting five continents and nearing both poles. These loves of gardening, nature, and traveling were shared with friends and strangers alike, and if she wasn't busy with those, she was READING. She enjoyed being in the Byron Book Club, and even after all her travels, the Kasson Public Library was one of her favorite places in the world. At age 86, Helen realized a lifelong dream by hiking several miles of the Appalachian Trail, and most recently enjoyed the BWCA in 2012 with three generations of family.
Helen was an active volunteer through her 80s. On a regular basis, she read to elementary school students, donated blood, organized plant swaps, and helped in the UMC kitchen. She delivered Meals on Wheels for many years, and proudly served on the Rochester Methodist Hospital Auxiliary by answering questions at the Mayo Clinic's information desks. She never stopped driving, often taking friends to church or movies, and unfailingly met her dearest friends for weekly coffee. With her children grown, all of Byron became her extended family.
Helen is survived by her sister Bon, sons Gregg, Glenn, Gary, and Gordon, daughter Gwen Williams, and many grandchildren and great-grandchildren. She was preceded in death by her sister Peg, brother Jim, and daughter Gail.
Condolences

Printer Friendly Version
The family of Helen Ruth Meyers has received the following condolences.
Helen was and incredibly generous person. She always rejoiced with me when good things happened in my life. She always showed concern for the difficult times I've been through. I know she had and is having a great family reunion in Heaven. Thank you Helen being who you are! You loved your children. I especially remember our conversations about your daughter Gail who you so enjoyed hearing memories of. You are missed!
We at the Kasson Library will miss Helen, her inquisitive mind and her gentle nature. It has been a privilege to know her and gain from her many insights. She will be missed.
Patricia Shaffer-Gottschalk & Library Staff
So very sorry to hear about Helen, she will be sadly missed but kindly remembered by our agency.
So very sorry to hear about your Mom. She was such a lovely lady and it was an honor to know her. Godspeed Helen. Kim and Phil McPhee