Visitation (No RSVP required)
Date: Saturday May 08, 2021
Time: 11:00 am - 12:00 pm
Location: Christ Lutheran Church [ view map ]
Memorial Service (RSVP required)
Date: Saturday May 08, 2021
Time: 12:00 pm
Location: Christ Lutheran Church [ view map ]
Important Information:
People that plan to attend the memorial service at 12noon must RSVP with the church: Click Here to RSVP to attend the memorial service.

If you would like to view the live stream of the memorial service, Click Here at 12noon on Saturday.

If you plan on attending only the visitation from 11:00am but plan on leaving before the memorial service begins, you do not have to RSVP with the church.

Face coverings will be required to attend any of these events.

Printer Friendly Version

Share on Facebook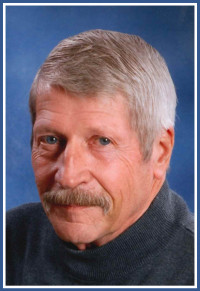 Date of Birth:
Friday, July 21, 1944
Date of Death:
Saturday, May 1, 2021
Age:
76 years old
F. Howard Olson
Howard Olson, 76, of Byron, MN, died Saturday May 1, 2021 at his home surrounded by his loving family.
Howard was born July 21, 1944 in Albert Lea, MN to Fritz and Mildred (Wakefield) Olson. He graduated from St. Clair High School in 1962. On August 8, 1964 he married Beverly Blank at St. John's Lutheran Church in St. Clair, MN. They made their home and raised their family in Byron. For many years, Howard worked at IBM until retirement. He then continued in his field of work for several years with various companies including his own which he operated with his son, Keith.
Howard enjoyed music and played drums with Ernie Coopman and the Jolly Brewers alongside his dad for many years. He then continued to play for local bands, including Overland Express. He also enjoyed crossword puzzles, reading and fishing.  Howard took great pride and joy in his family and spending time with his grandchildren.
Howard is survived by his wife, Bev, of nearly 57 years; son Ken of Red Wing, MN, daughter Karin Arnsdorf (Terry) of Stacy, MN and son Keith (Monica) of Byron, MN; three grandchildren Alex (Megan) Arnsdorf, Morgan Olson and Kiersten Olson; and one great-grandson Jackson Arnsdorf. Howard is also survived by two sisters, Karen (Vernon) Ferch of Waseca, MN, Jean Olson of Arlington, MN, and one brother Steve Olson of Mankato along with many nieces and nephews. He was preceded in death by his parents and nephew, Dave Ferch.
Howard was a longtime member of Christ Lutheran Church of Byron. He will be greatly missed by his family, friends and all who knew him.
A funeral service will be held on Saturday, May 8, 2021 at 12:00 with visitation one hour prior to service at Christ Lutheran Church in Byron.
In lieu of flowers, memorials are preferred to Christ Lutheran Church of Byron, Mayo Hospice, or an organization of your choice.
Online condolences are welcome at www.byronfuneralhome.com
Condolences

Printer Friendly Version
The family of F. Howard Olson has received the following condolences.
Uncle Howard my best two memories of you were watching you play drums in the garage and hanging out talking on my parent deck in their Monument CO house. You were my "cool" uncle. Love you.

My prayers are with all of you during this time: Aunt Bev, Ken, Keith and Karen.


~ Mark Masel
I just heard about Howard's passing. So very very sorry for your loss. Please extend my sympathy to all of your family also.
So very sad to hear of the passing of this kind, gentle man. Although we are first cousins, regretfully, our paths did not cross often. But on those occasions of family reunions or funeral services, I sensed and felt his love for family and generous spirit. May his family find comfort and strength from their joyful memories and their faith in Jesus Christ who came to assure us of a heavenly home with God. Rest In Peace Howard Olson! John F. Anderson
Bev, Ken, Karin and Keith,
My heart hurts for your sweet family. Howard was an amazing man who will be missed greatly. I will forever cherish all the memories and his final words he said to me "damn you smell good".
We love you all
Jeremy and Lynae
Bev and family, We send our condolences to Howard's family. If we can be helpful in any way just get in touch with us. God Bless. Dave & Rose Gottschalk & family
I had the pleasure of working with Howard many years ago. He was always a joy to work with, he loved to brainstorm and create, and when the project was complete, it was always perfect. But above that, he was a wonderful person. God bless him.
Bev and Family
We are so very sorry of the passing of Howard. I always enjoyed talking and waving to him as he passed the house. If you need anything please call.
Karen and Christina Grev
Bev and Kids,
We are so very very sorry. We always enjoyed running into Howard and visiting with him.
Blessed be his memory.
With love and sorrow,
Phil & Kim