Memorial Gathering
Date: Friday June 16, 2023
Time: 11:30 am - 2:30 pm
Location: Byron Funeral Home [ view map ]
Burial
Location: Evergreen Cemetery

Printer Friendly Version

Share on Facebook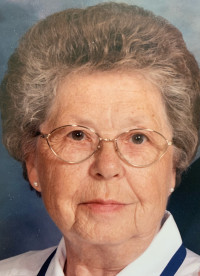 Date of Birth:
Monday, May 19, 1930
Date of Death:
Sunday, June 4, 2023
Age:
93 years old
Evelyn M. Peterson
Evelyn Marie O'Brien Peterson, 93, a native of Kasson, Minnesota, passed away on Sunday, June 4, 2023.
A graveside memorial will be held at 10:00am, Friday, June 16, 2023, at the Evergreen Cemetery in Mantorville.  Following the graveside memorial, a reception will be held from 11:30am until 2:30pm at the Byron Funeral Home, 1620 Voll Dr. NW in Byron, Minnesota.
Evelyn (Evie) was born at home on May 19, 1930, in Dodge County, Minnesota to Charles Joseph O'Brien and Martha (Larson) O'Brien.  She was the seventh child and had five brothers and three sisters.  Her childhood was spent on various farms in the Kasson-Mantorville area.  She graduated from Kasson High School in May of 1948.  She married her beloved husband Burton Ernest (Pete) Peterson on November 6, 1948.  After Pete joined the United States Air Force, they lived in many different locations, both in the US and abroad.  Their daughter Pam was born in San Francisco, California in 1949 and their son, Don was born in Killen, Texas in 1951.  Evie's two children, her grandchildren and great grandchildren were the joys in her life.  Evie and Pete were married for 56 years.  They loved to travel and enjoyed many car trips to various destinations in the United States.  Evie was a great cook and ran a tight ship in her household.  Everything had a place and purpose.  Family and friends alike enjoyed her laughter and her sweet nature.  Evie lived a full life and will be greatly missed by all who knew and loved her.
Evie is survived by her devoted son Don (Cheryl) Peterson of Ashland, Oregon, and her three grandsons, Tom (Amy) Goeschel of Lincoln, Nebraska, Tyler (Frances) Goeschel of Lincoln, Nebraska, and Marcus (Brandy) Goeschel of Lincoln, Nebraska, and her granddaughter Autumn Leah Byron (Noureddine) of Hornbrook, California.  She is also survived by James Marker (Pam) son-in-law, of Lincoln, Nebraska and Jim's extended family, and great grandchildren Mason and Garrison Goeschel, Hania, Walid and Khadija Mhamdi and Elijah Whitaker.  Janice (Marvin) Deno, her beloved sister, of Kasson, Minnesota, and Bernard O'Brien, her only remaining brother of Byron, Minnesota, also survive her as well as numerous nieces and nephews.
She was preceded in death by her loving husband Burton, her devoted and loving daughter Pamela Marker, her parents Charlie and Martha O'Brien, brothers Ivan O'Brien, Lester O'Brien and wife Amy (Goodman), Lawrence O'Brien and wife Doris (Goodman), Francis O'Brien and wife Eileen, and sisters Marjorie Allen and husband John, Mavis Wright and husband Lyle, and sisters-in-law, Phyllis Behsman and husband Harold, Dorothy Hilliard and husband Bob, Marlyce O'Brien, wife of Bernard, and brother-in-law Richard Peterson and wife Glenna.
The Peterson and Goeschel families would like to extend their gratitude to Fairview Care Center in Dodge Center, Minnesota for caring for Evie for the past two years.
In lieu of flowers, the family prefers memorials be directed to the Fairview Care Center or to a charity of choice.
Byron Funeral Home is in charge of the arrangements.  Online condolences are welcome at www.byronfuneralhome.com
Condolences

Printer Friendly Version
The family of Evelyn M. Peterson has received the following condolences.
Janice & family,I'm so sorry for your loss.I miss seeing Evelyn every morning.She was always the sparkle in my day.She will be missed by many. Karen Lee
Grandma Evie was the sweetest grandma ever.❤️I'm going to miss her. I love you Grandma Evie!
Dear Don and Cheryl,
I am so sorry. Losing a mother is always especially hard.
take care,
JoJo
So sorry for your loss. Happy she got to see another great grandchild so she can tell Pam all about him.
I hope you are all able to gather and share lots of memories. Evie was so kind and had a quirky sense of humor. I really enjoyed being around her. Her greatest treasure was her family. She was a lucky lady!