Printer Friendly Version

Share on Facebook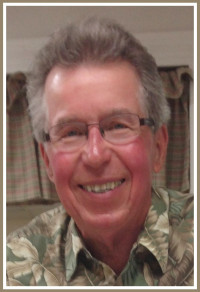 Date of Birth:
Friday, August 19, 1938
Date of Death:
Sunday, April 19, 2020
Age:
81 years old
Eugene "Bud" Frey
Eugene "Bud" Victor Frey, 81 of Byron passed away to his eternal home on Sunday, April 19, 2020 at The Waters on Mayowood of Rochester after a long battle with Alzheimer's Disease.
Bud was born on August 19, 1938 in Blooming Prairie, MN to Victor and Edna (Thorager) Frey. He attended country grade school and attended high school at Blooming Prairie, MN and Waseca, MN. He enlisted in the US Air Force and served four years, mostly in Germany. He was honorably discharged in 1964. On September 27, 1969 he married Susie Simmons and the couple later divorced. To this union two daughters were born. On April 30, 1977, he married Doris Ann (Hove) Meeker in Chatfield, MN. Bud's entire working career was with IBM Rochester. He retired in 1992. Faith was important to Bud and he was proud to be a longstanding member of the Byron United Methodist church. Bud and Doris created a farm south of Byron, where they raised sheep and enjoyed the advantages of country living. Bud loved his dogs, hunting, fishing, camping, traveling, and especially attending every county fair in the area. He looked forward to the Minnesota State Fair every year. Bud was a social person who connected with many people over the years that he enjoyed running into and chatting with.
He is survived by his wife Doris of Byron, his daughters Becky (Jason) Robinson of Rochester, Cindy (Jeremy) Crowhurst of Texas, grandchildren Jakob Robinson, Grace Crowhurst, Ryan Robinson, Joy Crowhurst, and his sister Shirley (Dennie) Darr of Rushford, MN.
He is preceded in death by his parents and his (very dear to him) uncles Bobby and Donald Frey.
Bud's family is planning a private family visitation. Later, there will be a Memorial Service in his name when we can all gather at Byron United Methodist Church. Burial will be near his childhood home, at the Union Cemetery of Blooming Prairie, MN.
In lieu of flowers, memorials are preferred to Byron United Methodist Church or donor's choice.
Online condolences are welcome at www.byronfuneralhome.com
Condolences

Printer Friendly Version
The family of Eugene "Bud" Frey has received the following condolences.
So sorry to hear that Bud has passed. I worked at IBM from 1967-1970 and Bud was in the first department I was in. I was the secretary (our name for administrative assistant back then) for Georg Gaebeline. Bud worked in my area, and he was so helpful and pleasant. I think we were testing light bulbs for computers, but that was long ago. I do not remember a lot of folks from that time but I remember Bud because of his smile and the joy he brought to the job. I left IBM and began a teaching career in Chatfield. He will always be a very happy memory of my time at IBM.
Hi, Shirley, So Sorry to hear the news about your Brother. You have my Sympathy.
Too many years have gone by. Not sure you recognize who I am. My Parents Adolph and Georgina Schlinger were Good friends of your parents and I remember visiting your house and playing with you and "Buddy" when I and Harley were just a little boys. When the whole world gets through this miserable coronavirus and you schedule a memorial service for Bud, I would like to be invited.
Again you have my simpathy and prayers. It's not easy loosing a loved one.
Sincerly, Daryl Schlinger
Our deepest condolences to you all as you walk through these difficult days. May the God of Comfort and Peace be especially near to you. Our prayers are with.
Bud was a fun person to be around. Working with Bud was a pleasure.
I am so sorry for your loss. God Bless.
Doris, Becky, Cindy:
Bud will truly be missed by many both near and far. He always seemed so willing to jump in and lend a hand, poke a little fun, and willingly share his knowledge. It was Bud that introduced me to running. Til this day, I vividly remember him telling me I'd make up that long "forever" hill off of Marion road.
Sending my Best, "Roddy" H.
GENE WAS A GOOD FRIEND. WE GOT CONFERMED TOGETHER WERE IN HIDH SCHOOL TILL HE WENT TO WASECA. ENJOYED VISTING WITH HIM AT CLASS REUNIONS. BLESS YOU. JIM AND GERI CHRISTIAN
Dear Doris, Becky and Cindy,
We are praying for you all during this time. Our Lord will comfort you and good memories of Bud will help you through this time.
Love,
Scott and Jill Simmons
Dear Doris,
I am so saddened to hear of Bud's passing. He is resting in the arms of his Lord, Jesus Christ. I am thinking of you at this difficult time and I am holding you close in prayer. My sincerest sympathy. Vicki Zook
Our thoughts, prayers, and remembering the good times we all had together! Bud will be missed by many. Always willing to help, crack a joke, and share experiences. All of you allow time to grieve and share all those loving, great moments with each other. He was one in a million. God bless, Ann and Dennis Hove
I'm so sorry for your family's loss. My thoughts and prayers are with you during this difficult time