Ethan Benaiah Tweite Pohlman
Visitation
Date: Monday February 15, 2021
Time: 10:00 am - 10:30 am
Location: Calvary Evangelical Free Church [ view map ]
Funeral Service
Date: Monday February 15, 2021
Time: 10:30 am
Location: Calvary Evangelical Free Church [ view map ]
Burial
Location: Byron Cemetery [ view map ]
Notes
Ethan's service will be lived streamed for those who cannot attend in person.  Click on the link below at the time of the service:

https://www.facebook.com/RedemptionRochester

Printer Friendly Version

Share on Facebook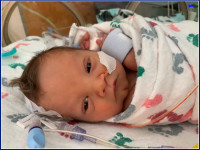 Date of Birth:
Friday, January 29, 2021
Date of Death:
Tuesday, February 9, 2021

Ethan Benaiah Tweite Pohlman
"Ethan Benaiah, son of Adam and Molly Pohlman, ran into the arms of Jesus on February 9, 2021, 11 days after his birth. He fought valiantly for life and made known the mercy of God in his son Jesus Christ through his brief time on earth.
Ethan leaves behind his parents, big sisters and brothers, Grace Eliza, Daisy Micaiah, Titus Alexander, Olivia Joy, and Malachi Josaiah, along with hundreds of grandparents, aunts, uncles, cousins, and church family who loved him dearly in his 11 days.
Memorial gifts may given to Redemption City Church that the gospel of Christ may continue to be proclaimed through the Pohlmans' church family.
Gifts may also be sent directly to the Pohlman family which will eventually be given to Mayo Clinic's pediatric cardiology department to develop specialized tools and treatments to give better care to children like Ethan so they may have a greater chance at life.
Condolences

Printer Friendly Version
The family of Ethan Benaiah Tweite Pohlman has received the following condolences.
To the wonderful and God fearing parents of little Ethan Benaiah.
May God bless you both and give you strength.
You will not know me, but I wanted to let you know that I was deeply moved by your article on Linkedin via the Gospel Coalition page. As a young father myself with little ones of my own, I really cannot put into words how much my heart breaks for you both.
I don't understand how God works sometimes, or why He calls our loved ones so soon. As a Christian, I would have thought I would have understood it by now, that it is never easy walking with God and trusting in Him, even in our pain and suffering.
I have never even met you both or your son, but seeing his photos and hearing about his condition, I fell in love instantly with him and was rooting for his recovery as I was reading through your story.
I know and I have faith that the mighty and wise Ethan Benaiah is resting in eternal love in the arms of His Heavenly Father. I know Jesus Christ, who suffered and died for us, knows very well the pain that you as Ethan's parents are going through. I know He will draw you close to Him. I know He will hold you both in His arms and let you know that everything will be alright.
I pray that you both find peace and strength in this season that you are going through. I know God's word promises that in everything there is a season. So I pray that you will find some peace in knowing that, whilst Ethan is not here with you in this physical realm, he is with you in spirit, and that there is a season that is yet to come that will be one of permanent joy. When Jesus returns, it will be permanently, and I have faith you will see your beautiful son again.
May God bless you and keep you.
My heart goes out to your whole family as you deal with the grief over losing this precious little soul. God bless you all and may He hold you in His arms and give you comfort and peace.
Molly, Adam & fam,
I'm terribly sorry to hear about your precious loss. You are in my prayers and thoughts. May an abundance of grace surround your family and give you strength.
Love from Colorado,
Shawn