Public Visitation
Date: Sunday September 20, 2020
Time: 12:00 pm - 2:00 pm
Location: Byron Funeral Home [ view map ]
Private Family Funeral Service
Date: Sunday September 20, 2020
Time: 2:30 pm
Location: Byron Funeral Home [ view map ]
Burial
Location: Byron Cemetery [ view map ]
Important Information
Masks are required at the events listed above.

The funeral service for Edward will be live-streamed to the public via our Facebook page.  You can find our Facebook page by clicking here.  The stream should be live about 5 minutes prior to the service.

Printer Friendly Version

Share on Facebook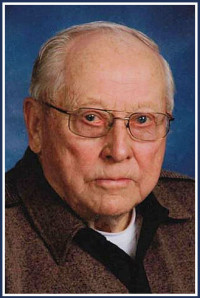 Date of Birth:
Wednesday, December 14, 1921
Date of Death:
Monday, September 7, 2020
Age:
98 years old
Edward Raymond Voll
Edward (Ed) Voll was born December 14, 1921 on the Voll farm in Byron and lived there for 97 years. He passed away September 7, 2020 at the age of 98.
Ed graduated from Byron High School in 1940. The BHS class of 1940 had 15 people and he was the last surviving member of his class.  Ed helped his father on the farm while in school and he was able to play basketball for the Bears.  Ed's love of sports would keep him in the stands following his children, grandchildren and great grandchildren for Byron and even rival schools.  It was a joy for Ed to be a fan cheering on his hometown team.
Ed and Ellen (Morris) met on a blind date and married September 1, 1944 raising a family and farming for many years.  They were married for nearly 65 years. Ellen passed away July 21, 2009.
Ed was an active member of Byron United Methodist Church his entire life.  He also served his community in church, township, school board and the Byron Cemetery.
Ed was preceded in death by his wife Ellen, mother Elsie (Hein) Voll, father Frederick (Fred) Voll, sisters, Laura, Pearl, Mildred, Ruth, Winnie, grandchild Jeff Voll and great grandchild Hannah Voll.
Ed is survived by his children Donald (LaLonnie), Dennis (Simone) and Karen (Robert) Brekke; grandchildren Kalli Voll, Tim (Noelle) Voll, Tony (Jeanne) Voll, Amy (David) Rayman, Amber (Derrick) Hardtke, Matt Voll,  Karla (Jonathan) Johnson, and Kyle (Megan) Brekke and 17 great-grandchildren. Many family members have Edward as a middle name  to honor him.  He will be dearly missed.
Ed and his family are greatly appreciative of visits from longtime friends and many others from our Byron community.  He enjoyed his social time at Otto's and his chance to be with people there.  Thank you to Mayo hospice and Madonna Summit for their loving care.
In lieu of flowers, please consider a donation to Byron Methodist Church, Byron Historical Society, Jeff Voll Scholarship or Byron Cemetery.
Public visitation for Ed will be held Sunday, September 20 from 12:00 to 2PM at the Byron Funeral Home. A private family service will follow officiated by Pastor Beth Perez.  God Bless his memory.
Condolences

Printer Friendly Version
The family of Edward Raymond Voll has received the following condolences.
My sympathy on the loss of this very kind man.
Dearest Voll Family,
Deepest sympathies and love to you all..Grampa Ed was a treasure...we always love visiting and talking with him...wish we could be there.. He is with Grandma..the live of his life...cherish the memories..hugs
Anne and David Elliott ❤
To the families of Ed Voll, We send our sympathies and condolences. Dave & Rose and families