Printer Friendly Version

Share on Facebook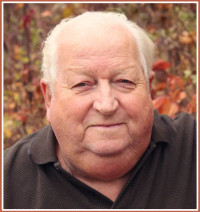 Date of Birth:
Tuesday, April 19, 1938
Date of Death:
Saturday, August 17, 2019
Age:
81 years old
Donald LeRoy Dennison
Donald LeRoy Dennison – Byron
Donald LeRoy Dennison, 81, of Byron, MN died Saturday, August 17, 2019 at his home with his loved ones by his side. Don was born April 19, 1938 in Waltham, MN to Ernest and Burdie Dennison.
He graduated from Hayfield High School in 1956. On December 4, 1965, he married Judy Schmiedeberg in Elgin, MN. The couple has lived in Byron for 51 years. Don worked for the City of Byron for 25 years, retiring in 1995. After retirement from the City of Byron he drove cab in Rochester for many years.
Survivors include his wife, Judy; two daughters, Tracey (Elmer) Laciste of Ewa Beach, HI; Darcey (Erik) Donley of Andover, MN; two granddaughters Sydney and Olivia Laciste; two grandsons Trevor and Luke Donley and one brother Mark (Jeanette) Dennison of Austin, MN. He is preceded in death by his parents.
Don enjoyed playing cards, tinkering in his garage, spending time with his grandkids and coffee with his cab friends. Don had a gift for striking up a conversation with anyone he met.
The memorial service for Donald L. Dennison will be 11:00am, Monday, August, 26, 2019 at Christ Lutheran Church in Byron with Pastor Steve Rheingans officiating. Visitation will be held one hour prior to the memorial service at the church. Military Honors will be provided by the American Legion Countywide Funeral Detail following the service at the church. Burial will be at a later date at Grandview Memorial Gardens in Rochester.
Condolences

Printer Friendly Version
The family of Donald LeRoy Dennison has received the following condolences.
My sincere condolences for the loss of such a wonderful husband, father, grandfather and uncle. I hope the memories of his tremendous life will comfort you during this difficult time. Warm regards, Michelle Hanson
We are so sorry to hear of Don's passing. You have our sincere sympathy. Ron and Barb Meline
I am so sorry to hear of the news about Uncle Don. Sending love to you Judy and the girls from our family to yours xoxxo
Judy and family
I'm so sorry for your loss. You will be in my thoughts and prayers as you grieve Don's passing.
Kim