Cordelia "Corky" R. Lewis

Printer Friendly Version

Share on Facebook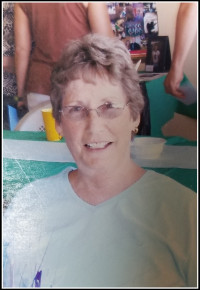 Date of Birth:
Sunday, July 5, 1942
Date of Death:
Thursday, June 30, 2022
Age:
79 years old
Cordelia "Corky" R. Lewis
Cordelia (Corky) Rose Lewis, 79, of Byron, died peacefully Thursday, June 30, 2022, at Prairie Meadows Senior Living in Kasson.
She was born July 5th, 1942, in Shafter California to Otto and Ruby (Poe) Bledsaw.  She was a beloved stepmother, wife, aunt, great aunt, godmother, and friend. She lived in Rochester and graduated from John Marshall High School in 1961.  On November 11, 1972, she married William (Bill) Lewis and lived in Rochester, Byron, and Kasson. She worked for Control Data of Minneapolis, the State Hospital in Rochester, as well as the Fiksdal Hotel and the Brentwood Motel.
Corky adored her dogs Mimi, Peppy, and Max.  She enjoyed reading, crafting, and planting flowers.  She had a knack for hand painting many of the crafts she created and loved to share them with friends and family.  Most of all Corky enjoyed spending time with family and friends occasionally playing board games and cards but mostly being a keen listener and taking countless family photos.
She is survived by her loving husband Bill Lewis; stepdaughter Kelly (TC) Fulgham of Arizona; grandchildren, Destiny and Jeremy of Arizona; many great grandchildren, nieces, nephews, great nieces, and great nephews.  She is also survived by countless other friends.  She was preceded in death by her parents, brother, and godson Bradley Gaustad.
Funeral service will be held at 11:00 a.m. Friday, July 8, 2022 in the Byron Funeral Home 1620 Voll Dr NW, Byron, MN with Pastor Kurt Ploeger officiating. Visitation will be one hour prior to the service. Burial will be in Grandview Memorial Gardens in Rochester.
Memorials are preferred to the family.
Condolences
Be the first to sign the guestbook for the family of Cordelia "Corky" R. Lewis.