Constance "Connie" Lorraine Bird
Visitation
Date: Tuesday May 25, 2021
Time: 5:00 pm - 7:00 pm
Location: Byron Funeral Home [ view map ]
Second Visitation
Date: Wednesday May 26, 2021
Time: 10:00 am - 11:00 am
Location: Christ Lutheran Church [ view map ]
Funeral Service (RSVP REQUIRED)
Date: Wednesday May 26, 2021
Time: 11:00 am
Location: Christ Lutheran Church [ view map ]
Burial
Location: Byron Cemetery [ view map ]
Important Information:
RSVP: If you are planning to attend Connie's funeral, you must register with the church.  Please CLICK HERE to do so.

LIVESTREAM:  Please CLICK HERE to view the live stream of Connie's service.  The link should be live a couple of minutes before the service.

Printer Friendly Version

Share on Facebook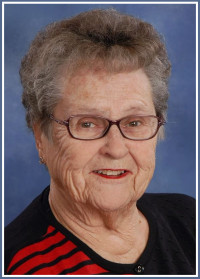 Date of Birth:
Wednesday, November 26, 1930
Date of Death:
Tuesday, May 18, 2021
Age:
90 years old
Constance "Connie" Lorraine Bird
Connie Bird, 90, of Byron, MN passed away on Tuesday, May 18, 2021 at Madonna Summit in Byron, MN.
Connie was born on November 26, 1930, in Kenyon, Goodhue Co, MN to Alfred Johannes and Margaret Schei.  She met Richard Bird at the Pla Mor Ballroom where they enjoyed dancing.  She knew when she first met him that she was going to marry him.  They were married on June 21, 1950 in Rochester.
Connie worked at the Mayo Clinic for 25 years and raised their four children on the family farm.  She enjoyed being outside in the summer and visiting with neighbors, friends and family. She enjoyed getting together with her girlfriends for card games.  Anyone who knew Connie, knew how much she enjoyed going to the Casino.  Connie was active at Christ Lutheran Church in Byron helping with events and getting newsletters put together.
Connie is survived by her four Children; Terry Bird (Julie) of Byron, Rick Bird (Ja-Neen) of Casa Grande, AZ, Cheryl Schaefer (Gary) of Byron, Tracy Winslow (Chuck Hickey) of Rochester; 9 grandchildren, 26 great-grandchildren and 3 great-great grandchildren.  She is proceeded in death by her husband and a brother.
Funeral Services will be held at 11:00 am, Wednesday, May 26, 2021 at Christ Lutheran Church in Byron, MN. Visitation will be held from 5:00 – 7:00 pm on Tuesday, May 25, 2021 at Byron Funeral Home – 1620 Voll Drive SW in Byron.  Visitation at the church will be held one hour prior to the service.
Memorials are suggested to Seasons Hospice and Christ Lutheran Church.
Special thank you to Seasons Hospice and Madonna Summit for all the wonderful care Connie was given.
Online condolences are welcome at www.byronfuneralhome.com.
Condolences

Printer Friendly Version
The family of Constance "Connie" Lorraine Bird has received the following condolences.
My sympathy to the entire Bird family on the death of Connie. She will be remembered by others forever and what a kind and caring person she was. Ed and I knew the family for a long time.
Tracy/Terry, our sincere and deepest sympathy with the loss of your Mother.
You are in our thoughts and prayers.
Sincerely, Jill and Dick Lueck
To the Bird Family, Our thoughts & prayers are with you during this difficult time. Thank you for sharing your mom with us at Madonna Summit.
Sandy Molenda; Foundation
We send our sympathy and condolences to the families of Connie Bird. She was a great friend and we will miss her. We send our blessings, Dave & Rose
So sorry to hear about Connie. She was always friendly and sociable so it was fun to encounter her and talk!
Thinking of all of you and sending thoughts and prayers for comfort! Cherish those fun memories!