Visitation
Date: Sunday August 20, 2023
Time: 4:00 pm - 7:00 pm
Location: Byron Funeral Home [ view map ]
Second Visitation
Date: Monday August 21, 2023
Time: 10:00 am - 11:00 am
Location: Christ The King Catholic Church [ view map ]
Memorial Mass
Date: Monday August 21, 2023
Time: 11:00 am
Location: Christ The King Catholic Church [ view map ]
Burial
Location: Oakwood Cemetery

Printer Friendly Version

Share on Facebook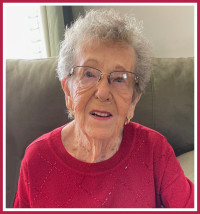 Date of Birth:
Sunday, January 10, 1932
Date of Death:
Thursday, August 17, 2023
Age:
91 years old
Betty Marilyn Prigge
Betty Marilyn (Adamson) Prigge, age 91, of Byron passed away peacefully at home on Thursday August 17, 2023 surrounded by family.
Betty was born to Paul and Mildred (Mahon) Adamson on January 10, 1932 on the family farm near Byron, Minnesota.  Betty attended Olmsted County School District #26, a one room rural school for eight years and then went to Lourdes High School in Rochester where she graduated in 1950.
On September 26, 1953 she married David Prigge, the love of her life, at St John's Catholic Church in Rochester.  They lived in Byron where they raised their five children. David and Betty purchased Midway Equipment, east of Byron in 1970 and Betty worked there as the bookkeeper for fifteen years until the business was sold.
Betty taught religious education classes at Christ The King Catholic Church in Byron for twenty-four years.  She also did sewing for the church women's club and made several quilts for her grandchildren and family members.  For several years David and Betty delivered Meals on Wheels for the Byron Community to enjoy.
Dave and Betty enjoyed vacationing in the south during the winter months and also vacations up north in the summer with her family.  Betty loved attending sporting events for her kids, grand kids and great grandkids.  Above all she loved spending time with her family.
Betty is survived by her husband of 70 years, Dave, of Byron; children, Judy Donovan of Byron, Steve (Paula) Prigge of Lake City, Marcia (Tom) Holets of Lake City, Mike (Patti) Prigge of Edina, Renee' (Daryl) Glassmaker of Byron, 14 grandchildren and 20 great grandchildren; siblings Alice (Maurice) Greene, John (Carol) Adamson, Helen Wilde, Cathy Etchason, Phyllis (John) Vick, Theresa (James) Erickson, Wayne (Pam) Adamson; and many other nieces and nephews.
She was preceded in death by her parents, siblings Tom, Mary, Bob and Ron and granddaughter Rylie Prigge.
The Mass of Christian Burial will be held at 11:00 a.m. Monday, August 21, 2023 at Christ the King Catholic Church in Byron. Visitation will be held from 4:00 p.m. to 7:00 p.m. on Sunday, August 20, 2023 at Byron Funeral Home and one hour prior to the service Monday at the church. Burial will be in Oakwood Cemetery in Rochester, MN.
Online condolences are welcome at www.byronfuneralhome.com.
Condolences

Printer Friendly Version
The family of Betty Marilyn Prigge has received the following condolences.
Please accept my sincere condolences and sympathies. I'm sorry I could not be there to be with the family, say goodbye to one of my "Byron Mom's" and attend her Mass in celebration of her life. Betty was amazing and always treated me with kindness, openness and love in her own special way. She allowed us boys to be boys as long as we didn't cause trouble and we respected her for that. I admired her devotion to Christ through her Catholic faith. Because of how she and Dave shared their faith with each and their family, it planted a seed in me to (in later years) make my conversion into that same faith. Having moved out of state, life has changed for me. However, I've carried all the good people with me regardless of the years passed or being a 1,000 miles away. I've carried Betty with me and all the memories she, Dave and the family, gave a guy like. I've said a Rosary for the repose of her precious soul and know, the Blessed Mother has welcomed her home. God's Peace.
On behalf of Jim & Eileen Caulfield & Family are thoughts & prayers with the entire fanily. Thinking of you during this very diificult time. God Bless!
We have lost a lovely lady who I first met when I came to Byron in 1966 to begin my teaching career.
She and Dave were so welcoming, and I loved their "kids". Take good care of your dad. I won't be able
to attend the funeral, but I'll be thinking of all of you.