Visitation
Date: Sunday November 26, 2017
Time: 2:00 pm - 4:00 pm
Location: Byron United Methodist Church [ view map ]
Second Visitation
Date: Monday November 27, 2017
Time: 10:00 am - 11:00 am
Location: Byron United Methodist Church [ view map ]
Funeral Service
Date: Monday November 27, 2017
Time: 11:00 am
Location: Byron United Methodist Church [ view map ]
Burial
Location: Riverside Cemetery

Printer Friendly Version

Share on Facebook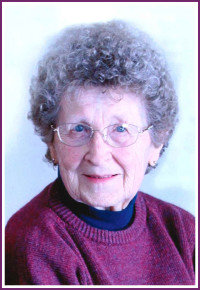 Date of Birth:
Tuesday, November 17, 1931
Date of Death:
Wednesday, November 22, 2017
Age:
86 years old
Betty L. Nelson
Betty L. Nelson, 86, of Byron, died Wednesday, November 22, 2017 at home.  She was born November 17, 1931 in Mohawk, Michigan to Lawrence and Mamie Peterson.
She graduated from Anacostia High School in Washington, DC in 1949 and then graduated from the Kahler School of Nursing in 1952.  On April 18, 1953 she married Donald M. Nelson in Rochester.  The couple lived in Rochester and Duluth before moving to rural Byron in 1960.
Survivors include her husband of 64 years; sons Marty (Mary) of Hayfield, MN, Andy (Heather) of Duvall, WA, Matt (Jean) of Finland, MN; daughter Nancy (Dan) White of Byron; twelve grandchildren; and seven great grandchildren.  She was preceded in death by her parents and her sister Lois.
She was a very active volunteer helping in many areas of the community including her church, the schools, local elections, girl scouts, 4-H, the Olmsted County Fair, Meals on Wheels, and with Hospice.  She was honored with the Byron Good Neighbor Award in 1994.
Betty enjoyed reading, tending to her garden, and helping with whatever was happening on the farm.  She also enjoyed getting together with her Tuesday morning coffee group for over 50 years.  She was always in the bleachers for her children's and grandchildren's many activities.
Memorials are preferred to the Byron United Methodist Church.  The family would like to extend a special thanks to the Mayo Clinic Hospice program.
Condolences

Printer Friendly Version
The family of Betty L. Nelson has received the following condolences.
Don and family,
Betty was a great lady! Given the situation we're glad she has gone home to be with the Lord. Among other things in the church she served on the Pastor Parish Committee, kind and helpful. Glad we made the turkey dinner a year ago and could visit with you a little. Blessings to you all. Jan and I are doing well.
Dennis & Jan