Printer Friendly Version

Share on Facebook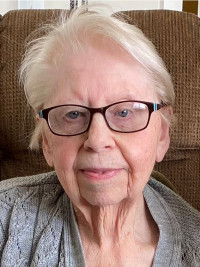 Date of Birth:
Sunday, June 18, 1933
Date of Death:
Monday, April 13, 2020
Age:
86 years old
Arlene O. Feine
Arlene O. Feine, 86 of Rochester, passed away on Monday, April 13, 2020 at her Madonna Summit home in Byron surrounded by her loving family.
Arlene was born on June 18, 1933 in Rushford, MN to Obert and Alfhild (Hanson) Evenson.  She attended Rushford High School through ninth grade.
On July 7, 1962, Arlene married Adolph Junior Feine at St. Martins Lutheran Church in Winona, MN.  The couple moved to Rochester in 1962.  Arlene began working at St. Marys Hospital in the bakery where she worked for 29 years. In 1968, Arlene and Junior welcomed their daughter Jackie.
After retirement Arlene enjoyed baking and spending time with her grandchildren. Arlene and Junior enjoyed taking many camping trips.  She loved spending time with family and cheering on the Chicago Cubs.
Arlene is survived by her daughter, Jackie (Keith) Richardson of Byron; two grandchildren; Jeremy and Kayla Richardson of Byron; a sister-in-law, Marian Evenson of Rushford and a brother, John (Peggy) Stolee of Moberly, MO.  She was preceded in death by her husband, a granddaughter, her parents and two brothers.
A private family funeral service will be held.  The service will be recorded.  By the end of this week, the service will be uploaded to our website (www.byronfuneralhome.com) with an access link.
Online condolences are currently welcome at www.byronfuneralhome.com.
Condolences

Printer Friendly Version
The family of Arlene O. Feine has received the following condolences.
Beautiful service and beautiful lady. Keeping you and your family in our thoughts and prayers.
Jackie and family,
Your mother was a kind, sweet lady. We always enjoyed visiting with her after church. We pray that you will have many happy memories to sustain you in the days ahead. God Bless!
Gene and Sharon Warnken
Jackie and the Feine Family,
You are in our thoughts and prayers during this difficult time. Thank you for sharing your mom Arlene with us at Madonna Summit/Madonna Living Community (MLC).
Sandy Molenda; MLC Foundation
Jackie, Keith, Jeremy, Kayla:
Sorry to hear of your loss. Our thoughts are with your family.
Jackie (and family)
You and yours have been on my mind. A mother/grandmother bond is special. Please take care of yourselves!
Erin Kirmis-Stein
So sorry for your loss. Arlene was a wonderful lady and will be greatly missed.