Printer Friendly Version

Share on Facebook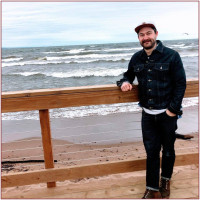 Date of Birth:
Thursday, December 24, 1987
Date of Death:
Tuesday, October 8, 2019
Age:
31 years old
Andrew Thomas Ress
Andrew Thomas Ress, 31, of Rochester, MN, passed away Tuesday, October 8th, 2019.
Andrew was born December 24th, 1987, in Mankato, MN, to Thomas and Lisa (Wenthold) Ress. He Graduated from Byron High School in 2006. He went on to attend St. Cloud State University for 3 years, and then the Minneapolis Institute of Art for a semester. Andrew then graduated from the Rochester Technical College automotive program in 2013 with honors. He worked at Cinemagic Theaters for 11 years, before working at Goodyear Tire. In 2015 he became an automotive mechanic at Midas in Rochester, MN.
Andrew always had the best fashion, hairstyles, and beard. He was a loving and passionate individual. He had a kind and tender heart and was loved by everyone around him. His infectious laugh and smile will be deeply missed.
Andrew loved movies, photography, all animals, his cat ZZ, spicy food, sour candy, Red Wing shoes, thick denim jeans, whiskey, craft beer, breweries, and biking. Above all else, Andrew loved his family.
Andrew is survived by his parents Tom and Lisa Ress of Byron, MN; sister Kaitlyn (Luke) Dalchow of St. Paul, MN; brother Ronald (Bridget) Ress of Rochester, MN; grandmother Mary Ress of Rochester, MN; grandparents Ruth and Norvel Sheldon of Stewartville, MN; and his beloved cat ZZ. He is preceded in death by grandfathers Ronald Ress of Rochester, MN and Daryl Wenthold of Evansdale, IA; and uncle Steven Wenthold of Eyota, MN.
The visitation will begin at 10:00 a.m. Saturday, October 12, 2019 at the Byron Funeral Home. The celebration of life service will immediately follow at 12:00 p.m.
In lieu of flowers the family would prefer donations be made to the National Alliance on Mental Illness (NAMI) in Andrew's name at https://donatenow.networkforgood.org/namisemn?code=Website
Condolences

Printer Friendly Version
The family of Andrew Thomas Ress has received the following condolences.
Andrew loved the movies! I worked with him for many years in the theatres! Oh how he really enjoyed the Imax projector, he became a true expert working with the theatres' projection equipment. A lot of great movie conversations with Andrew. My thoughts and prays for the family
Our sincerest thoughts and prayers are with all of you at this very difficult time. Treasure your memories, all of them! We wish we could help to relieve your sorrow or bear some of it for you. Prayers and love.
My heart aches for your family right now. You are in my thoughts and prayers and I hope that if you need anything I will be happy to help. Lots of hugs.
Andrew was our neighbor for seven years in Byron Such a nice young man and we would chat from time to time in the backyard when all the kids were playing. Tom and Lisa you have my sympathy. So sorry for your loss. I will keep you and the whole family in my prayers.
My prayers go out to all of Andrews family and friends. I can't imagine the pain that Tom and Lisa are going through. My heart is broken and I don't know what to say that will ease the pain. All of my love to you 🙏💔
Tina and I are so sorry to hear of Andrew's passing. At 31 years, a light that went out too soon. We can only imagine that he is making his time in the next life as bright as he did in this one. We hope you find comfort in the coming times knowing that he is at peace and that you will be with him again someday.
We are sorry for your loss of a loved one. Your family is in our thoughts and wishes. We feel honored he chose our house to be his first house, he will always have a place in our hearts.
-with warm and caring thoughts-
Shane and Jana Robinson
My thoughts and prayers to your family during these difficult times. It's been a few years but I still remember him from school, and I can still see his smile. The world will be a dimmer place without his light.
To the Ress family,
I am so sorry for the death of Andrew. I spent Tuesday evening with a group of people from "The Compassionate Friends" (Support group for those who've lost a child)---little did I know that you were dealing with this horrible tragedy on that day!! My heart aches for you all as you go through the motions of the next few days/weeks/months. Please know that you are loved by those of us @ Byron Primary School !!
God bless you,
Sarah Sperling
BPS SPED Paraprofessional
I will always remember the bubbly, smiling, whimsical little boy that I knew and loved. Andrew, your life on earth was far too short for a beautiful soul that you were. May you rest in peace and forever be free of any earthly pain that you may have had. Forever loved by so many ♥