Visitation
Date: Sunday November 07, 2021
Time: 12:00 pm - 1:00 pm
Location: Dodge Center Seventh-day Adventist Church [ view map ]
Funeral Service
Date: Sunday November 07, 2021
Time: 1:00 pm
Location: Dodge Center Seventh-day Adventist Church [ view map ]
Burial
Location: Wildwood Cemetery - Wasioja [ view map ]
Important Information:
Masks are required to attend the visitation and service.

The burial with military honors will take place at the cemetery on Monday, at 10:00am.

Printer Friendly Version

Share on Facebook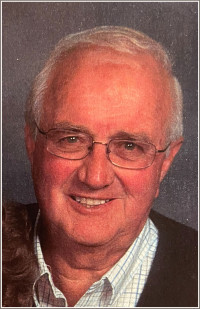 Date of Birth:
Friday, July 3, 1936
Date of Death:
Thursday, October 28, 2021
Age:
85 years old
Dennis George McNeilus
Dennis George McNeilus, 85, of Dodge Center, MN passed away Thursday, October 28, 2021 in Spring Hill, Florida.
Dennis was born July 3, 1936 to Linden Ellis and Iola Dell (Ames) McNeilus in La Crosse, WI. His childhood was spent in Clarion, IA and Nelson, WI. Known as Denny in his teen years he attended Maplewood Academy in Hutchinson, MN and remained an active alumnus throughout his life. His senior year Denny transferred to Hylandale Academy in Rockland, WI. Where he met his wife, Marjory (Marge) Louise Lyberg who won his heart with a lemon meringue pie. They would have been married 65 years November 25th.
Dennis served as a Dental Tech in the US Navy from 1955-60 and was honorably discharged having achieved the rank of 2nd Class Petty Officer. During this time, he was stationed in California and Yokosuka, Japan. Marjory joined him in Japan with Mark Dennis, the first of their four children. Their daughter Gwen Marie was "made in Japan" before returning to the U.S. Following his discharge, he joined his father and brother Garwin in the scrap business in Galena, IL . Two additional children came along, Luonne Colleen and Linden Bryan.
In 1967, the family moved to Dodge Center, MN, where he lived until his death. Dennis established McNeilus Auto & Truck Parts which he operated for 50 years. Poor Denny's "Cat House" was a satellite business distributing Arctic Cat Snowmobiles and BMW Motorcycles. He enjoyed racing and sponsored an Arctic Cat race team and many local stock cars during this period. He believed in the value of hard work and each child and grandchild received work experience in the salvage yard under his tutelage.
He lived life to the fullest. He relished fishing and enjoyed traveling on many sportfishing adventures. However, his favorite place for fishing was Juggler Lake in northern, MN where he and Marge had been going since 1960. He became a pilot in the '70's and enjoyed a lifelong love of flying. He liked hunting and looked forward to getting his annual deer license and bagging a big buck. He hunted coon competitively and bred many champion Bluetick Coonhounds. In the late 80's he and Marge got their first Border Terrier and later began to breed them.
Dennis had many varied interests. He loved to garden and had an encyclopedic knowledge of birds. He raised and trained American Singing Canaries and later developed a passion for racing Homing Pigeons. He was a member of the Rochester Racing Pigeon Club, Rochester MN and the Gulf Coast Homing Club, Spring Hill FL. until his passing.
Dennis was an avid reader and had a generous spirit. He was a member of the Dodge Center Seventh-Day Adventist Church and supported many charitable causes over his lifetime. He will be remembered for his sharp mind and quick sense of humor.
In 1998 he and Marge bought a home near Tampa, FL. and began to spend their winters there among a racing pigeon community. They returned to Florida on October 11th and Dennis became ill about a week later. He passed away shortly thereafter with family by his side knowing how greatly he was loved and would be missed.
Dennis is survived by his wife Marjory and three children Gwen McNeilus (Peter Mongroo) of Orinda, CA, Luonne Malone (Mark ) of Keller, TX and Linden McNeilus (Krista Arneson ) of Duluth, MN, seven grandchildren, four great-granddaughters and many nieces and nephews. Brothers Garwin McNeilus (Marilee) of Dodge Center, Devon McNeilus (Deresa) of Puyallup, WA and sisters Eulonne Austin (Wes) of Galveston, TX and Leasa Hodges of Loveland, CO. He was preceded in death by his eldest son, Mark McNeilus, and parents Linden and Iola McNeilus of Dodge Center.
Funeral service is Sunday, November 7th, 1:00 PM at the Dodge Center Seventh-day Adventist Church, 410 – 3rd Ave. SW, Dodge Center. Masks are required. There will be a private viewing for family at 11:00 AM, then open to all at 12:00 PM. A light luncheon will follow the service. Burial will take place Monday, November 8th at 10:00 AM, Wildwood Cemetery, Wasioja, MN.
Condolences

Printer Friendly Version
The family of Dennis George McNeilus has received the following condolences.
Rest in peace dear freind. You truly were an advocate for the down trodden.
Aunt Margie and family,
I always appreciated spending time with Uncle Denny. I remember towing up my geo metro and getting the engine swapped out. I really appreciated seeing you down in south carolina where Kathlyn was able to meet Uncle Denny.
He will be missed.
Love,
Stephen Mayer
We are so sorry to receive news of our loss of Denny. Our prayers go out to all family and friends. If we can do anything to help, please reach out. We love you all. Kimberly and family
Dear Marge and Family,
Paul and I send our deepest sympathy.
Dennis will be missed by many.
Sincerely,
Paul and Cleo
Denny, we already miss seeing you buzz over in your golf cart to Horst Hackemer's to watch the birds come in on race day (pigeon racing). Pretty much everyday we watched you & Marge exercised your Border Terrier dogs on leads behind the golf cart.
Always a smile & hello to all your neighbors as you passed by. Knock off at the GHC pigeon club will not be the same without you there.
Bu we know you are in a better place, happy, pain free and smiling down on all of us. It was so good getting to know you over the years.
Your neighbors & friends in the sport,
Bruce & Deb Cerone
Spring Hill.FL
So looking forward to Heaven where no more death and we will be united with our loved ones! So sorry for your loss. May God give you comfort. Prayers for your family!
Love Duane & Shelaine Bennett