Visitation
Date: Sunday September 08, 2019
Time: 3:00 pm - 5:00 pm
Location: Byron Funeral Home [ view map ]
Second Visitation
Date: Monday September 09, 2019
Time: 10:00 am - 11:00 am
Location: Byron United Methodist Church [ view map ]
Funeral Service
Date: Monday September 09, 2019
Time: 11:00 am
Location: Byron United Methodist Church [ view map ]
Burial
Location: Maple Grove Cemetery [ view map ]

Printer Friendly Version

Share on Facebook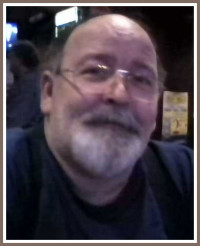 Date of Birth:
Friday, May 28, 1954
Date of Death:
Thursday, September 5, 2019
Age:
65 years old
Robert Earl Wood
Robert Earl Wood, 65, of Plainview, passed away peacefully on Thursday, September 5, 2019 at Mayo Clinic Hospital, St. Marys Campus, surrounded by his loving family.
Bob was born on May 28, 1954 in Austin MN to Earl and Charlotte (Bloom) Wood.  He graduated from Byron High School in 1972.  Bob married Roberta (Bobby Jo) Pickett on June 24, 1972 in Kasson, MN.  Bob and Bobby Jo moved to Plainview in 1983.
Bob was a heavy equipment mechanic.  He retired in 2017 from Lakeside Foods Inc.
He enjoyed camping, tinkering in his garage, going to auctions and spending time with family and friends.  Bob also enjoyed watching Chef Gordon Ramsey and trying his recipes.
Bob is survived by his wife Bobby Jo; four children, Robert "Rob" Jr. (Shayna) of Rochester, William "Bill" (Stacy) of Kasson, Jennifer (Earl) Merchlewitz of White Bear Lake, Scott (Melissa) of Austin and 15 grandchildren.  He is also survived by sisters, Terri Nelson, Rosanne (Ron) Allen, Tammy (Dan) Neseth, and Mary Wood; and a brother Mike (Christine) Wood.  He was preceded in death by his parents, grandparent and a nephew.
A Funeral Service for Bob will be at 11:00am, Monday, September 9, 2019 at Byron United Methodist Church officiated by Pastor Beth Perez.  Visitation will be from 3:00pm – 5:00pm, Sunday, September 8, 2019 at Byron Funeral Home and one hour prior to the service at the church on Monday.  Burial will be at Maple Grove Cemetery in Kasson.
Online condolences are welcome at www.byronfuneralhome.com.
Condolences

Printer Friendly Version
The family of Robert Earl Wood has received the following condolences.
Bobbie Jo and family,. So very sorry for your loss. Bob was such a good man. I'm sure a great husband and father. I think the boys were a handful but they turned out great. And Jenny also!. I didn't realize he had been sick or anything about his health. So sorry that we didn't stay in contact. Hugs to all. Love and prayers. Glenn and Linda Schmidt
Shocked & saddened. My deepest sympathy to all of his friends & family. A nicer man has never set foot on planet earth. He was two grades ahead of me in school, but years later I sold him steel when he worked for Minn-Kota.
Bob will be missed by anyone whose life he touched. RIP, brother!
Tammy, brothers leave 'The Best' imprint on our lives. They make us laugh and cry and wonder.
Thinking of you, Nanette Bateman
Bobbie Jo and Family, So sorry to hear of Bob's passing. Thinking of you at this difficult time! My sympathy, Love, Sharon Kimball
Bobby Jo & Family:
Sympathy to You on the passing of Bob. I enjoyed the visits when You came to eat at the Dairy Café....seems like a lifetime ago.
Dear Tammy,
I am deeply saddened to hear the news about your brother, Robert.
May you and Robert's immediately family find peace in the midst of the pain and sorrow from losing a loved one.
Please accept my sincerest condolences.
Most sincerely,
Maribelle