Visitation
Date: Friday March 29, 2019
Time: 4:00 pm - 7:00 pm
Location: Byron Funeral Home [ view map ]
Second Visitation
Date: Saturday March 30, 2019
Time: 10:00 am
Location: Christ The King Catholic Church [ view map ]
Memorial Mass
Date: Saturday March 30, 2019
Time: 11:00 am
Location: Christ The King Catholic Church [ view map ]

Printer Friendly Version

Share on Facebook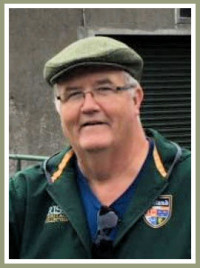 Date of Birth:
Thursday, April 24, 1952
Date of Death:
Sunday, March 24, 2019
Age:
66 years old
Robert D. Kelly
Robert (Bob) Dean Kelly, 66, of The Villages, Florida, and formerly from the Byron and Dodge Center communities, died Sunday, March 24, 2019 in Jacksonville, Florida, with his loving family by his side. Bob was born on April 24, 1952, in Decorah, Iowa, to Frank and Mary (Knox) Kelly.  He graduated from Mabel-Canton High School, where he met the love of his life, Lisa Rolfshus, whom he later married and enjoyed nearly 47 years of marriage.
After graduating from high school, Bob attended Rochester State Junior College where he played football earning all-division and all-region honors.  Upon completing his undergraduate education degree from Winona State University, Bob began his teaching and coaching career at Byron High School in 1976, where he taught History and Physical Education while coaching football and girls' basketball. He went on to complete his Masters degree and served in various roles, including Athletic Director, Junior High Principal, and Senior High Principal at Byron High School.  He was inducted into the Byron Athletics Hall of Fame in 2010.  Bob obtained his Superintendent certification and subsequently became Superintendent of Triton Public Schools, where he eventually retired in 2013, after a 37-year career in education.
Bob was active in the communities in which he lived.  He was a member of the Byron Volunteer Fire Department for over 20 years, Byron Lions Club, and Christ the King Catholic Church.  While living in Dodge Center, he was a member at Dodge Country Club, the Chamber of Commerce, and Lions Club.
Upon retirement, Bob and Lisa became residents of Florida and lived in the retirement community of The Villages where they were able to golf together regularly, ride bicycles, lounge by the pool, and attend classes offered through The Villages Enrichment Academy.  Bob loved entertaining family and friends at their home in Florida. One of his greatest joys was driving around on his golf cart with his grandkids in search of lost golf balls and alligators, and watching his children and grandchildren play sports. He took great pride in accomplishing his "bucket list" which included visiting all 50 states and traveling to Ireland.
Bob is survived by his wife, Lisa; children, Ryan (Heather) Kelly of Rochester, Megan (Travis) Gill of Zumbrota, Bridget (Reggie) Stevens of Lakeville; grandchildren, Alexa and Owen Kelly, Tyson and Griffin Gill, and Vaughn Stevens; siblings, Marilyn Erickson (Houston, MN), LaDonna (Cleon) Brenno (Canton, MN), Douglas (Rita) Kelly (Rochester), and Mary Faith (Lynn) Martinson (Monona, IA); and sisters-in-law Carolyn Kelly (Harmony, MN), Vergene Kelly (Canton, MN), Peggy Kelly (Albert Lea, MN), Donna Kelly (Cresco, IA).
He was preceded in death by his parents, Frank and Mary Kelly, and siblings, Leo Kelly, James Kelly, Paul Kelly, and Frank Kelly Jr.
Memorials are preferred to the Byron Volunteer Fire Department, Byron Public Schools, or Triton Public Schools, all of which were very important to Bob.
Condolences

Printer Friendly Version
The family of Robert D. Kelly has received the following condolences.
I am so sorry about Bob. What a wonderful person he was. I worked with him for many years at Byron High School. He taught me so much about how to communicate well with students and families. God bless you, Bob, and your family.
Lisa & Family,
I was deeply saddened learning of Bob's passing. He was a dedicated educator and administrator and he will be deeply missed by those who knew him. May God bless you in this difficult time. My deepest sympathy.
Bruce Hoff
Lisa, Ryan, Megan, Bridget and families. My thoughts and prayers are with you all during this very difficult time. Bob was a very kind and friendly guy. My Deepest Sympathy to all.
Judy Donovan
Bob Kelly was an exceptional administrator and one of my favorite people to talk to when I was a young man at Byron High. He had an enormous impact on me growing up, and I'll always be thankful for having the opportunity to get my education under his leadership.
I am incredibly sorry for your loss, and you have all of my thoughts, prayers, and best wishes during this difficult time.
To the entire Kelly family
Our deepest sympathies to all of you in the homegoing of Bob. Although we never met Bob - we have known Ryan for many many years. And the incredible son you have raised is a lasting and beautiful legacy of Bob and his life. May you find comfort in the love and support of friends and family.
God bless each of you.
Karen
Lisa, Megan, Ryan and Bridget, Our thoughts and prayers are with you during this very difficult time. We will not make it to the funeral, but please know our thoughts will be with you all in the difficult days ahead. Bob was a dear friend and will be greatly missed.
Ron and Sue Zeigler
Lisa and Family,
Our deepest sympathy to you from your Florida Neighbor. By the messages on Bob board
he was deeply loved and will be missed by many. Prayers to you to find comfort in all the
the warm hugs and well wishes from your many friends. Lisa our hearts go out to you.
Mike and Vickie Stoermer
Our sincere sympathies to you, Lisa, Ryan, Megan, and Bridget, on the loss of a very special man. May you all be surrounded by dear family and friends in the days ahead.
In God's Peace, Carol, Josh, and Drew Cooper
Lisa and family,
Heartfelt sympathy to all of you at this time of deep loss. It can truly be said of Bob that few people have touched so many lives so positively as he did.
All of the leadership he provided, throughout his life, will be forever remembered. May warm memories sustain you.
Debra Martin Schloer
Lisa and Family -
I am so sorry to learn of Bob's passing and am wishing all of you peace
during this sad time. God Bless -
Our deepest symphony to Lisa and family. Bob was always kind to everyone. Our thoughts and prayers go out to Lisa, children and grandchildren.
Diane and Steve Allbee
Our deepest sympathies to his family...cherish your memories...
I am so very sorry to hear about Bob's death. Bob was a special person, teacher, coach and friend. He coached two of my sons and was on staff when I was on Byron Board. I am sure he and my husband, Ron, are talking Byron HS football in heaven. My deepest sympathy to the family
Our thoughts and prayers are with the Kelly family at this difficult time. We met Bob through our friendship with Ryan and Heather. As you celebrate his life may your wonderful memories be a source of comfort.
God's Blessings,
Steve and Katie Brown
Lisa & Family Members,
I extend my deepest condolences and sympathies to you and your family. I was saddened to learn of Bob's passing. I commend him on his years of dedication to education. He has left a lasting legacy for all he has accomplished as a teacher, coach, AD, Principal and Superintendent.
Bob had a passion for living life to the fullest! It has to be comforting to know that family always came first.
The saying goes that when we lose a loved on here on earth, we gain an angel in heaven that will watch over us. May you take comfort in knowing that you now have an angel who will lovingly watch over you.
Please trust that Bob is in the warm embrace of the "Good Lord" and is at peace. He will enjoy the joys and comforts of heaven.
May the Good Lord bless and comfort you and your family members during this time of grief. I have all of you in my thoughts and prayers!
Chuck Ehler - A fellow: Catholic Canton Boy, MC Graduate and Superintendent
We offer our deepest sympathy to your family at this sad time. Bob will be missed by all who knew him. Prayers for comfort and peace.
Lisa and Family.
Your Husband/Dad was an awesome guy. We worked together when he was Superintendent.
Gone way too soon. Rest in peace.
My sincere condolences.?
Barb Mollberg
Lisa and family ,our thoughts and prayers are with you. Bob was one of my oldest friends and classmates. We are all truly saddened by this loss
- Jerome Tengesdahl and family
We extend our sympathy to all. It was nice to know bob through Ryan and Heather .
We extend our sympathy to all. It was nice to know bob through Ryan and Heather .
Our hearts go out to the Kelly family. We enjoyed Bob's wit, humor, and his genuine friendliness.
We deeply miss our neighbor and friend.
John & Paula Carroll
God bless you Bobby. Our deepest and saddest condolences on the death of Bobby.
He was a good guy, defender of the right and a good soul. He will be missed by all that knew him.
????
My deepest sympathy to you all at your loss of such a wonderful man.
you will be greatly missed I remember having great times with you while serving in the DC lions club as well the many many visits we would have in your district office RIP Mr Kelly I'm going to miss your friendship and kindered spirit
So very sorry for your loss Lisa. Thinking of you and your family with a heavy heart. Wishing you comfort and healing through faith, memories, family and friends
I was honored to work with Bob Kelly when he was Superintendent of the Triton Public Schools. He was a kind, compassionate man who offered me great support and understanding when I faced some immense losses in my life. He truly cared about others and always enjoyed a good laugh. There is a bright star shining from the heavens letting us know he has gone home. May his memory be blessed and his impact on family and friends live on in cherished memories.
Sorry for your loss. I worked at Triton for several years. He was a nice person.
To Lisa, Ryan, Megan and Bridget,
I am saddened by Bob's passing. Too many stories to tell from the time we started coaching football and teaching together. The late nights after games; film sessions; practices; and of course, gatherings at the Kelly house. Laughter, good stories, some tears, and lots of fun. Regardless of the trials and tribulations of teaching and coaching, we always had a goiod laugh. Grad school times and lots of driving to Winona State. As we shared administrative aspirations, we were able to share experiences and provide good advice to each other. I enjoyed the "Irish" we shared together. My prayers and thoughts are with the Kelly family. May God Bless his soul.
Thank you Bob for the opportunities to coach and teach with you. Those were some of the best times of my professional career.
Peter Grant
My sincere sympathy to the Kelly family. I have great memories of my favorite teacher at BHS.
We were so sorry to hear of Bob's passing. Bob was a friend to all who knew him. Our deepest sympathy to Lisa and the family. Peggy and Craig
I'm very sorry to hear of Bob's passing. Bob was one of my first mentors when I started teaching in Byron. He was always levelheaded and thoughtful in the advice he'd give. He always had the right perspective about sports too. Important, but not life or death. Just a good guy who was fun to hang out with and also very good at the various positions he had in education. He will be missed by many. My deepest condolences to the Kelly family.
Lisa and Family, My thoughts and prayers are with you during this very difficult time. I am so saddened that I will not make it to the funeral. I will be in Ohio at a wedding, but please know my thoughts will be with you all as you face the days ahead without Bob. With Love, LeAnn
As a former student of Mr. Kelly, I know that I speak for many when I say that he was a first class educator and person. So many great memories of 7th hour Current Affairs. Nobody could get off track like Mr. K! :) But he always managed to teach us what we needed to know and we had fun doing it! I hope that he knew that he made a profound difference in the lives of kids, and we will forever remember him with such admiration and respect. I pray for comfort and peace that only God can provide, today, and in the days ahead. My deepest sympathy~
Wendy Graham King (Class of 1980)
Our thoughts and prayers go out to the family..Roger and Jan