Visitation- Open to the public
Date: Friday September 04, 2020
Time: 3:00 pm - 6:30 pm
Location: Byron Funeral Home [ view map ]
Private Memorial Service
Date: Friday September 04, 2020
Time: 7:00 pm
Location: Byron Funeral Home [ view map ]
Additional Information:
The memorial service will be for family members only but will be live-streamed to the public.

To view the service, please click on this link.  You will be directed to our Facebook Live page.  The stream should begin around 6:55pm on Friday.  The service will be stored on our Facebook page within our timeline in case you are not able to view it live.

Printer Friendly Version

Share on Facebook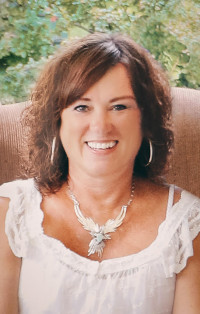 Date of Birth:
Monday, December 6, 1965
Date of Death:
Sunday, August 30, 2020
Age:
54 years old
Paula Marie Ferdinandt
Paula Marie Ferdinandt, 54, of Byron, MN died Sunday, August 30th 2020 at home with her family after a long battle with cancer.
Paula was born December 6, 1965 in St. Cloud, MN to Don and Leah (LeRoux) Ferdinandt.  When Paula was 8, she moved with her family to Byron, MN.  She graduated from Byron High School in 1984. Paula married Greg Rud in 1986 and together they had 3 beautiful children: Alexis, Alysia, and Dallen. They lived in rural Byron until 2016, when she moved back to Byron after their divorce.  Paula worked as an administrative assistant for the Dodge County extension office.  She loved reading, riding horses, camping, and anything that kept her outdoors. Her favorite thing was spending time with family and loved ones.
Paula is survived by her daughters: Alexis (James) Olson and Alysia (Sam) Borowski, both of Byron, MN; her son, Dallen Rud of (Kasson), MN; and three grandsons: Tate, Trent and Lane. Her brothers: Kevin (Carrie) Ferdinandt of Greenfield, MN; Nick (Heloisa) Ferdinandt of Tuscan, AZ; her sisters, Kitsie (Randy) Robinson of Stewartville, MN and Andrea Karstens of Rochester, MN. She is also survived by her step-dad, Richard (Dick) Mandery of Byron, MN, along with many nieces and nephews.  She was preceded in death by both parents.
A visitation for the public will be held from 3:00pm-6:30pm on Friday, September 4, 2020 at the Byron Funeral Home.  A private memorial service for her family members will be held at 7:00pm officiated by the Rev. Randal Kasel and Kevin Ferdinandt.  The private memorial service will be live-streamed to the public.  You can access the link from www.byronfuneralhome.com.
Memorials may be sent to St. Jude's Children's Hospital.
Online condolences are welcome at www.byronfuneralhome.com.
Condolences

Printer Friendly Version
The family of Paula Marie Ferdinandt has received the following condolences.
We are saddened to hear of Paula's passing. Your family is in our thoughts.
Your former neighbors at 504.
Ashley, Luke, Olivia & Maggie
I am so sorry for your loss. Keep your memories close to your hearts and she will live on forever.
God Bless,
Linda McPhee
To Paula's Family,
Paula was such a wonderful person. As her former teacher and friend - she always brought a high spirit and smile to my classroom. She was part of a wonderful family in Byron. Paula was a strong independent person who knew what she wanted to accomplish in school and in her life. I am so so sorry for her family's loss. God Bless her soul. Thank you Paula for being such a good person.
Peter Grant
East Gull Lake MN.
Our thoughts and prayers go out to all of Paula's family and friends. I have known her since grade school and we were First Responders together for 8 years for the town of Byron. It was an honor and a joy to serve with her and she helped so many lives through the years as a first responder. A true hero through and through! She understood how fragile life can be and she was courageous in her own battle. She had a great sense of humor she loved her family deeply. Paula will be missed greatly! For all that are believers in Christ, remember the promise God gave us as written in John 3:16 - "For God so loved the world that He gave his one and only Son, so that everyone who believes in Him shall not perish but have eternal life." Because of that promise, know that Paula is in Heaven and you WILL see her again! She may be gone from this earth but she lives on in Heaven. During this season of grief, remember God's promise. Know that Paula is healed in Heaven! Know that she is alive and she is free of all earthly pain. Know that she is not alone and she is not sad. She walks now with Jesus and knows God face to face. She now understands fully the promise God gave. She is forever home. For all her family and friends - you will all see her again in God's timing and by His grace. As you mourn her loss, Carissa and I will continue to pray for each of you. With deepest sympathy - Brad & Carissa Hjellming
I have known Paula since high school. Such a vibrant, fun, smiling, loving woman who I will dearly miss. Paula was at many of the Trygstad and Rud's celebrations that I was honored to attend throughout the years. I loved seeing her and chatting and hanging with her at showers, weddings, celebrations. We watched many wrestling matches through the years. I know of no one that has fought this courageous tough battle since she was a young adult. Doing all of the preventative health procedures to extend her life, she fought everyday. My father, John Trygstad loved Paula and smiled when she came into the room to visit him at the farm during his end of life. Paula always got Dad up on the dance floor for a dance. Paula you will be so missed, glad your struggles are over, you are at peace, and forever in my heart! Love you Paula and strength to all of her family during this difficult time.
Dear Ferdinandt Family,
My sincere condolences to you for the loss of Paula. Although I did not know her well, but what I do remember was her feisty and positive personality. No doubt she had to keep her brothers from pushing her around! My thoughts and prayers are with you and your family through this difficult time.
Sincerely,
Chris Rath
Class of 85
When I think of Paula I think of bright young woman we hired at Gold Cross. Paula was an outstanding dispatcher who was dedicated to the safety of her crews and the public. Paula had a wonderful laugh, seemed to know everyone and was always willing to help others. I send my deep condolences to her family and especially to her children of which she spoke so highly you just knew how much she loved them.
I knew Paula when she worked at Gold Cross ambulance and later at St. Mary's Emergency Communications Center. What a great sense of humor! She was extremely likable. Condolences to the family for the loss of such a great spirit.
Jamie Hoffman
My thoughts and prayers are with all of Paula's family. I had the pleasure of working with Paula during tax season for many years. She was not only a co worker but also a friend. I will miss her smiling face and her spunk! Hugs and prayers to you all. You all have a wonderful angel looking over you.
Prayers and love to the whole family. Paula was a very special friend. We work together for over 20 years. She was a worker bee
And always had a smile and kind work. Tax season sill never be the same. I will always have great memories and her in my heart. God bless.