Visitation
Date: Sunday September 16, 2018
Time: 12:00 pm - 4:00 pm
Location: Byron Funeral Home [ view map ]
Second Visitation
Date: Monday September 17, 2018
Time: 10:00 am - 11:00 am
Location: Community Celebration Church [ view map ]
Celebration Of Life
Date: Monday September 17, 2018
Time: 11:00 am
Location: Community Celebration Church [ view map ]
Burial
Location: Mount Hope Cemetery [ view map ]

Printer Friendly Version

Share on Facebook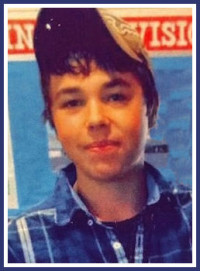 Date of Birth:
Sunday, September 19, 1999
Date of Death:
Tuesday, September 11, 2018
Age:
18 years old
Michael O'Connor Hendrix
Michael O'Connor Hendrix, 18, of Byron passed away on Tuesday, September 11, 2018.
Michael was born on September 19, 1999 in Rochester to Shane and Jackie (O'Connor) Hendrix.  He attended school in Byron.  When you could not find Michael at school he was at the farm with his cows.  Michael worked at G-Flowing Springs Farm in Eyota.  Farming was his passion.  Michael enjoyed hunting, fishing, trap-shooting and spending time with his family.  Family and friends were very important to him.  Michael was the type of person that made sure he told everyone he loved them before he left, especially his mom and dad, even leaving early for work at 3:45am in the morning.
Michael is survived by his parents, Shane and Jackie; a sister, Shannah (Adam) Badger; his little buddy nephew, Kyler and his "hey little girl" niece Alayna; grandparents, Patrick O'Connor, Bonnie O'Connor and Donna Hendrix; his fur babies, Rocky, Charleigh Girl, Gracie and many other family members and the most amazing friends a young man could have.
A Celebration of Life for Michael will be at 11:00am, Monday, September 17, 2018 at Community Celebration Church, Kasson (27337 County Hwy 34), with Pastor Steve Larson officiating.  Visitation will be Sunday, September 16, 2018 from Noon – 4:00pm at Byron Funeral Home and one hour prior to the service on Monday at the church.  Burial will be at Mount Hope Cemetery in Kalmar Township.
Memorials are suggested to the family.
Condolences

Printer Friendly Version
The family of Michael O'Connor Hendrix has received the following condolences.
My deepest condolences to the family for your loss of Michael. May God strengthen and comfort you with his promise of the resurrection. Acts 24:15
Dear Jackie,
I am so very sorry for the loss of your son, Michael. My sincere sympathy, thoughts, and prayers to you and your family.
We are so very sorry for your loss. May God hold you especially close in His arms as you continue on.... prayers of strength to the entire family and group of friends that love Michael so much.
the Oberle family
Jen,
Jacob (BHS class of 2016) and Tyler (BHS class of 2018)
Donna and Family,
I am so so sad for you and your family. I know how much you loved your grandson and it breaks my heart for you. You spoke so highly of him. I want you to know that if there is anything I can do for you or your family at this time of pain I am there for you. It is like your entire world stops and everyone elses just keeps going. Life just isnt fair sometimes. My thoughts and prayers for you .
Love, Louisa Swanberg
Jackie and family,
My deepest sympathies to you and your family during this hard time.
I remember working at the grocery store with him for a short time and how he was so funny.
Jackie, Shane, and family, I am so very sorry for your loss of your son Michael. I can't imagine the pain you are all feeling and my heart goes out to you all. God called another angel home way to early. You are in my thoughts and prayers.
Sincerely,
Dawn Rasmussen
Shane, Jackie, Donna & Family,
Our deepest sympathy in the loss of your son/grandson. I never had the opportunity to meet him but it sounds like he was a wonderful young man and loved by all that knew him. Blessings to you all during this difficult time.
Vicki
Jackie, Shane and Shannah, I saddened by your loss.
Oh Jackie, I am sorry for your loss. I remember this is little fellow coming into the clinic. He was such a sweetheart. My prayer and god bless.
I am so sorry for your loss in the family. I wanna give all my condolences out to you guys. RIP michael.
You will be forever my friend and we all miss you but the Lord has called you home to be with him you gained your wings and now you will forever fly flyhigh my bud fly high and free
Jackie and family, my deepest sympathy goes out to you! Know that you are in my thoughts and prayers!!!
Jackie and family, my deepest sympathy goes out to you! Know that you are in my thoughts and prayers!!!
My thoughts and prayers go out to your family during this time. I never got the pleasure of meeting Michael, but my nephew Jimmy was very close to him I know and spoke very highly of him and quite often, it's as if I did know him ? He was not only Jimmy's cousin but his best friend. My heart is with you all and I am saying prayers for you daily.
My heart is so very heavy for you all. Such a wonderful young man.
I wish I could be there to give you big hugs and someone to help you through this devastating time. I love you guys with all my heart. May God wrap your arms around you and comfort you each and everyday.
I bet Grandpa is at the pearly gates with big wide open arms to give him big hugs.
To the family of Michael: I am deeply sorry for your loss. I wish I had the right words, just know I care and that you are all in my thoughts and prayers during this difficult time. God bless you all. Judy and Michael Starr
My heart aches for all of you at this time?I'm am so very sorry? Prayers an hugs?? See you all soon?? Love Big Sis??
I only met Michael a couple of times in his short life. From what I noticed he enjoyed life and the outdoors (like many family members).
Shane, Jackie and Donna (of course the list could go on and on as family is plentiful) I am so very sorry for your lost and nothing I say can make anything better right now. Just stay close to family.
I met Michael while he was a student at ROC, and he was like "hey you are a Radke? We are related!!!" He had quite the following of friends, A very outgoing, crazy , wild young man, taken way to soon. Fly High Michael! hugs and prayers to his Family.
Shane,
Sorry for your families loss.
Marie