Visitation
Date: Wednesday April 21, 2021
Time: 4:00 pm - 7:00 pm
Location: Byron Funeral Home [ view map ]
Second Visitation
Date: Thursday April 22, 2021
Time: 10:00 am
Location: Holy Spirit Catholic Church [ view map ]
Funeral Mass
Date: Thursday April 22, 2021
Time: 11:00 am
Location: Holy Spirit Catholic Church [ view map ]
Burial
Location: Byron Cemetery [ view map ]
Important Information:
Face coverings are required to attend these events.

Printer Friendly Version

Share on Facebook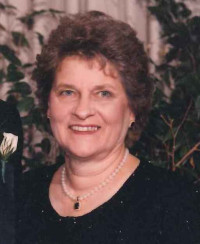 Date of Birth:
Thursday, January 17, 1935
Date of Death:
Wednesday, April 14, 2021
Age:
86 years old
Leora M. Daley
Leora "Lee" M. Daley, 86, of Byron passed away peacefully at Meadow Lakes Senior Living in Rochester on Wednesday, April 14, 2021. Leora was born on January 17, 1935 to Otto and Catherine (Boetel) Bartsch in Pipestone, MN. She graduated from Lewiston High School in 1953. After high school, Leora worked as a telephone operator and at Standard Lumber Company in Winona, MN.
On April 12, 1958, Leora married her high school sweetheart, James Daley in Winona, Minnesota. They purchased a farm north of Byron in 1958, and Leora began her role as mother and homemaker, raising 9 children while commanding the phones and managing communication as secretary of the large family farm for 50 years.
Leora is survived by her children Rosemary (Randy) of Minneapolis, Tom (Annie) of Byron, Paul (Ruth) of Byron, Angela of St Paul, Kathleen (Gary) of Lakeland, Teresa (Ryan) of Elysian, Phillip of Owatonna, Douglas (Jennifer) of Byron, Fabian (Shannon) of Byron, 25 grandchildren, and 2 great-grandchildren. She is also survived by her brother Mark and her sister Bonnie. She is preceded in death by her husband of 62 years, her parents, sister Mary, brothers Eldon and Wilfred and grandson Louis.
Leora will be remembered for bringing a meal together on short notice for extra guests, hosting international farming apprentices from Norway, Russia and China, tending a large garden, working jigsaw puzzles, tracking family history, and faithfully attending sports and musical events for each one of her children.
Leora gained strength from her unwavering faith, as she was an active member of the women's ministries and prayer chain at Christ the King Catholic Church in Byron. She was kind, caring, and a loyal friend. Her commitment to family was a common thread throughout her life and her grandchildren and great-grandchildren brought her joy until her last days.
Visitation will take place on Wednesday, April 21, 2021 from 4-7 p.m. at Byron Funeral Home. A Funeral Mass will be held at 11 a.m. on Thursday, April 22, 2021 with visitation one hour prior to the mass at Holy Spirit Catholic Church with Father Tom Loomis officiating. Burial will be in Byron Cemetery.
In lieu of flowers, make donations to New Life Family Services of Rochester, Minnesota.
Condolences

Printer Friendly Version
The family of Leora M. Daley has received the following condolences.
To The Daily Family,
So sorry to learn of Leora's passing. What an outstanding woman, farmer, and mother. Many times I recall her watching her kids participate in so many sports and the great parent-teacher conferences. She was always kind, but would be direct when she needed to be. I have such great respect for James and Leora and all the Daley kids. You all provided me wonderful experiences in the classroom and on the field of play. May God Bless her soul. To the Daley kids, rest assured your parents did the right things, at the right time, were honest hard working people, and raised a great family.
Take care to all of you.
Peter Grant
Sympathy and prayers to the Daley Family. God bless you all. You had great parents.
Becky and I are thinking about you guys. Rob and Becky Wilde.
Your Mom was a beautiful lady inside and out! We worked together at church at many activities during the years we lived in Byron. Although we moved to Rochester 48 years ago, I loved to meet your Mom and be welcomed by that beautiful smile and hear all about you all!! Our sympathy and prayers are with you!
We were parish members at Christ the King in Byron, MN and knew and worked with Lee and Jim on many projects. I taught CCD and served with Lee on funeral lunch and Catholic ladies committee many years. Also my husband Lee was a lector, on building committee and an usher with Jim. I remember some of the older children being in my CCD classes, always well behaved and very talented. Jim and Lee were great people, always giving and caring. I'm sure the good Lord has a special place for both in heaven. We currently live in Jordan, MN. Our prayers are with family during this sad time. Lee and Susie Birkholz
Dearest Daley family...our deepest sympathies at the loss of your Mother..hugs and love to all the family. CHERISH YOUR MEMORIES ❤
David and Anne Elliott
N103ashville Tn.
Leora and I were classmates at Lewiston High School, and spent most of our lives a thousand miles apart, but we kept in touch with cards and photos. I recently moved back to the Lewiston area and saw enough of her since then to confirm the very good opinion I had always had of her. She handled her life as a wife and mother of a large family with warmth and ease and a deep devotion to her family and had a lot of love left over for her friends and neighbors. She always regarded her large family as a blessing from God, and I don't think I ever heard her utter a word of complaint about anything. I wish I had had an opportunity to have shared more of life's experiences with her. I was told she could no longer speak, but was still open to visitors and I was planning to go say goodbye when I got the call that she had passed. My heart goes out to her family. You will miss her very much, but you were very lucky to have been brought up by her. Keep your memories of her close in the years to come. Katherine Degnan
May God hold Leora in the palm of his hand now & forever... May all Leoras family find comfort in beautiful memories of this wonderful lady 🙏🏻
My thoughts and prayers to the family at this difficult time. Leora was a wonderful aunt and a very nice person. Aunt Leora always had a smile on her face and loved spending time with family and friends. I will miss her.
Candace
In respect of the passing of your sister, Mrs. Leora Daley, Dear Bonnie I am thinking of you during this difficult time. May you find comfort in the difficult days ahead with the indelible love and cherished memories you shared as sisters. And though memories may fade with time, you're sister Leora isn't a memory. She's a part of you and always will be.
"Remember me with smiles and laughter, for that is how I will remember you all. If you can only remember me with tears, then don't remember me at all" Laura Ingalls Wilder.
Bonnie, I extend my deepest sympathy to you and all during this time of bereavement. The cares and concerns of Leora's earthy journey have come to pass. May she enjoy her just reward for a life well-lived.
Robert LaFreniere
Ontario, Canada
To my cousins Rose, Tom, Paul, Angela, Kathleen, Teresa, Phillip, Doug, and Fabian and their families -- We are so sorry for the loss of your mother, mother-in-law, and grandmother. I will always have fond memories of her kindness, calming nature, and tremendous commitment to family. Our prayers and love to all of you.
Annamarie Daley
So sorry for your loss. Hugs and prayers to all of you.
To the family. So sorry to hear about this. Your mom was a great lady. Sorry for your loss. Hugs to you all.