Visitation
Date: Friday August 21, 2020
Time: 4:00 pm - 7:00 pm
Location: Byron Funeral Home [ view map ]
Second Visitation
Date: Saturday August 22, 2020
Time: 10:00 am - 11:00 am
Location: Community Celebration Church [ view map ]
Funeral Service
Date: Saturday August 22, 2020
Time: 11:00 am
Location: Community Celebration Church [ view map ]
Important Information:
*A face mask will be required to attend these events

Community Celebration Church will be broadcasting a live steam of her funeral.  You can access the stream by clicking on the following link: Gretchen M. Del Bianco Live Web-Stream.  The stream should begin around 11:00am on Saturday (8/22/2020).  If you are having issues accessing the stream, please contact the church directly.

Printer Friendly Version

Share on Facebook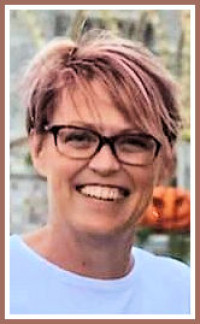 Date of Birth:
Sunday, February 15, 1970
Date of Death:
Sunday, August 16, 2020
Age:
50 years old
Gretchen M. Del Bianco
Gretchen Mary (Gluek) Del Bianco, of Byron Minnesota, died Sunday Aug 16, 2020 at her home with her children and husband by her side after her fearless battle with cancer.
Gretchen was born February 15, 1970 in Rochester Minnesota to Robert and Judith (Cleveland) Gluek.  She graduated from Lourdes High School in 1988.  On June 15, 1996, Gretchen married the love of her life, Richard Del Bianco, at St. John's Catholic Church in Rochester, MN.  The couple lived in Kingman Arizona until 1999 when they moved back home and settled in Byron.  In 2001, Gretchen and Rich were blessed with their first child, Anthony Robert, and in 2004, their daughter, Abigail Elizabeth, was born.
Gretchen spent her career working with children, where she touched the lives of so many families.  She ran a daycare from her home for several years and worked in the Special Education department for the Kingman, Kasson and Byron School Districts.
Gretchen had an unshakable faith in her Lord and leaned on that throughout her life.  She loved Bible studies, journaling, games, puzzles and spending time with friends. But nothing brought her more joy than her time with her family.
Gretchen is survived by her mother Judith, husband Rich, son Anthony and daughter Abigail along with her many siblings, in-laws, nieces and nephews. She is preceded in death by her father Robert, her sister-in-law, Jessie Del Bianco, and her great-niece, Morgan Wilke.
The funeral service will be held at 11 a.m., Saturday, August 22, 2020 at Community Celebration Church in Kasson, MN.  Pastor Steve Larson will be officiating.  Visitation will be held from 4 pm to 7 pm on Friday, August 21, at Byron Funeral Home and at Community Celebration Church one hour prior to the service on Saturday.  Because of COVID-19, the service is limited to 200 people and there will be no formal gathering after the service.  The family would remind people of the need to wear masks.  The service will also be live-streamed at https://youtu.be/82_OmJxY-VI.
Donations to the American Cancer Society or Relay for Life are preferred in lieu of flowers.
Condolences

Printer Friendly Version
The family of Gretchen M. Del Bianco has received the following condolences.
To Karla and the Gluek family,
I am very sorry for your loss. My thoughts and prayers are with you.
Anne Messick
We are so sadden by Gretchen's passing. Continued prayers and thoughts are with all of you during this very difficult time.
The Bishop Family
I'm lucky to have known Gretchen. Deepest condolences to the Del Biancos and Glueks. She was a bright shining light, and I have many fond memories of her from St. John's and LHS. God Bless.
I have worked with Gretchen as our careers crossed paths in the Byron School District. However, we became more than colleagues as I also had Anthony in my classroom when he was in kindergarten, and that brought Gretchen and I closer on a personal level. Since then we have had time to talk about both work and family. I have watched her go through this battle with the most amazing grace and strength!!! She remained positive as she continued to live her life through each day. I am deeply saddened that she lost this fight, as our school lost an amazing teacher, but our world lost a wonderful person who brought joy and passion into the things she did!!! My prayers go to her family, and we will not forget Gretchen as the new school year starts, but we will remember the smiles and love that she brought to her students. Thank you for sharing her with us!!!
Tracy Boyum
Gretchen was truly a ray of light in this world. A beautiful soul who touched the lives of so many. She will be greatly missed and never forgotten. I am so sorry for your loss.
I'm so very sorry to hear of Gretchen's passing. Please know you're all in my thoughts and prayers as you deal with this tremendous loss.
Sending my love,
Laurie
Truly sorry to hear of Gretchen's passing. I was a classmate of hers at Lourdes. Please know that my thoughts & prayers are with her family.
Sincerely,
Pat Hrabe
To the Gluek Family and especially Karla,
I was so sorry to hear that Gretchen passed away. I knew from your mom that she had been ill. Karla, you were a dear grade school friend of mine and I remember Gretchen well as a grade schooler! It sounds like she grew into a beautiful and loving woman. Please know that your family will be in my thoughts.
Love and Prayers,
Annie (Schirger) Mitchell
Rich, Anthony and Abigail...you iare all in my thoughts and prayers. Gretchen"s spirit and kindness were second to none.
I am so sorry to hear of your loss. She was a wonderful person and an inspiration to me. I always appreciated her humor, strength, and positive attitude. Prayers of comfort for you all.
Richard and family, your are in our thoughts and prayers.
Love and prayers for all.
Cathy