Visitation
Date: Sunday December 20, 2020
Time: 1:00 pm - 4:00 pm
Location: Byron Funeral Home [ view map ]
Burial
Location: Grandview Memorial Gardens [ view map ]
Please Note:
We will be holding a private (family only) funeral for Dorothy on Monday; however the visitation will be open for the public to attend.

Face coverings must be worn while attending either event.

Printer Friendly Version

Share on Facebook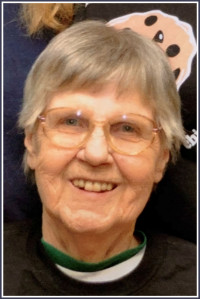 Date of Birth:
Thursday, October 15, 1931
Date of Death:
Tuesday, December 15, 2020
Age:
89 years old
Dorothy Alice Diercks
Dorothy Alice Diercks, 89, passed away Tuesday, December 15, 2020, at home surrounded by her
loving family. Dorothy was born on October 15, 1931, the daughter of Gladys & Victor Moreland. She, along with her parents & five siblings lived in Dodge Center, MN, where she graduated from Dodge Center High School.
Dorothy & David Peter (Pete) Diercks were married at the Little Brown Church in the Vale, in Nashua, IA, on October 10, 1953. The couple lived in Rochester, MN, for several years before moving to Byron, MN. They soon purchased a farm near Byron, the same farm where Dorothy has lived all these years.
A hard worker all of her life, Dorothy spent her summers in the Twin Cities babysitting her cousin, Sonny Elias, while his parents who owned & operated a bar, worked long hours. Then as a young woman she & her sister would hitch hike from Dodge Center, to Owatonna, MN, where they worked weekends at a leather company. Later Dorothy worked nights in the employee cafeteria at the Libby canning company in Rochester. She also was employed as a banquet waitress at the Holiday Inn Downtown, a job she very much enjoyed because several other Byron women also worked there. Pitching in together, the group made the hard work, fun. Dorothy loved working with people & provided wonderful customer service. She worked at the Byron D&D Motor Mart & knew most of the people that came into the convenience store. Dorothy worked as a waitress/cook at CJ's Cafe, also in Byron, where customers often requested to be seated at her tables because of her friendly personality & excellent service.
In 1959, Dorothy & her husband Pete moved to a 50-acre farm located just south of Byron, where the
couple raised their five children. They operated the farm for many years, investing & working with Polled Hereford cattle. Dorothy & Pete spent many an evening walking out to the pasture to talk to their herd. Dorothy enjoyed life on the farm & especially the livestock. She had a soft spot in her heart for runt pigs. Often if a neighboring farmer had a runt piglet from a litter, they'd call Dorothy. She'd tenderly care for the piglet in her kitchen, where the runt would snuggle up to a wind up clock, a quart jar of warm water & a baby bottle with milk. The tiny piglets became her pets until they had grown enough to return home.
There were several local farmers who would get together to play poker — Dorothy loved Saturday night poker with the boys. She seldom won big, but she always felt she came out ahead by building strong relationships with friends, neighboring farmers, & their families — friendships that lasted all of her life. Dorothy was always thoughtful of others & put them first, a practice that she instilled in her children.
For being a small woman, standing only 5'1" & 100 pounds soaking wet, Dorothy had a rather rough & tough side too. She loved to attend the loud & fast stock car races in Kasson, MN, every Sunday evening. She also knew how to handle a gun — she was a real sharpshooter! She would sit in the yard, on a five-gallon pail with a 22 rifle, shooting rats trying to eat the corn in the corn crib. The family is left with many amazing memories of Dorothy & her wonderful life, well lived.
Dorothy was preceded in death by her parents; husband; brothers, Victor Moreland & Stanley Moreland; sisters, Doris Hallaway & Francis Clark. She is survived by her brother, Glen Moreland, Rochester, her children; Peter Diercks, Byron, Fred Diercks (Sherri), Shell Lake WI, Ann Diercks (Laurie) Byron, Mike Diercks, Byron, Amy Diercks, Rochester. Four grandchildren; Dale Diercks (Crystal), Sue Diercks, Bryan Diercks (Sasha), Britney Conrad (Chris). Eight great-grandchildren; Cailey Diercks, Chase Diercks, Gage Denny, Elleanor Diercks, Fiona Diercks, Caleb Diercks, Hunter Conrad, Grayson Conrad.
A public visitation for Dorothy will be held from 1:00pm – 4:00pm, Sunday December 20, 2020 at Byron Funeral Home.  A private funeral service will be held on Monday, December 21, 2020, officiated by Pastor David Badgley.  Burial will be at Grandview Memorial Gardens in Rochester.
Memorials are suggested to the family.
Condolences

Printer Friendly Version
The family of Dorothy Alice Diercks has received the following condolences.
My mom was the best!! I don't care what anybody thinks!! She would help anything for anybody out, back in her good days!! I' am pretty sure that there are a few people out there that could use a Thank you to my mom, whether it was to help you with your gas, or cigs, or tobacco. She helped as many people as she could, there wasn't anybody she wouldn't help out!!!! And all of you guys that got to say that they played poker at Dorothy"s kitchen table, should be happy that they got to play with the best woman around!!
She made many friends around the poker table, and I hope you made many friends yourself!!!
There a lot of Thank you's that I would like to give out, I 'am not going to name, name's, so I hope you know who you are. Thank you to all of the people I couldn't talk to, or see. But a great big THANK YOU to all of the people that made my mom's life great!!!!!From D&D, to KJ"S, to the poker table. THANK YOU for making my mom's life GREAT!!!!!
THANK YOU.
Amy Diercks
Some 40+ years ago, I worked with Dorothy in the banquet department, Holiday Inn Downtown. Dorothy was always kind, happy and more than helpful. I enjoyed her sunny disposition, admired her love of family, and her dedication to all of her Byron friends who worked with us. Many fond memories. You have my deepest sympathies. God bless...
As a neighbor boy that grew up with the Derick family .I have many Memories. See Lloyd n l Allen was always up there to play with Pete and Fred as neighbor boys ,As a crow flys it was just a hop and a skip for us. And the trouble that 4 boys can n did get into .It all started with they had the biggest barn with hay and a rope swing it, And days went by in that Barn, I also remember Pete very well as he gave me my first beer WARM right next to the wood stove that was also on .' Let me tell you at that age it only took one and it was a long walk home that day.We boys all grew up all the way threw high school so , Dorthy was always there to supervise us boys the best she could ''Understandable'' But there was always a treat for us some were along the way,Later in life yes she was very much into the poker games ,You got chewed out if you forgot to invite her .'''And yes l remember You Ann as well being the only girl st the time ''Of course she got picked on '''' Those were days wern't they.
Yes Dorthy was a wonderful Person and lots of Memories, She will be missed and thought of often. In Loving Memory
Allen Clement N Barb Meier
Strong mind and heart. You will be missed. Hugs and prayers for the family.