Printer Friendly Version

Share on Facebook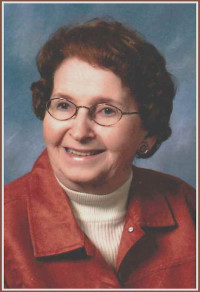 Date of Birth:
Monday, April 20, 1925
Date of Death:
Wednesday, June 27, 2018
Age:
93 years old
Betty L. Hanson
Betty Lyle Hanson, age 93, of Albert Lea and Byron, Minnesota, joyfully reunited with beloved husband Palmer on June 27, 2018, in their eternal home. Betty passed away peacefully surrounded by family and friends at Samaritan Bethany Home, Rochester.
Born April 20, 1925 in Chicago, Illinois, Betty graduated from Albert Lea High School in 1943. Betty loved art and fashion, designing window displays at JC Penney. During WWII, Betty worked in the sliced bacon line at Wilson & Co. meat packing plant. She married Palmer on June 28, 1945. Betty was a homemaker, later working for the Drivers' License Examination Office.
Betty was a member of First Presbyterian Church of Albert Lea where her grandfather was Pastor for 17 years. Betty served as Deacon and in the Mary Martha Circle. After moving to Byron she was a member of First Presbyterian Church of Rochester.
Betty was Nana to her grandchildren. Smart, talented, classy and witty, Betty contented herself putting others first. She loved to travel, seeing the pyramids and the Nile, and in the Holy Land walking where Jesus walked. At age 79, Betty ate chocolate in Paris. She loved New Mexico's jewelry and art galleries. Betty wrote many letters to her family and friends.
Betty is survived by her children, Vicki (Phil) Wintheiser of Byron, Minnesota, and Rev. Murray (Mary) Hanson of Rockford, Illinois. She has 6 grandchildren: Dr. Mia (Dane Smith) Wintheiser, Andrew Hanson, Tai Kraft, Rebecca (Brandon) Smith, Casey Wintheiser, Tony (Kristi) Wintheiser. She has 12 great grandchildren: Collin, Calvin, Allison Smith; Lillian and Eleanor Hanson; Solomon and Isaac Fisher,  Abe Smith; Emily, Charlotte, Noah Wintheiser; Levi Wintheiser. She was preceded in death by parents,  James and Ann, husband Palmer, granddaughter Erin, and best friend Dorothy.
A Memorial Service for Betty will be at 11:00AM Saturday, June 30, 2018 at First Presbyterian Church in Rochester with Rev. T.J. Parlette officiating. Visitation will be one hour prior to the service.
Family prefers memorials to First Presbyterian Church in Rochester or to the United Way Olmsted County Imagination Library.
Online condolences are welcome at www.byronfuneralhome.com.
Condolences

Printer Friendly Version
The family of Betty L. Hanson has received the following condolences.
Dear Murray and Family,
Condolences to you and yours upon the death of your mother. I am so sorry. May light perpetual shine upon her, through Christ Jesus.
Very sorry to hear about the passing of your mother. We will miss her annual Christmas Cards.
Carol and Roger Clark
Murray,
So sorry to hear of the loss of your Mother. My thoughts and prayers are with you and family. May peace be with you.
Blessings, Jean Kuehl
To the Hanson Family,
Our thoughts and prayers are with all of you. Cherish your wonderful memories with her, they will help you through your sadness. Remember she will always be with you in your beautiful memories and hearts forever. Hugs and love from our family to yours. God Bless.
The Ponder Family, Joe, Kim, & Abby
We are thinking of you, Murray
Vicki and Murray,
I'm so sorry to hear about Betty's passing.
She was an amazing woman, all of my children remember the birthday cards they would receive every year without fail.
My prayers are with you both.
God Bless
Craig and Nancee Scott and family
My sympathy to you, her family. A dear birthday friend and 93 years of walking a faith journey together. Thank you Betty.
Irene Weber
Albert lea
Vicki and Phil,
Sending our prayers of comfort and peace at this time. We remember your mom and dad with such fond memories when our girls were growing up in the church. Our love and hugs to you and your family.
Ross and Marianne Stone
Murray and Vicki
Our deepest sympathies on the loss of your dear Mom. She was a beautiful person inside and out ,
Lots of fond memories visiting your folks as a kid. Always loved going to their house.
Our thoughts and prayers are with each of you,
Jan and Jon Paske
Our sympathy to you, Murray and Vicki and your families. Your Mom was so very proud of her family and their accomplishments. Her face always lit up when she spoke of you and her very loved grandchildren.